Almost 50000 at Air Show - KXO Radio | (They came from around the Country Saturday)…They gathered at the Naval Air Facility, El Centro. They all came to see the Blue Angels Air Show. Many knew there may not be another chance to attend an Air Show featuring the Navies Ace Flight...

Blue Angels Fly One Of Final Shows In El Centro Before Sequestration ... - KPBS | Sequestration cuts are expected ground the Navy's Blue Angels and the Air Force's Thunderbirds next week. The final flight demonstration planned for both elite flight squadrons is March 24 in Florida, according to USA Today. Defense spending researcher ...

Budget cuts may permanently ground Blue Angels - WXYZ | It may be time to say 'bon voyage' to our friends, the Blue Angels. For now, automatic budge cuts will ground the elite military air show. This means no flyovers for funeral services or academy graduations. It also means we won't see the ...

The Aero Experience Editorial: Sequestration - Don't Let It Stop Aviation Dreams from The Aero Experience - Celebrating Midwest Aviation by Carmelo Turdo |The Aero Experience Editorial, by "Mr. Airshow" Leo Cachat | With sequestration taking place, many airshows throughout the country have cancelled their events, and the list keeps growing. At The Aero Experience, we strive to provide top quality aviation-related stories, events and media material complete with pictures and sometimes video. We try to keep everything as positive as we can because aviation is great, and I'd even reach out and say it is a magical thing. It's the closest we can get to heaven and the stars while still enjoying life - and what can be negative about that?...

WTVM goes behind the scenes at Thunder in the Valley's Media Day - WTVM | News Leader 9's Jason Dennis got a once-in-a-lifetime opportunity on Friday, flying in a B-25 bomber used in World War II. He and WTVM photographer Paul Therrien were the only local TV crew who got to fly in this 1944 Warbird. This plane and many more ...

Nominations open for Air Show Hall of Fame from General Aviation News | The International Council of Air Shows (ICAS) Foundation is looking for nominations for the Air Show Hall of Fame. The Hall of Fame was created in 1995 to recognize those who made significant contributions to the air show industry. It is currently home to more than 47 people representing the pilots, stunt persons, announcers, producers, aircraft designers, builders and other innovators who have changed the face of air shows forever. Some past inductees include Bob Hoover, Curtis Pitts, Patty Wagstaff, Sean D. Tucker and Paul Poberezny...

Air show planned for Myrtle Beach this summer canceled - MyrtleBeachOnline.com | Among the other acts that had been scheduled to perform: AreoShell Aerobatic Team, Mike Lucas-Lucas Oil Air Show team, Raiders Aerobatic team, the Fowler Cary T33 Jet and the All Veteran Parachute Team. The U.S. Army Band also was scheduled to ...

AIRSHOW NEWS: RAF Red Arrows Display Dates 2013 from Flightline UK - UK Airshow News

Women in Aviation conference hits record attendance - AOPA Pilot | Among those in the hall were representatives from the all-female Air Race Classic; the Abington Co., sellers of a female flight watch; and the Professional Women Controllers Inc. The hall also featured long lines of potential pilot candidates at booths...

The Fly With Amelia Foundation from Amelia Earhart | It is with great pleasure and excitement that I announce the creation of the Fly With Amelia Foundation, a Colorado non-profit organization providing aviation opportunities to all, free aviation based educational curriculum to grades K-12,
and scholarship funding of flight training to young women. In partnership with Wings Over the Rockies Air and Space Museum, [...]

Phantom biplane to attend from Mojave Experimental Fly-In by Mojave FlyIn | ...He plans to bring his exotic biplane racer Phantom to the event....

Showcase Sprints and Cat Shot debut at SUN 'n FUN from General Aviation News | A pair of fun events for performance enthusiasts will be held at Lakeland-Linder Regional Airport during SUN 'n FUN, which is slated for April 9-14. "Here is the opportunity to demonstrate your piloting precision and test your airplane's performance in a time trial," organizers promise. The events will be held Wednesday, April 10, during the fly-in's daily Showcase segment....

The wild blue yonder - Mohave Valley News | "In 1929 the air race classic was known as a Powderpuff Race where many of the ladies competing were famous pilots." "It is going to be great and hopefully this year we will do better," said Irwin, who, along with her husband, received her pilot's ...

Aerobatic Box Permit Sought - Northwest Arkansas News | Louise Thaden Field could be a home base for the type of flight often seen at air shows if an application to the Federal Aviation Administration is approved for an aerobatic box west of the city airport.

Remembering a Doolittle Raider - WYSO | They were known as Doolittle's Raiders. Griffin lived in Cincinnati and he was 96 years old. Now only four members of that elite group survive. WYSO aviation commentator Dan Patterson knew Griffin and tells us his story. Listen. In March of 1942 this...

Capt. "Red" McDaniel, USN (Ret.) from What is Silver Wings Over Washington? by Ron David | ...On May 19, 1967, while on his 81st combat mission over North Vietnam, Eugene B. "Red" McDaniel was shot down while flying his A-6 Intruder aircraft. He was listed as "missing in action" until 1970, when the Hanoi government acknowledged that he was being held prisoner. A POW for six years, McDaniel was released 4 March 1973, after the Vietnam cease-fire....

Finding Nobility in the Middle of Wartime - Patheos (blog) | In December 1943, Lt. Franz Stigler honed in on a beleaguered B-17 bomber, determined to blow it from the sky and avenge the death of his older brother. The B-17 had suffered massive damage and was far behind enemy lines when Stigler came in for the...

Air and Space Curator: The Wright Brothers Were Most Definitely the First in Flight - SmithsonianMag | ...Perhaps the strongest argument against the Whitehead claims is to be found in the fact that not one of the powered machines that he built after 1902 ever left the ground. Nor did any of those machines resemble the aircraft that he claimed to have flown between 1901 to 1902....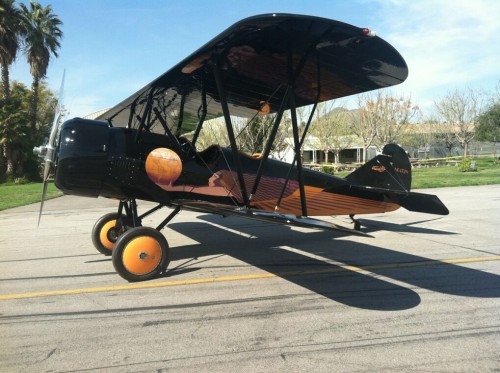 Sky Siren - Travel Air Restoration from Another Time by Dan Linn | In California at the restoration shop called Aerocraftsman they are putting the finishing touches on a beautiful Travel Air. A Travel Air biplane they are calling Sky Siren...

The Boneyard Project: Kenny Scharf Paints a Lockhead Jetstar -- On View This ... - Phoenix New Times (blog) | This past Saturday afternoon, Scharf took a break from painting his Lockheed Jetstar at the Pima Air & Space Museum in Tucson to talk to the public about the future of The Boneyard Project alongside Eric Firestone and Carlo McCormick.

Video: Boeing Presentation On 787 Battery Problem And Fix (+ CoolPix) from AirPigz by Martt | I've been pretty quiet about the Boeing 787 battery issue that grounded the fleet on January 17, 2013, but mostly because situations like this are really hard to comment on when you simply don't have access to the facts....

Photo essay: Cope Tiger 2013 from Air Force Link Top Stories | More than 1,900 U.S., Thai and Singapore airmen are participating in the Exercise Cope Tiger 2013 at Korat Royal Thai Air Force Base, Thailand, and the surrounding area. ... View the SLIDESHOW to catch a glimpse of what the Airmen have had during the exercise....

Nellis pilot first reservist to fly F-35 from Air Force Link Top Stories | A reservist from the 706th Fighter Squadron here recently became the first to fly the F-35 Lightning II, Air Force's newest aircraft.

Solo Flight! from Flight To Success by Karlene Petitt | Solo: To Take that first flight without your instructor. A right of passage for all student pilots. We all remember that first solo flight. Please enjoy Swayne Martins' experience... something he will remember for the rest of his life....