Blue Angels head to Key West for airshow
- WEAR | ... Angels, it's great to see them and watch them." Jim Carmack/Channel 3 News "Question marks on the rest of the season not withstanding, the Blue Angels leave tomorrow morning to fly for an air show in Key West. Blue Angels head to Key West for ...
Florida International Airshow
from Disabled American Veterans Airshow Outreach B-25 Flight Team | Punta Gorda, FL –
Disabled American Veterans
(DAV) will reach out to veterans and their families sharing its message of service and volunteerism in support of our nation's combat-wounded men and women at the
Florida International Air Show
on March 23-24...
Blue Angels arrive amid uncertainty
- Pensacola News Journal | Blue Angels Flight Leader, and Team Commanding Officer, Tom Frosch, center, as well as other team members are greeted by their children and family members after arriving at the Pensacola Naval Air Station Monday evening.
Read the story behind this picture
- The DAV Flight Team
Sequester affecting Florida Int'l Air Show
- NBC2 News | Every year dozens of planes thrill thousands of fans from across the country at the Punta Gorda Airport. It seems the Florida International Air Show gets bigger and better each year. But the government sequester got us wondering if this year's show...
AirVenture Adds Second Night Air Show
from EAA - The Experimental Aircraft Association | The EAA AirVenture Oshkosh Night Air Show, one of the most popular additions to The World's Greatest Aviation Celebration lineup over the past quarter-century, will be even bigger in 2013 with the addition of a second night show scheduled for Wednesday, July 31.
Can rock band Knock Out Kaine's charity single help save the Vulcan?
- Bournemouth Echo | AN upcoming British rock band has pledged all of the proceeds from its next single to help keep a Bournemouth Air Festival favourite flying. As reported in the Daily Echo, a teaser campaign online hinted at the tie-up between the Vulcan Cold War bomber ...
Budget cuts force cancellation of MCAS Beaufort air show
- ABC NEWS 4 | According to a statement released by the base, Headquarters Marine Corps made the decision to cancel the Air Show
in order to minimize the fiscal impact on vital programs, operational readiness and mission capabilities possibly affected by sequestration.
Photo
from Bonjour BlueSky
HAI Engages with Women in Aviation
- Helicopter Association International | From March 14-16, Stan Rose, HAI's director of safety outreach programs, and Karen Gebhart, HAI's vice president of business development and Women in Aviation International (WAI) board director, participated in the 24th annual WAI Conference in ...
Mar. 20 in History: Status of former skipper of the Blue Angels changed to POW
- Imperial Valley Press | 40 Years Ago — The status of Cmdr. Harley Hall, former skipper of the Blue Angels, has been officially changed from missing in action to prisoner of war. According to the San Diego office of Voices in Vital America (VIVA), they received the word early ...
Robert 'Shorty' Rankin Leaves Behind Historic Milestones
from EAA - The Experimental Aircraft Association | Col. Robert J. 'Shorty' Rankin, the first P-47 pilot to destroy five German Me 109 fighters in a single mission, passed away at his winter home in Jensen Beach, Florida, on March 14 at the age of 94....
Pencil This In: The Life & Legacy Of Bessie Coleman At Experimental Station ...
- Chicagoist | Bessie Coleman, the first female pilot of African American descent and the first black woman to hold an international pilots license, will be honored with a one woman play, The Life and Legacy of Aviatrix Bessie Coleman at the Experimental Station 7 p ...
For the last 20 years, Tony Mazzolini has had a single goal: To piece together ...
- Plain Dealer (blog) | It would swap the plane if Mazzolini could deliver to the Navy a rebuilt Mitchell B-25 for display at its museum in Pensacola, Florida. The two-engine plane had given the American people a much-needed morale boost just a few months after the attack on ...
Timeless Voices - Paul Blanchard
from eaavideo.org | Paul Blanchard served on the HQ staff at Bluie West One Airfield near the southern tip of Greenland during WWII. Bluie West One (BW1) served as a link on the North Atlantic Ferry Route for military aircraft traveling to Europe from the U.S.
Cancelled: Britain's High-Mach Heartbreak
- Air & Space | The TSR-2 bomber was a case of aeronautical genius foiled by political foolishness. | For an American teenager, 1963 was a great year
to be living in London. Thanks to my dad's job in international marketing, I was a Beatles fan six months before my pals back home knew there was such a thing as a Beatle. And as a budding airplane buff, I had a front-row seat for the emergence of another symbol of British national pride: the TSR-2 supersonic bomber, a twin-engine, low-level hotshot that I thought was the coolest-looking airplane ever....
VIDEO: Some good footage of Y-20
from The DEW Line by Greg Waldron
UAE Air Force Mirage 2000 fighter jets operations at Nellis Air Force Base
from David Cenciotti's weblog | Six United Arab Emirates 2000 fighter jets participated in Red Flag 13-2 held at Nellis AFB from Jan. 21 to Feb. 1, 2013. These aircraft, 708 and 710 Mirage 2000-9DAD, and...
617 Sqn's Dam fine tail art
from The DEW Line by Craig Hoyle | The UK Royal Air Force unveiled a specially-liveried Tornado GR4 from its world-famous 617 Sqn at Coningsby in Lincolnshire on 21 March, with its unique tail art commemorating the 70th anniversary of the unit's formation - then flying the mighty Avro Lancaster pictured alongside it in this Crown Copyright image....
Emergency Landing for Two F-22's
- Detail at the link
Seaplane helps pilot commune with nature
from General Aviation News by Meg Godlewski | Austin Watson was enamored with aviation from an early age, but it took a while for him to find the time to get his wings....
Another "why we fly" video
from A mile of runway will take you anywhere. by Steve | Because, really, why not? You...
AOPA Awards Two Student Pilot Scholarships at Women in Aviation Conference
- The Leading Aviation Industry Resource for News, Equipment and | Frederick, MD – The Aircraft Owners and Pilots Association (AOPA) and the AOPA Foundation awarded two scholarships each worth $3,000 to pilots-in-training last Saturday during the annual Women in Aviation, International (WAI) Conference in Nashville, ...
Astronaut David Wolf lands at Children's Museum
- Journal and Courier | Retired NASA astronaut David Wolf has landed at The Children's Museum of Indianapolis as its first Extraordinary Scientist-in-Residence. The Indianapolis native will be at the museum about 11 a.m. this morning to announce his new position, which will ...
Photo: Space Shuttle Enterprise Visible Again After Undergoing Repairs
- Gothamist | "The Space Shuttle Enterprise is visible once again at the Intrepid Sea, Air & Space Museum, as the temporary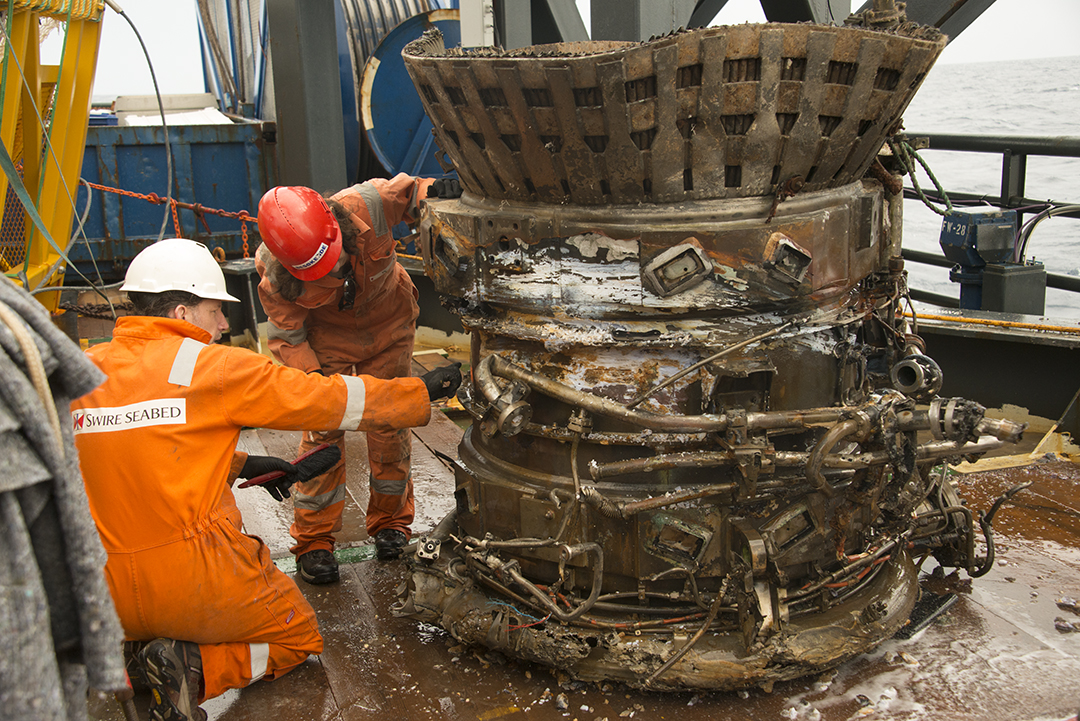 scaffolding and cover that had been installed in February was removed on Wednesday. The shuttle is now visible from all angles, although it...
Video: Revealed - The Mysterious Apollo Voyage To The Bottom Of The Sea!
from AirPigz by Martt | The mysterious Apollo voyage to the bottom of the sea is really a by-product of every Apollo mission that left the Earth... the engines and booster stage returned to Earth after burning for approximately 165 seconds, reaching about 205,000 feet. Interestingly, the momentum carries the booster up to about 360,000 feet before it begins to descend. While falling, the booster stage assumes a semi stable engines-down position until impact with the ocean. The pieces and parts then make their way on down to the ocean floor....