Blue Angels jet arrives in NH for air show - Boston.com | The first of the Navy's Blue Angel fighter jets has arrived in New Hampshire ahead of this weekend's Boston-Portsmouth Air Show...

Golden Knights 23rd Change of Command from US Army Golden Knights by wfallin | Fort Bragg,
NC—The U.S. Army Parachute Team, the Golden Knights' jumped into the Team Headquarters facility on 3-3327 Butner Road on Tuesday, 26 June 2012, at 10:30 am for the Change of Command Ceremony. LTC Joe Martin relinquished command of the United States Army Parachute Team, "Golden Knights" to LTC Jose Enrique Melendez. LTC Melendez is the twenty-fourth Commander of the parachute team during its fifty-third year of existence....

Trojan Phlyers to perform at Texas airshow from General Aviation News by Janice Wood | The Trojan Phlyers Demonstration Team is gearing up for their sixth year of performing in at the Thunder Over Cedar Creek Lake Air Show July 7 in Cedar Creek Lake, Texas...

Southwest Freedom Over Texas' Sky Stage To Feature Vintage ... - CBS Local | You'll see a B-17 Bomber, B-25 Bomber, a B-25 and two A-26 Invaders making fly-over's throughout this year's Southwest Freedom Over Texas. The Lone Star ...

Auburn Vets Invited To Westover Air Show - The Daily Voice | AUBURN, Mass. – Lawrence Corbin, the director of veteran services in Auburn, is encouraging veterans to attend an air show in August at Westove ...

Arlington prepares for annual festivities - Arlington Times | One week later, the Arlington Fly-In and Street Fair will draw locals and travelers ... The Arlington Fly-In runs from Wednesday, July 11, through Sunday, July 15, ...

Moby to emcee at 2012 Wings Over North Georgia - Rome News Tribune | Thomas joins the previously announced Country recording artist Aaron Tippin, who will headline the Friday night show with his CAF Red-White & Loud Tour ...

Gary Air Show organizers expect big crowd, smaller space - Post-Tribune | GARY – The largest expected crowd for the Gary South Shore Air Show is expected to be hosted in the smallest amount of space the event's ever faced, but ...

Local Air show still flying high - Wetaskiwin Times Advertiser | Staff writer The national acrobatic precision flying team the Snowbirds, parachute team the Skyhawks, or an F-18 fighter jet demonstration, will...

Sponsorship plea to get Vulcan Airbourne - Eastbourne Herald | AIRBOURNE organisers are still a long way off confirming a high-profile replacement for the stay-away Red Arrows. The iconic display team have opted to swap ...

Bristol Balloon Fiesta to feature Blades stunt aerobatic display - Guide2Bristol | 27 June 2012 - Bristol Balloon Fiesta to feature Blades stunt aerobatic display.

Legends News Day #3 from Classic Aviation Worldwide | The so called "media day" is usually a
quiet affair with a few demonstrations, engine runs an many fluorescent jackets. Where the latter remained true the other factors usually associated with the Wednesday prior to the show were not. Historic Aircraft Collections Hawker Nimrod stood on the flightline all day with numerous engine runs and plenty of tinkering. A question mark probably now hangs over the fighter's head as to it's availability for the show.

Duxford – Legends from Apron 6 | Great video about Duxford. I should be going to the Flying Legends this weekend instead of sitting at home…

RIAT organisers get ready for bumper show - Flightglobal | This year's Royal International Air Tattoo (RIAT) has attracted so many aircraft the show's organisers are having to turn down late requests from militaries ...

Don't miss the Bournemouth Air Festival launch at Oceana Hotels - PRunderground | The Bournemouth Air Festival is one of the most anticipated events in the coastal town's calendar, with more than a million guests enjoying the aerobatic ...

'Racing Aces' Win 36th Annual Air Race Classic from EAA - The Experimental Aircraft Association | The Racing Aces team of Dianna Stanger and Victoria Holt were named winners of the 36th Annual Air Race Classic (ARC) on Sunday, June 24. The four-day race covered 2,862 statute miles and eight states, and included nine stops, ending on June 22 at the Clermont County Airport (I69) in Batavia, Ohio, home of Sporty's Pilot Shop....

"One of One" 2013 "Red Tails Edition" Ford Mustang Ready for Auction from Alabama Aviator -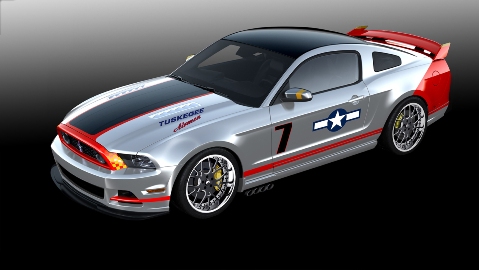 Aviation News | OSHKOSH, WI -- EAA AirVenture, the world's greatest annual aviation celebration in Oshkosh, Wisconsin, has become known as the home for one-of-a-kind, aviation themed Ford Mustangs. For 2012, Ford has created a "Red Tails Edition" Mustang to honor the exploits of the famous Tuskegee Airmen, the first African American aviators in the United States Army Air Corps. This special Mustang will be auctioned off on Thursday, July 26th to benefit the EAA's (Experimental Aircraft Association) Young Eagles Program.

Turkish airplane Hurkus rolls out - SomalilandPress | The plane is expected to be ready to fly within a year and will also be shown to the audience at the Farnborough International Air Show. The aircraft will be used ...

B-17 Bomber In Town - KAPP | Today a B-17 bomber from World War II made its way to Yakima, something that brought tears to the eyes of J Lee Tobey - a World War II veteran.

Antique Airfield:

Preserving history to honor a fallen Airman, Flying Tigers heritage
from Air Combat Command - Top ACC Stories | When 53 Americans were taken hostage in 1980 by militant Iranian's at the U.S. Embassy in Teheran, Iran, the government acted quickly to prepare for a rescue mission. Operation Eagle Claw consisted of highly-skilled personnel to free the Americans. Among that team was U.S. Air Force Maj. Lyn McIntosh of the 8th Special Operations Squadron, whose home station was Moody Air Force Base, Ga.
County Moves Ahead With New Navy Museum
- Bay Net | State approval is necessary along with the final transfer of monies from the Patuxent River Naval Air Museum Association, a non-profit that will operate the ...
Join the Alberta Aviation Museum for a presentation of the Past, Present, Future
from Aviation.ca News | Canadian Astronaut Major Jeremy Hansen will be doing a presentation for children/youth all ages "Pursue your dreams"...
Former Model Becomes Combat Aviator for Israel Air Force
- Algemeiner | A former female model who moved to Israel from St. Petersburg, Russia, when she was 18 months old, is about to get her "wings" and become a combat aviator ...
SpaceShipTwo returns to flight
from Flightglobal Events | SpaceShipTwo has returned to flight, having successfully completed a 26 June glide test. The Scaled Composites-built suborbital spacecraft has been grounded...