See Video: Blue Angels Practicing For Weekend - WBAL | ...It is that kind of precision that
Captain Greg McWherter expects from his team of pilots who will be performing this weekend as part of an air show over Fort McHenry. The Blue Angels are flying over Baltimore today and tomorrow to rehearse for the show. McWherter told WBAL News that people should not think the Blue Angels are the star of this weekend...

Ray Fagen Memorial Airshow is this weekend - Granite Falls Advocate Tribune | On Saturday, June 16 the Granite Falls Municipal Airport will provide the setting for the second Ray Fagen Memorial Airshow and the first public glimpse of the ...

Rockwell Collins Night Air Show Returns to Provide an AirVenture 'Skylight' from News from EAA AirVenture Oshkosh | 'Skylights' will fill the night air over Oshkosh when the Rockwell Collins Night Air Show returns to EAA AirVenture 2012 on Saturday, July 28. Since debuting in 2010, this event has become the marquee attraction of 'Super Saturday' on AirVenture's final evening.

Flabob Airport Makes Strong Showing at AirVenture - The Leading Aviation Industry Resource for News, Equipment and | Riverside, CA – Flabob Airport will be participating at AirVenture this summer with a high level of activity. They are bringing the Flabob Express, which is a DC-3, ...

NASA astronaut to appear at Dayton Air Show - Middletown Journal | ...NASA astronaut Gregory H. Johnson, a 1980 graduate of what was then Park Hills High School in Fairborn who went on to fly two space shuttle missions on the orbiter Endeavour, is to appear at the air show, its organizers said Monday....

Nebraska Airfest and Fly-In set for Norfolk - Lincoln Journal Star | NORFOLK -- The 2012 Nebraska Airfest and State Fly-In will be this weekend at the Norfolk airport, starting at 6 each...

Show promises aerial tricks - Owen Sound Sun Times | Price, who just turned 70, will be taking to the skies for the Dam Pub Airshow on July 1 at ... He is scheduled to take part in an airshow in Orillia on June 30...

Oregon International Air Show - www.youtube.com | (via by Herb Gillen Advertising FB Wall) This is the :30 TV spot for the 2012 Oregon International Air Show Presented by Standard TV & Appliance. The show takes place Aug. 3rd, 4th and 5th and will ...

Planes flock to RAF Cosford for air show - shropshirestar.com | The first aircraft will be flying into RAF Cosford tomorrow ready for Cosford Air Show on Sunday...

Sneak preview of Air Tattoo - British Forces News | The line-up has been announced for this year's Royal International Air Tattoo. The airshow at RAF Fairford is the UK's biggest, and will feature seven aerobatic ...

AIRSHOW NEWS: Shuttleworth Midsummer Evening Airshow and LAA Party in the Park CANCELLED from Flightline UK | ...We regret to announce that due to the condition of the airfield and forecast weather over the next few days we have had to cancel the June Evening Air Show & LAA Party in the Park on June 16th...

Introducing the Smoke Squadron is prevented in Ribeirão Preto (SP) from NOTÍCIAS SOBRE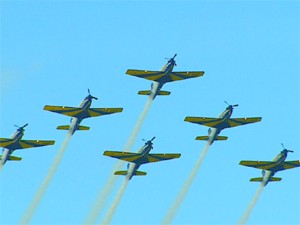 AVIAÇÃO AVIATION NEWS (translated) | Flights take place on the day the city celebrates 156 years. The Airway Department of the State of São Paulo (Daesp) prevented the presentation of the Smoke Squadron on June 19 in Ribeirão Preto (SP) - the date when the city completes 156 years. It said the event would affect the safety of passengers and aircraft at the airport Leite Lopes. One argument was the 42% increase in the movement of the site in 2011. If you happen to submit the airport would have to be partially closed for takeoffs and landings. The interruption hurt three thousand passengers and 66 flights that occur daily on the site...

The Challenge of Making New from Old - Moose Peterson | "Welcome Home!" was the greeting we got from Val when we pulled Monday to PRS, precursiour to the Reno Air Races (which are more definitely happening this Sept!). And home it is as this is where my passion for aviation was wed with pixels five years ago. When we were new to PRS & Reno, everything was new and photographically, finding new images was not a challenge because it was all new. But now with our fifth event, finding the new image from old at first seemed to be a challenge. Jake, Brent & I thought about it and in a short time we decided we wanted to try a new perspective....

"Local Legend" Contest Winner Returns to the Skies - KEYC TV | Sean Tucker says, "This kid can fly!" It sounds like in the future we could be seeing Nathan frost flying over the crowds at the Minnesota Air Spectacular...

BBMF High Quality.wmv - www.youtube.com | RAF BBMF footage previously unseen taken during Her Majesty The Queen's Diamond Jubilee Flypast on Tuesday 5 June 2012. Thank you for your continued support ...

Flight below a A380 - Roll from Apache, the blog of the patrol by Breitling Grifil | On Friday, May 11, before the Meeting of Airexpo 2102, at Muret, took place a memorable flight of the Breitling Jet Team, on patrol with the A380. Patrol as the Airbus were present the next day, despite a low ceiling, in front of an enthusiastic audience with a team of organizers friendly and efficient ... A big congratulations to the students of the ENAC and ISAE for their warm welcome!...

Racing for Girl's Education in Aviation - The Racing Aces | The Racing Aces, Dianna Stanger and Victoria Holt, departed from Calhoun County Airport today for the 36th Annual Air Race Classic (ARC) which will begin on Tuesday, June 19th in Lake Havasu, Arizona. The 2,681 statute-mile race will span over eight states including; Arizona, New Mexico, Texas, Kansas, Nebraska, South Dakota, Wisconsin and Ohio. A new plane, refined tactics and a year's experience under their belts; the female pilots are excited to take to the skies...

Four visitors of the Mustang Days will fly on a North American B-25 ... - AVIONEWS | The B-25 will take off from the Merced Airport in the morning of 13 October, the event day, and after a 30-minutes flight it will reach the Mustang Days location, ...

Stockton Springs to man shot down in WWII after learning of his ... - Bangor Daily News | The target that day was the U-boat pens near Brest, but when an enemy bomb hit the B-17 in the tail section at 21000 feet, the mission very quickly became one ...

USAF Aggressors 40th Reunion from Photorecon | At the invitation of Lt. Col. Gail "Evil" Peck, I got a rare "outsider's" opportunity to attend part of the USAF Aggressors' 40th Reunion on June 1st 2012 at Nellis Air Force Base in Nevada. The Friday event was held at the 64th Aggressor Squadron (64 AGRS) headquarters, and included a special squadron Roll Call [...]

Sullivan, Bridenstine trade shots over TASM track record - KRMG | The Tulsa Air and Space Museum has officially weighed in on the facts regarding the tenure of Jim Bridenstine, its former Executive Director and now a congressional candidate. After statements made by Rep. John Sullivan, the 1st District incumbent, called Bridenstine's work at the museum into question during a recent debate, the museum staff was moved to clarify the situation...

FlyNano Flight Testing Teased from CAFE Foundation Blog by Dean Sigler | From the frozen north of Finland comes the news that FlyNano has flown its electric prototype. Originally planned to have both two-stroke and electric powerplants, the five-meter span joined-wing flying boat is now only
electric, its makers citing the strides made in development of motors and batteries in the last several years for their decision...

Northrop Grumman B-2 Spirit flying over the St. Louis Arch from Planeshots

Lakeland Aero Club: Where the Student Pilots Run the Show - Flying Magazine | The club, located on the Sun 'n Fun grounds of Lakeland Linder Regional Airport, started up last month with express intention of helping students at Central ...

York school children get a glimpse of aviation history - The Press, York | WWII Dakota Flypast at the Yorkshire Air Museum during the NYBEP ... Yorkshire Air Museum, in Elvington, combined with North Yorkshire Business and ...

America's first female Zeppelin pilot takes off from General Aviation News by Janice Wood | Andrea Deyling has joined Airship Ventures in the San Francisco Bay area as an airship pilot, becoming America's first female Zeppelin pilot. A licensed LTA pilot, Deyling has been training on the Zeppelin Eureka since November 2011 and officially earned her Zeppelin qualification this month...

Women in Space: A Gallery of Firsts - Space.com | Here's a run-through of the trailblazing women who achieved major firsts in space.

Social Media Stirs Female Taikonaut from Spaceports | The first female Chinese taikonaut is creating a stir on the Chinese and global social media this week...