Collings Foundation Solicits Comments On FAA LHFE Proposal from Aero-News Network | NPRM Could Severely Restrict Living History Flight Experiences In 1996, the FAA granted an exemption from various requirements of part 91 and part 119 to the Collings Foundation to operate a B-17 and B-24 World War II bomber carrying passengers for the purpose of preserving U.S. military aviation history. In return for donations, the contributors would receive a local flight in the restored bomber. The Living History Flight Experience (LHFE) was created.

Navy Leap Frogs to parachute into Clifton Park for Sailabration - ABC2 News | ... weapons and a troop roster. An unexploded British bomb that was recovered from Baltimore harbor will also be on display. The event is free and runs from 10:00 am to 1:00 pm The Navy Leap Frogs will parachute into the park around noon.

IWM Duxford announces details of Flying Legends Air Show - PilotWeb | The Fighter Collection and IWM Duxford have announced some of the aircraft that are set to wow crowds at this year's Flying Legends Air Show. The event will see the air show debut of The Fighter Collection's Republic P-47G Thunderbolt 42-25068 'Snafu', ...

Win a Ride on a Super Connie at Farnborough from www.ainonline.com | Fans of Lockheed Martin have a chance to win a ride on an historic Lockheed C-121C Super Constellation at the upcoming Farnborough International Airshow (July 9 to 15). Five lucky winners will have a seat on the airplane, when it makes a celebratory flight from the UK's Farnborough Airport on the morning of July 10...

Little Texas Joins AirVenture Musical Lineup from News from EAA AirVenture Oshkosh | With several chart-topping hits in tow, Little Texas will be bringing its brand of rockin' country to EAA AirVenture Oshkosh 2012. On Wednesday, July 25, the energetic band will be performing some of their top hits, like 'God Blessed Texas' and 'What Might Have Been.'...

Local Pilot Races to the Front - Llano News | Taking to the skies is part of who Alan Crawford is. He has been flying for the past 45 years, starting when he was just a 'youngster', he served in the Texas Air National Guard following college and spent ten years in the 181st TAW as an instructor and check pilot. Since 1981, Alan has been with Southwest Airlines, and is still a Captain there. In his free time, he races. It all began in 2008, when he participated in the Air Venture Cup, a race to...

Competition Taking Liberty University's Female Flyers to New Heights by Kathryn | Four members of the Liberty Belles leave for Arizona Wednesday morning to compete against dozens of other pilots across the country in the Air Race Classic. The four-day race will take them all over the country, testing their ...

Air Race Classic pilots ready for competition - TechPurdue | Chantel Steele and Amanda Keck, professional flight majors in the College of Technology, left yesterday (June 12) to represent Purdue in the Air Race Classic flight competition. The race starts June 19. They will be assisted ...

Panchito makes a run! — the Mitchell, not the cartoon - Travelforaircraft | ...Panchito, the original
B-25 Mitchell, was manufactured that same year. Panchito, the one that can be seen flying today, is a slick late model B-25. Most of the paint is for the "Panchito" nose art with the fuselage and wings finished only in brightly polished aluminum....

On From Rabat – Solar Impulse Explores Morocco from CAFE Foundation Blog by Dean Sigler | Solar Impulse took off from Rabat-Sale' Airport this morning 08:07 a. m. local time, heading over Casablanca and Marrakesh on its way south to Quarzazate, where it is expected to land at 00:30 a. m. local time. Considering early ground speeds under 15 kilometers per hour (about 9 miles per hour), headwinds are a major constraint. Turbulence may also cause difficulties, the area having an average daily temperature in the high 90s and low 100s Fahrenheit....

BNA Balloon Build Day Celebrates 75th Anniversary from Aero-News Network | Local Balloon Artists To Create Sculpted Balloon Model Nashville International Airport (KBNA) invites members of the community to attend the BNA Balloon Build Day ... a special event at KBNA in celebration of its 75th anniversary on June 17 from 1–4 p.m. Those attending the free event can watch the building of a half-scale sculpted balloon model of a DC-3 aircraft. A DC-3 was the first plane to land at KBNA.

Helicopter To Install Niagra Falls Tightrope from Aero-News Network | Stunt Will Be Attempted Friday Apparently when they can help make him look good, Senator Charles Schumer likes helicopters a lot. Monday, the New York Democrat's office issued a news release saying the FAA had granted permit to allow Haverfield Aviation to use a helicopter to string a tightrope from the Canadian side of Niagara falls to the American side.

Model Aero Club takes to the skies - Katherine Times | IMAC stands for "International Miniature Aerobatic Competition" and uses very similar rules and routines to those performed by real piloted planes in their own competitions. The routines are based on a very high degree of precision flying and all ten ...

Happy 88th Birthday to Our 41st President George H.W. Bush from US Army Golden Knights
by wfallin | ...The Team initially jumped at President Bush's Inauguration in 1989. He stated that he would like to make an actual parachute jump since he had to bail out of a plane during the war. June 1942, Bush joined the United States Navy on his eighteenth birthday to become an aviator. On June 19, 1944 as a young Navy pilot during World War II, Bush had to jump out of his plane after it took enemy fire. The task force triumphed in one of the largest air battles of the war, but on his return from the mission Bush's aircraft made a hard forced-water landing....

Heroes of aviation relate experiences - Montgomery Advertiser | Saylor, one of the five remaining Doolittle Raiders, grew up on a Montana cattle farm 30 miles from a town of 300. He said he enlisted in the Air Force when he and his brother saw a sign in the post office advertising a $72-a-month job as an airplane ...

Bomber Command Memorial Concert from What's On at RAF Museum London | 29 June 2012 | On the evening of 29th June the Royal Air Force Museum London will be opening up its Milestones and Bomber Halls for a special concert commencing at 7.30 pm dedicated to the 55,573 men of Bomber Command who never returned home and current members of the Bomber Command Association. Attendance at this...

Chunk of A-10 fighter plane on display in SW Mich. - The Republic | ... right engine of an A-10A Thunderbolt II was loaded on a truck at the Battle Creek Air National Guard Base last month and taken to the air museum in Portage....

Orange Lion III from Apron 6 | The second last part in the Orange lion serie. After a...

USAF Raptors train with Eurofighters at Red Flag-Alaska - Flightglobal | The US Air Force's Lockheed Martin F-22 Raptors are participating in their first Red Flag-Alaska war-games with German Eurofighter Typhoon fighters and other foreign aircraft. Poland is flying its first Red Flag with its new F-16C/D Block 52 aircraft ...

Where planes go to die - CNN | ...How can you NOT want to sit inside the supersonic airliner that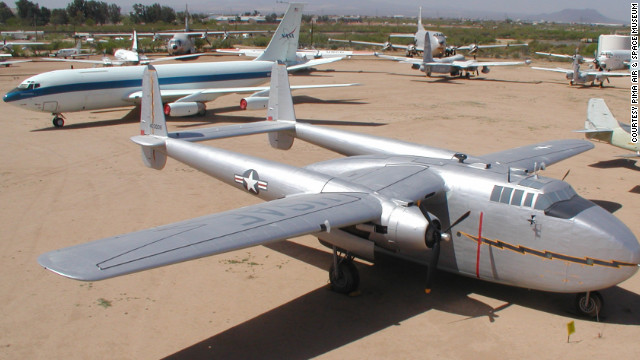 made the last flight of the Concorde? Or see the spy plane dubbed the world's fastest "air-breathing" production aircraft? Or fly over the "boneyard" where military aircraft go to die? Or hang out where the "Right Stuff" flyboys risked death to break the sound barrier?...

Jon Roberts – Ready, Set, Fly from Other People's Airplanes by David | ...through Piper's Ready, Set, Fly program. I'm David Allen, and I'm about to take you into the cockpit … of Other People's Airplanes...

Thousands Get First Flights on EAA International Young Eagles Day from EAA - The Experimental Aircraft Association | EAA chapters across the land held flight rallies for the 19th annual International Young Eagles Day last weekend. The weather cooperated for the most part, allowing volunteer pilots and ground workers to share the love of flight with kids ages 8-17...