U.S. Navy Blue Angels Over Sugarloaf from Alabama Aviator - Aviation News | SUGARLOAF,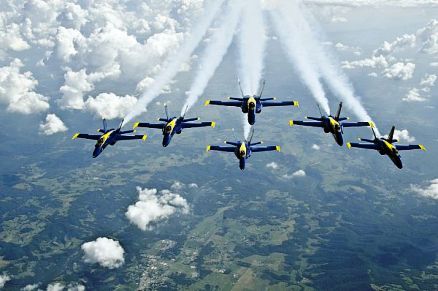 S.C. - The U.S. Navy Flight Demonstration Squadron, the Blue Angels, fly in the Delta formation over Sugarloaf, S.C. The Blue Angels were en-route to Latrobe, Penn., to perform at the Westmoreland County Air Show June 23-24...

Indy Air Show Lifts Off This Weekend - WRTV Indianapolis | INDIANAPOLIS -- The Indianapolis Regional Airport will play host to some high-flying fun June 23 and 24 as the 16th annual Indianapolis Air Show lifts off...

Seen On Eve Of Indy Air Show: FedEx Hiring Quiet Pilots? (Wilson!) from AirPigz by Martt | I
eventually got myself down to Indianapolis Regional Airport late in the afternoon today for the 'media' day before the official opening of the 2012 Indy Air Show tomorrow. However, getting here late meant I missed any media flight opportunities for the day. That's ok tho, there were plenty of excellent warbird arrivals to enjoy thru the evening and a variety of aircraft on the ramp to check out as well...

Early morning sunshine greets visitors to Lowestoft Seafront Air ... - Norfolk Eastern Daily Press | THE sun is out and early morning visitors are descending on the town for the 16th annual Lowestoft Seafront Air Festival...

Purdue duo finishes 4-day air race - Journal and Courier | On Friday afternoon, the Purdue Air Race Classic team of Chantel Steele and Amanda Keck finished the race. But they have to wait until Sunday to learn how...

Aces cross the ARC finish line - The Racing Aces | Batavia, Ohio — The 36th Annual Air Race Classic (ARC) concluded on Friday, June 23rd at the terminus in Clermont County Airport in Batavia, Ohio. The kicker was the fact that Clermont County Airport is home of Sporty's Pilot Shop, the mecca of pilot supplies and accessories...

Solar Impulse Lands in Desert at Night from CAFE Foundation Blog by Dean Sigler | But that's a good thing, because it was on a nice runway with landing lights to help guide it down. On June 22, at
25 minutes after midnight, local time, André Borschberg touched down at Quarzazate, the site of Morocco's huge new solar generating plant. Its second attempt at reaching this destination, Solar Impulse was flown through mid-day turbulence and shifting winds, but did not turn back as it had on the first attempt the week before....

Morocco: Triumphant Landing Of Solar Impulse In Ouarzazate from Aero-News Network | Solar Aircraft Traveled Across Deserts Known For Thunderstorms, Turbulence After an unsuccessful attempt to Ouarzazate last week, Solar Impulse has completed its flight to Morocco's Southern region. The prototype landed successfully at 0025 local time 22 June. This was Solar Impulse's most challenging flight to date due to the hot and arid desert climate famous for its turbulence and high winds...

Descendants of America's Aviation Pioneers Gather for Celebration from Alabama Aviator - Aviation News | WASHINGTON- Descendants of America's 'first families of aviation' gathered here Wednesday evening for the first time for a celebration of the monumental achievements of their fathers and grandfathers and the tens of thousands of scientists, engineers, pilots and production workers who helped make America the world's aerospace and technology leader...

Roar into the past through the air - Sioux Falls Argus Leader | A B-25 bomber that was grounded after it was damaged during World War II ... At Joe Foss Field's Maverick Air Center until Monday, the B-25 bomber, built in...

WWII pilot rides again - Lakenewsonline.com | Jones was taking a ride in the Aluminum Overcast, a B-17 that was restored by non-profit aviation group EAA during the aircraft's stop in Jefferson City this week...

Narrow escape in a B-17 run - Sarasota Herald-Tribune | Vince Ferello was rebuilding automobile generators in trade school in Philadelphia in 1942, when he decided to enlist in the Air Force during World War II.

Flight Lt. Bill Ramsey on flying The People's Mosquito from Travel for Aircraft by joseph_may | ©2012 Nick Horrox for the People's Mosquito Flt Lt Bill Ramsey is responsible for Technical Project Research and Development of The People's Mosquito Project — the audacious venture by a cadre of of accomplished professionals to build a de Havilland Mosquito. But he is more than a section chief, he is one of the United Kingdom's most [...]

The Glacier Girl - A K Haart | The story of the Glacier Girl isn't new, but recently I bumbled across it again, pausing in mid-browse to read it once more because it appeals to me somehow. Maybe the whole thing from crash landing to recovering the wreck is tinged with a sense of old-fashioned
exploits like something out of a boy's adventure book from too long ago. Maybe it's also because I built a plastic Airfix model of one of these aircraft in my youth....

Big Picture by Bruno Brokken from Bonjour BlueSky | The French CF sequential team flying their PD Storms at the...

McGraw lived his boyhood dream as aviator - Beckley Register-Herald | The sky's the limit" is a pretty accurate cliché for a Beckley native who recently retired with over 40 years of professional...

Scottsdale aviator's dream takes flight - AZ Central.com | Scottsdale aviator's dream takes flight, By the time AirSprint Private Aviation Chairman and CEO Judson Macor founded his private-plane company in Canada in ...

Natalie's Second Scholarship Essay from Life on the Road | The Girls With Wings Scholarship Program provides funds for flight training to selected individuals with a willingness to be superlative GWW role models. Winners show potential to continue her interaction with the GWW organization, via the website and events, so she can assist GWW in encouraging more young girls to have an interest in aviation. Part of the obligation for being awarded the scholarship is to submit at...

The Coolest Summer Camp We've Ever Seen! from Flight Monkeys by Chief Monkey | Just look at that face. Seriously. If a picture is worth a thousand words (and they most certainly are) then this one is worth a small book. The subject of this shot is a fine young man named, Gabriel. And as you can see he is sitting at the controls of an actual airplane, and he seems to like it. No, correct that. He clearly loves it. More often than not, that's the outcome of the coolest summer camp program we've ever seen. We only wish this had been available when we were kids...