NVAHOF ANNOUNCES ENSHRINEE CLASS OF 2012 - NVAHOF | Join the NVAHOF staff
and members on the dates below as we honor our nation's Veterans, educate our youth, and honor this year's slate of aerospace legends of Nevada...

Texas duo win Air Race Classic from General Aviation News by Janice Wood | More than 100 air race pilots competing in the 36th annual Air Race Classic descended on the Clermont County/Sporty's Airport late last month, after flying a 2,330 nm cross-country course in four days. Starting on June 19, the racers left Lake Havasu, Arizona, on a course that would take them east, north, and finally southeast to Sporty's. The first racers began to arrive early on Friday, June 23, and continued streaming in throughout the day, Sporty's officials report. The winning team, based on fastest handicapped speed, was Dianna Stanger of Fort Lavaca, Texas, and Victoria Holt of Belton, Texas, who flew a Cirrus SR-22...

Stanger and Holt Win Air Race Classic - The Racing Aces | Port Lavaca, TX — The Racing Aces, Dianna Stanger and Victoria Holt were announced the 36th Annual Air Race Classic (ARC) Champions on Sunday, June 25th. The four-day race covered 2,862 statute-miles, eight states and nine stops. The race concluded on Friday, June 22nd at the terminus in Clermont County Airport in Batavia, Ohio. The kicker was the fact that Clermont County Airport is home of Sporty's Pilot Shop, the mecca of pilot supplies and accessories...

KMOX Fair St. Louis VIP Air Show Day - CBS Local | John Klatt has awed millions of air show spectators across America with a unique blend of precision, power and performance. He has served in the Air National ...

Honor Flight at Oshkosh as part of Salute to Veterans from General Aviation News by Janice Wood | The Experimental Aircraft Association (EAA), American Airlines, and Old Glory Honor Flight, have joined together once again to give World War II veterans the opportunity to visit the powerful memorials dedicated in their honor with an Old Glory Honor Flight departing from EAA AirVenture 2012 on Friday, July 27...

Indianapolis Air Show 2012 Warbird Photo Review - Warbird and Airshows | This is the one air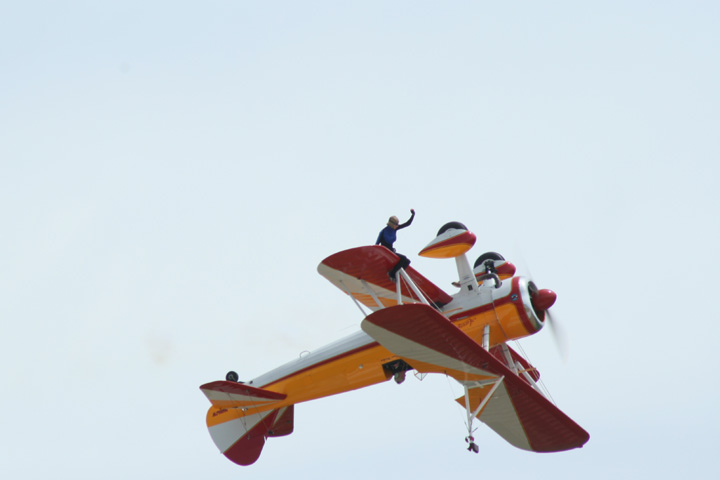 show I volunteer for during the year and my duties are to contract with the warbirds and then during the show I am one of two warbird narrators. While it would seem I have ample time to take photos during the weekend most of the time I am solving problems that arise and helping others with their issues. Most of the time I do not even have a camera with me. During the narration although I have all the warbirds flying in front of me yet I still can only sneak in a few photos at the appropriate moments. The photos below are not logical order and are not inclusive of all the warbirds that were there. But this should give you a flavor of some of the 46 warbirds that were on the field in various locations...

Seattle, WA 2012 Boeing Field Warbird Visit Photo Review - Warbird and Airshows | This was not an air show per se but there was a B-17 flying so it comes in as a warbird flying event. I was visiting the Museum of Flight the same day B-17 Aluminum Overcast was on display and giving rides which was very cool because during WWII 6,981 B-17s of all types rolled off the Boeing Plant 2 assembly lines which was, until razed a couple of years ago, was just a mile down the road from the museum....

Open Cockpit Weekend - My Sunshine Coast | The Warbirds Sunshine Coast Yak-52 will perform an aerobatic display over ... The cockpits of some of the world's greatest flying machines will open to onlookers and aspiring pilots alike. ...

Photo Report: 2012 Florennes Airshow - Zap16 | Seventy years of militairy aviation at Florennes Air Base was one of the items of the Florennes International Air Show on 23 – 24 June 2012....

Burlington air show cleared for takeoff in 2013 - BurlingtonFreePress.com | A two-day air show proposed for August 2013 at the Burlington waterfront has secured a major sponsor and will announce its lineup soon, organizers said ...

Former F-15 pilot to speak at Chico Air Museum - Enterprise-Record | CHICO — Maj. Brian Stuart, a 1992 graduate of Pleasant Valley High School and former F-15C pilot, will be speaking at the Chico Air Museum at 11 a...

Pay It Forward - Vintage Wings of Canada | When I was eleven years old, there existed a holiday in
my hometown that, for me, rivaled Christmas or Halloween or Firecracker Day, which is what we called Victoria Day. This holiday, this special day that I looked forward to for 364 days a year, no longer exists in Ottawa, nor does it still exist in any of the many cities across Canada in which it was also celebrated. As this great day approached, there would...

Earhart exhibit honors history, legacy - WTOP | "She understood that this represented an opportunity to promote women in aviation and also women to lead independent lives, professional lives outside the ...

Boeing's pre-Farnborough media tour: AFSOC's CV-22 Osprey sim from The DEW Line by Dave Majumdar | The DEW Line has been quiet as of late... that's because I've been on multiple back-to-back trips to various places during this past month. Last week was Boeing's pre-Farnborough air show media tour. The tour started off here in Washington DC but quickly moved to Hurlburt Field in Fort Walton Beach, Florida. Hurlburt, as I am sure most of you know, is the home of US Air Force Special Operations Command (AFSOC)....


Antique Airfield:

20 year old wants to record single-engine flying around the world
- AVIATION AVIATION NEWS (translated) | Aboard a single-engine airplane, the pilot Walter Toledo (pictured above) begins on July 8 an adventure around the world who want to complete in 20 days and, to boot, crimp your name in the Guinness World Records, the record books. The plan of the expedition "Brazil Flying High" begins in the Amaral Airport in Campinas (SP), and includes 12 countries of Central Americas, North America and Europe. If all goes as planned, with 125 flight hours and 11,000 liters of fuel, will be the youngest to perform such a feat. At age 20, Toledo tries to leave behind the mark of Jamaican Barrington Irving, who in 2007 made ​​the trip in 97 days, at 23 years of age...
Skydiving great-grandmothers take a leap for charity
- Yahoo! News Blogs | Marjorie Bryan, 83, and Marianna Sherman, 82, parachuted from more than 10000 feet at the Allen County Airport in Lima, reports the Lima ...
Cessna launches Discover Flying Challenge
from General Aviation News by Janice Wood | Cessna Aircraft Co. has launched its Discover Flying Challenge, challenging aviation students to see who can generate the most awareness and hands-on experience for the company's Light-Sport Aircraft (LSA), the Skycatcher...
Virgin Galactic to launch new cargo plan, spaceship design
- msnbc.com | On June 21, Virgin informed media that it would have a press conference with Branson at 11 a.m. at the Farnborough air show on July 11. About 200 of Virgin ...