Wings Over Whiteman Set to Soar This Weekend from The Aero Experience - Celebrating Midwest Aviation by Carmelo Turdo | Wings Over Whiteman is set to soar this weekend at Whiteman AFB in...

Disabled American Veterans Shares Message at Joint Service Open House & Air Show by DAV Flight Team | Joint Base Andrews, MD – Disabled American Veterans (DAV) will reach out to veterans and their families sharing its message of service and volunteerism in support of our nation's combat-wounded men and women at the Joint Base Open House & Air Show on May 19-20. In the company of the iconic World War II era B-25 Mitchell Bomber, the Disabled American Veterans Flight Team will appear at the...

AIRSHOW NEWS: The Black Eagles Soar into Waddington! from Flightline UK | For the first time ever the Republic of Korea Air Force will be seen in the skies above the RAF Waddington
International Air Show this summer, with their Black Eagles Display Team, in what will be the team's very first UK air show appearance. The team, who reformed in 2009 to fly the indigenous T-50 Golden Eagle training aircraft, will arrive in the UK in mid-June and then display at RAF Waddington before moving onto RIAT and Farnborough....

Truckee Tahoe AirFair & Family Festival To Be Held In July from Warplanes Online Community by Tynibelle | TAHOE/TRUCKEE, California — Aircraft enthusiasts and festival followers alike will be tantalized by the roar of T-38s flying overhead and SambaDa, a Santa Cruz group informed by bloco afro (Afro-Brazilian percussion music), samba-reggae, surf-rock, and California funk on Saturday, July 7 at the inaugural Truckee Tahoe AirFair & Family Festival...

Preparations spinning up for 2012 Wings, Wheels, Rotors and Expo - Orange County Breeze | On display will be military aircraft, helicopters, many cars, warbirds along with public safety, first responder and military equipment. Aircraft flyovers are planned plus aircraft static displays and radio controlled airplanes...

Lincoln Airport Aircraft Display Day from Stead Airport Users Association by Tom | The calendar shows the 3rd Saturday of the month to be just days away on May 19. Join your fellow aviation enthusiasts at the monthly Lincoln Aircraft Display Day from 8:00 am to 12:00 noon at the Lincoln Regional Airport. Aircraft owners from around the region will put their planes on the flightline for everyone to view and...

KidVenture Prepares for 14th Year at AirVenture from News from EAA AirVenture Oshkosh | KidVenture, where young people can get hands-on experience in building, piloting, and other aviation-related skills, is getting ready for its 14th year at AirVenture Oshkosh. KidVenture is sponsored by United Technologies (UTC) and is located on Pioneer Airport directly across from the AirVenture Museum.

Better Than Ever: Warbirds in Review Announces 2012 Schedule from News from EAA AirVenture Oshkosh | The Warbirds in Review presentation schedule for AirVenture 2012 is out, focusing largely on this year's 'Greatest Generation in the Air' theme at Oshkosh with tributes to the Doolittle Raiders, Tuskegee Airmen, and the Piper Cub's 75th anniversary.

Rare Junkers JU 52 Coming to Oshkosh - News - In Flight USA | Aircraft Making Trans-Atlantic Journey for North American Tour. A rare Junkers JU 52 tri-motor will be a main attraction along the AirVenture flightline as part of the airplane's North American tour. The airplane's visit is...

Art to honour Red Arrow pilot - This is Leicestershire | Flight Lieutenant Jon Egging, 33, from Morcott, Rutland, died after his Hawk 1 jet crashed during a performance at Bournemouth Air Festival in August 2011. The five metre-high sculpture, designed by children, has been commissioned by Bournemouth ...

EAA Statement Regarding AirVenture Cup Race from News from EAA AirVenture Oshkosh | EAA is stating the following in regards to the annual AirVenture Cup race, which has been the matter of some public discussion concerning the race's future:...

If they can get the insurance, the Reno Air Races are a go this year from RGJ.com | The Reno-Tahoe Airport Authority Board on Thursday gave a 1-year special permit for the Reno National Championship Air Races with the stipulation that the Reno Air Racing Association obtain $100 million in insurance coverage....

Helicopter does barrel rolls over Elizabeth River - The Virginian-Pilot | By Stephen M. Katz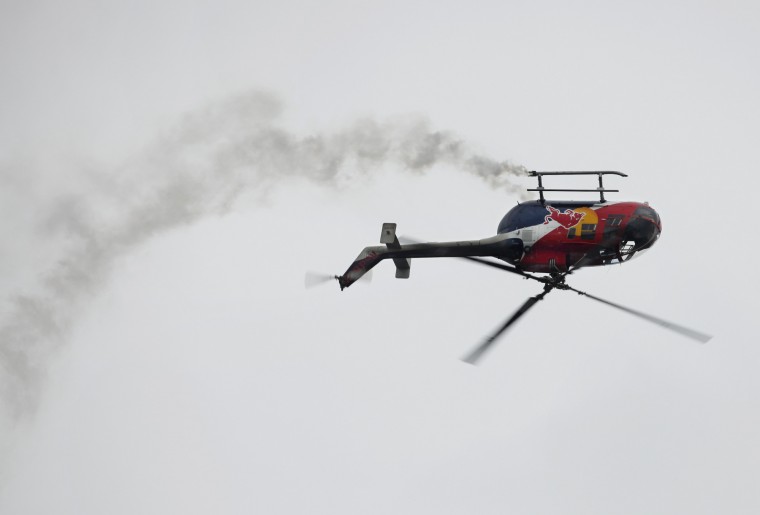 Aerobatic stuntman Chuck Aaron pilots a Red Bull helicopter, performing barrel rolls and flying upside-down, on Wednesday. Aaron was entertaining helicopter pilots, who were in town for the Naval Helicopter Association convention and ...

Collings Foundation To Feature Me 262 Replica At Moffett Field from Aero-News Network | Part Of The 'Wings Of Freedom' Tour Visiting Mountain View, CA The Collings Foundation will display a replica of WWII's only operational jet fighter, the Me 262, during the "Wings of Freedom" tour stop at Moffett Federal Airfield in Mountain View, CA, May 18th-26th. Along with "White 1", the display will feature a collection of rare WWII aircraft, including the Boeing B-17 Flying Fortress "Nine O Nine" WWII Heavy Bomber, Consolidated B-24 Liberator "Witchcraft" WWII Heavy Bomber and P-51 Mustang. The aircraft will fly into Moffett Federal Airfield in Mountain View, CA.

Second World War plane wings into town soon - Winnipeg Free Press | Winnipeggers will also get a chance to see the Snowbirds demonstration team (431 Squadron), the iconic Canadian Forces aerobatics team, this weekend. The Snowbirds will perform manoeuvres over the city on Saturday, with the best vantage point at The ...

More War Birds - Santa Barbara Edhat | A small crowd was watching the B-17 Flying Fortress when we arrived, and as we walked to our plane they were starting up the engines. The puff of smoke as the engine fires is like something out of an old movie. The B-24 Liberator and P-51 Mustang were ...

Giving them props at slo airport - San Luis Obispo Tribune | A B-17 Flying Fortress, a B-24 Liberator and a P-51 Mustang will be on display through midday Friday. The B-17 and B-24 were the main bombers used by US air forces during the war, while the P-51 was a fighter that protected the bombers from enemy ...

DeLand Naval Air Museum holding open house - Daytona Beach News-Journal | By VALERIE WHITNEY, Staff writer DELAND -- The DeLand Naval Air Station Museum will host an open house this weekend in recognition of Armed Forces Day, which is always celebrated the third Saturday in May. The program will be from 10 am to 2 pm ...

Museum hoping to secure WW2 plane - Barnet Press | By Daniel O'Brien HISTORIANS are hopeful that a crashed British fighter plane will soon make its final journey from an Egyptian desert to the RAF Museum, in Colindale. However, they face a race against time to cut through red tape and get the plane out ...

CAF Announces New VP Of Development For CAF Foundation from Aero-News Network | Newest Member Spent 24 Years With The EAA Following an extensive nation-wide search, the Commemorative Air Force (CAF) is excited to announce that Steven L. Buss of Oshkosh, Wis., will be joining the International Headquarters team in Midland/Odessa, Texas, as Vice President of Development for the CAF Foundation.

Missouri Historical Society Meeting: Who Taught Lindbergh to Fly? from The Aero Experience - Celebrating Midwest Aviation by Carmelo Turdo | The theme for the May meeting of the Missouri Aviation Historical Society was: Who taught Lindbergh to Fly? Presenter Stan Crader, a pilot, novelist and author of an authoritative article on the topic, introduced Ira Biffle of Bollinger County, MO, a man of great accomplishment in his short flying career...

Newark Jaguar T2 arrival 21-3-2012 from stickandrudderWTO | Ever wondered what goes down,
when aquiring a new 'exibit at an air museum ? Well it goes something like this, my good friend Mick Coombes, 'captured' the event on the 21st of march 2012 with his...

P-51 Mustangs at Daybreak from Randy Rothhaar Photography | P-51 Mustangs "Dolly" and "Kimberly Kaye" just before daybreak at the 2012 Planes of Fame Airshow in...

"Become a Pilot Day" from What is Silver Wings Over Washington? by Ron David | At the May 24th Speakers Luncheon, just before the address of acclaimed Dr. Linton Wells, we will have information about the eight annual "Become a Pilot Day" Family Day and a remarkable Aviation Display event scheduled for June 16th,at the Steven F. Udvar-Hazy Center. "See 50 visiting vintage, recreational,...

Kids Fly Into The Wild Blue Yonder For Free - Patch.com | The Young Eagles program at Hayward Airport pairs kids 8-17 with experienced aviators for free flights on several Saturdays throughout the year. By Tom Abate On select Saturday, vintage airplane owners from Hayward Airport take kids 8 to 17 for free ...