CAP pays tribute to 'Mama Bird,' legendary aviator and longtime member
- Duluth Weekly | MAXWELL AIR FORCE BASE, Ala., (May 15, 2012) — An honor guard of Civil Air Patrol cadets will salute CAP's, and the entire aviation community's, "Mama Bird" when she is laid to rest Wednesday morning in Jefferson City, Tenn...
CANYON LAKE: 'Air boss' of March show eyes safety
- Press-Enterprise | Even the Thunderbirds, the US Air Force's world-renowned aerobatics demonstration team that headlines the show, will have to stop if Davis deems it necessary. "The reason they call me the 'air boss' is because what I say goes," said Davis, ...
SkyHawks Prepare for Oshkosh
from eaavideo.org | The Canadian Forces SkyHawks Parachute Team spent five weeks in southern California practicing and perfecting their show for EAA AirVenture Oshkosh. Watch as they fly aerobatic formations under canopy to just 15 feet above the ground!
Amigo Airsho Schedule Takes Flight
- KTSM News Channel 9 | The Amigo Airsho will take flight with a lineup to include the US Air Force Thunderbirds and the US Army Golden Knights again this year. Amigo Airsho Board President Scott Butler also unveiled the recently revitalized logo for the Amigo Airsho, ...
Magnificent men in their flying machines
- ABC Online | The elite formation aerobatic team zoomed over the city in a 10 minute display at 5pm yesterday, delighting onlookers. The RAAF Roulettes are based in Victoria and have flown to WA to perform at the Perth Air Show on the weekend....
The A400M is invited to a meeting of La Ferte-Alais
- Air & Cosmos (translated) | Saturday 26 and Sunday, May 27 will be held the traditional airshow Cerny-La Ferte-Alais, this mythical "flying field" located in Essonne. On the occasion of the 40th edition, the Association Jean-Baptiste Salis (preserving and maintaining in-flight ...
Video: Ride With The Great Corkey Fornof In The LoPresti Fury!
from AirPigz by Martt | This sweet
cockpit video of Corkey Fornoff flying the LoPresti Fury at the Great Tennessee Air Show last Saturday (May 12th) takes a little while to get to the really good stuff, and it includes his entire airshow routine so it's a long video as well. If you're the impatient type, scoot up to about 3:10 for engine start, or to about 6:10 for back-taxi and takeoff roll. If you're really impatient, just go watch this...
B-25 Gathering Honors Doolittle Tokyo Raiders
from Featured by Webmaster | By Alyssa J. Miller for AOPA.org | Old Glory is owned by John Ward and based in California but flew to Ohio to take part in the Grimes Gathering of B-25s to honor the Doolittle Tokyo Raiders. (Mike Fizer)Old Glory is owned by John Ward and based in California but flew to Ohio to take part in the Grimes Gathering of B-25s to honor the Doolittle Tokyo Raiders....
The Countdown Begins!
from Autogyro circumnavigation of the globe by The GYROX Team | We have heard from Norman, who returned to Japan last week, about his preparations to resume the world's first circumnavigation by an Autogyro. He describes in his own words the hurdles he has to overcome, created naturally or by bureaucrats, to return to the air for his pioneering flight....
Brame featured aviator at FH Airport Museum
- SanJuanIslander.com | Celebrate veteran aviator Frank Brame's induction to the "honor wall" at the museum inside the Roy Franklin terminal at Friday Harbor airport at 2 pm Sunday, May 20. Refreshments will be served. Brame joins previous honorees Roy Franklin, Marty Stewart ...
The Story of Aviation Pioneer James Herman Banning
from Featured by Webmaster | By Louisa Jaggar and Pat Smith | Have you ever heard of James Herman Banning? If you have, you are unusual. Most people know Lindbergh and Earhart, but Banning, for the most part, has escaped the history books. Why? Because he was African American and in the 1920s the mainstream press didn't write about African American aviators. He was the first African American to fly across the continental United States, and many believe he was the first to receive a United States issued pilot's license....
Truck carrying aircraft of the Military Brigade and congested roads of Porto Alegre
from NOTÍCIAS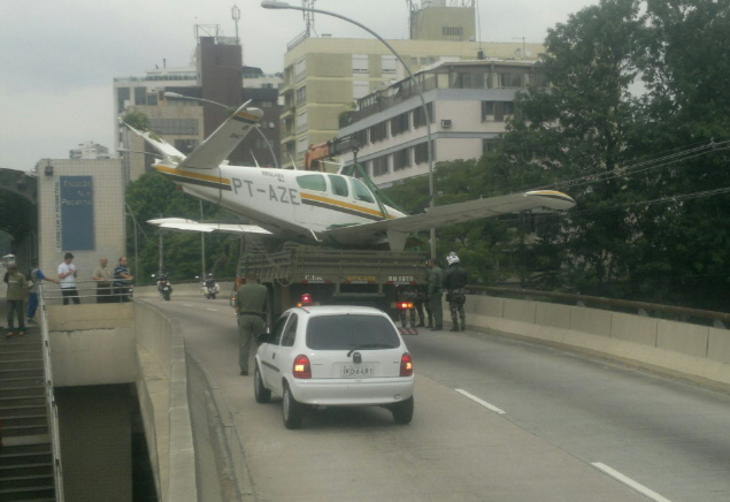 SOBRE AVIAÇÃO AVIATION NEWS | An unusual scene complicated the important transit routes in Porto Alegre. The small plane prefix Beechcraft Bonanza H35, PT-AZE , drew the attention of drivers in Porto Alegre on the morning of last Friday (11). The truck came with cargo unusual morning Salgado Filho airport in the direction of the Brigade Military Academy Blvd Colonel Aparicio Borges, in Porto Alegre (RS). The reason is that he was not circling in the sky, but the avenues of the capital Porto Alegre...
TAM Museum participates in the 10th National Week of Museums
from NOTÍCIAS SOBRE AVIAÇÃO AVIATION NEWS (translated) | During the 10th National Museums Week, organized by Ibram (Brazilian Institute of Museums) and the Ministry of Culture, the Museum TAM promote a unique action. From 16 to 20 May, visitors can watch aircraft being restored "live" in Corrosion Corner, space for the collection to show the restoration work carried out by the institution of aircraft....
Key West Biplanes Flies Entire Family
from Key West Biplanes - Waco or Pitts Biplane Rides by Cari |
This wonderful family flew with Key West Biplanes. Richard Woods was celebrating his 75th birthday, his...
Takin' care of business
from Randy's Journal by Randy Tinseth | ST. LOUIS — I'm here in St. Louis for the annual Boeing investor conference. The 787 paid a visit here over the past couple of days as leg 6 of the Dream Tour wrapped up....
FAB destroys track illegal in Roraima
from NOTÍCIAS SOBRE AVIAÇÃO AVIATION NEWS (translated) | Two Super Tucano fighter planes from the Brazilian Air Force (FAB) bombed a clandestine runway takeoff and landing in the middle of the Amazon jungle, about 200 km from Boa Vista, at 12 noon this Saturday (12). The track had destroyed 280 meters long and 15 meters wide...
Photo Report: Italian Army Aviation celebrates its anniversary with a tactical event involving heavy lifter, attack and special ops choppers
from David Cenciotti's weblog | On May 10, the Italian Army celebrated the 61st anniversary of the service's Aviation at Viterbo airfield, northwest of Rome, with an interesting tactical event and final flypast which saw the participation of CH-47, NH-90, AB-412, AB-205, A-129 choppers, some of which are periodically deployed to Afghanistan in support of ISAF, as well as P-180 and Dornier 228 planes...
Spokane boy lives dream as 'Airman for a day'
from Air Force Link Top Stories | A 10-year-old boy, who has been fighting a cancerous tumor on his optic nerve and endured 1.5 years of chemotherapy, had the opportunity to become an "Airman for a day" here May 4...
Unveiling an Amphibious Skiplane
- Aerospace Manufacturing and Design | LISA Airplanes will unveil for the first time in North America, the Akoya, the high-end amphibious skiplane at the EAA AirVenture Oshkosh 2012 airshow. Following the European success of the AKOYA and in answer to the increasing interest from the North...
Dream Chaser completes wind tunnel tests at NASA MSFC
from RLV and Space Transport News | A message from NASA's Marshall Spaceflight Center and Sierra Nevada...