New Sean D. tucker video from Chino POF show - Photorecon.net

Lights, Camera, Action! Kirby Chambliss Enters into Partnership with GoPro from PR Newswire: Airlines/Aviation | Kirby Chambliss, a five-time United States National Aerobatic Champion and two-time Red Bull Air Race World Champion, is pleased to announce today a partnership with GoPro, the world's most versatile camera and producer of today's most engaging...

Disabled American Veterans Shares Message at JB McGuire-Dix-Lakehurst Open House and Air Show - DAV Flight Team | McGuire Air Force Base, NJ – Disabled American Veterans (DAV) will reach out to veterans and their families sharing its message of service and volunteerism in support of our nation's combat-wounded men and women at the JB McGuire-Dix-Lakehurst Open House and AirShow on May 12 and 13.. In the company of the iconic World War II era B-25 Mitchell Bomber, the Disabled American Veterans Flight Team will appear at the...

AIRSHOW NEWS: Look to the skies at the Military and Flying Machines Show, Damyns Hall - Flightline UK | Military & Flying Machines Show, the fastest growing military show in Essex at Damyns Hall Aerodrome in Upminster, for a great family fun day at a family friendly price on the 4th & 5th August 2012. The Military and Flying Machines is proud to announce that we are listed as a "parallel event" for the 2012 Olympics, and the only air display featuring both the Sally B and BBMF Lancaster over that period, so we are welcoming many visitors to the Olympics who will take the time out to visit this magnificent and hugely entertaining show and sample a little bit of British heritage, history and hospitality. Most of all we are pleased to announce the return of B-17 Sally B who will once again grace the skies of Upminster in the best way she can, last years display was magnificent and we are sure the 2012 display will be even better....

SAAF Museum to hold air show on May 12 - defenceWeb | This year's air show theme is "Warbird Centenary" and will feature warbirds from early years to modern South African military machines. Some of the lineup includes an Impala, three Kudu, one L-39, one L-29, two Extra 300s, 70 microlights, a P-51D, ...

TFDC Overberg 2012 from Latest Vlog | Catch all the action from TFDC through the lens of Justin de Reuck in this short video montage of the event last month in Bredasdorp.

Attention Seattle: Paine Field Aviation Day – MAY 19th - seatllepi.com | ...From the WPA's press release, "Come see the latest in general aviation aircraft as well as many of the airplanes owned and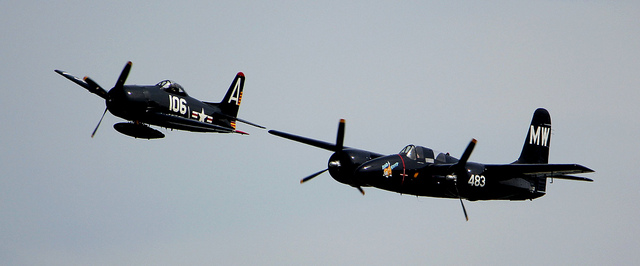 operated by local private pilots. Vintage aircraft and warbirds will be on display thanks to the participation of the Museum of Flight Restoration Center, Flying Heritage Collection, Historic Flight Foundation and Cascade Warbirds. Among these will be...

Bob Hoover headlines Lindbergh Foundation's anniversary celebration from General Aviation News by Janice Wood | The Charles A. and Anne Morrow Lindbergh Foundation confirmed today that legendary airshow performer and test pilot Bob Hoover will join speakers Neil Armstrong, Jim Lovell, and Gene Cernan for the foundation's 35th anniversary gala at The Explorers Club on May 18. In addition, author Reeve Lindbergh, youngest daughter of Charles and Anne Morrow Lindbergh, will also participate in the program...

70th Doolittle Raiders Reunion from CAF Minnesota Wing Blog | This year marked the 70th

anniversary of the Doolittle Raid, the daring attack on Japan led by Jimmy Doolittle. This year, only 5 of the raiders are alive, and only 4 were able to attend. 20 B-25s attended to honor them, flying first into Grimes Field, Urbana OH, then to the closed runway of the Air Force Museum in Dayton OH. It was an amazing sight to see, and was truly heaven for anyone who had an affinity for the B-25. Different models, different configurations, and...

Around the Hangar from CAF Minnesota Wing Blog | As stated, the changes around the Wing have been rather massive lately...

Las Vegas' Most Extreme Adventure Takes Flight - The Leading Aviation Industry Resource for News, Equipment and | Guided by an expert aerobatic pilot, take the controls and live out your "Iceman" or "Maverick" fantasies with the Top Gun package; or take on the extreme (and aptly named) Adrenaline Rush, combining world-class aerobatics with air-to-air dog fights...

Balloon pilots to give RC balloon demo - Delphos Herald | The air is warming up in Van Wert as the Hot Air Festival prepares to make its scheduled return Sept. 7-9. Several of the balloon pilots who will appear in the Hot Air Festival this year are making a test air flight in Van Wert Saturday at the Van Wert ...

Video: Darren's battle to restore WWII aircraft - Peterborough Evening Telegraph | By BEN TRUSLOVE An aeroplane from the Second World War is being restored as a labour of love in a back garden in Crowland. Darren Speechley haggled for three years to buy the Messerschmitt 108 used in the war by the German Luftwaffe...

Podcast: Smithsonian Museum Conference Recap – Warbird Radio | Hear the latest news from the Flying Leatherneck Aviation Museum, Frontiers of Flight and The New England Air Museum on Warbird Radio LIVE! Matt interviewed directors from all three museums during the Smithsonian's annual Mutual Concerns of Air and Space Museums Conference in Reston, Virginia last month.
We'll also check in with Mike....

antchagas: Helicopter Jump from 6k ft by compulsiveflyer on... from Bonjour BlueSky

Final production F-22 delivered to its home in Alaska from Leaving Terra Firma by Matt Everett | Last December, the final production F-22, tail number 4195, rolled off the line in Georgia and entered a lengthy test program....

F-35 Lightning II Flight Test Update from Pilot News Magazine | Lockheed Martin's [NYSE: LMT] F-35 Lightning II flight test program continues to make progress during the first four months of 2012. In March, the program completed 123 test flights totaling 223 flight hours, setting a record for the most System Development and Demonstration (SDD) flights and flight hours for a single month...

First refueling unit to reach 25,000 missions in single AOR from Milcom Monitoring Post | TRANSIT CENTER AT MANAS, Kyrgyzstan (AFNS) -- Members of the 22nd Expeditionary Air Refueling Squadron here reached a milestone of 25,000 air refueling missions May 4. During the past year, 22nd EARS sortie support has grown 23 percent, allowing them to quickly eclipse the 25,000th mission mark...

Boeing 747 has almost become a military aircraft carrier in the 70 from NOTÍCIAS SOBRE AVIAÇÃO AVIATION NEWS | Confidential project between Boeing and the U.S. military stated that the aircraft could carry up to ten other smaller fighters. An aircraft capable of flying may seem a stupid idea or science fiction (as in "The Avengers"), after all, the concept consists of a plane carrying other aircraft - something almost unimaginable proportions due to the vehicle would have to submit. However, military attempts to build this type of vehicle were not lacking in history....

Dragonfly crash-lands with C4, Discovery - real screen | A Boeing 727 crashed in the Mexico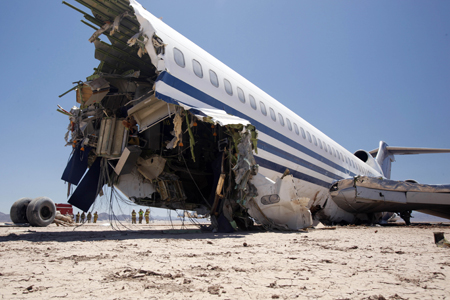 desert for a documentary | UK indie Dragonfly has crash-landed a Boeing 727 passenger jet in a remote part of the Mexican desert (pictured) as part of an experiment for a forthcoming doc set to air on Channel 4 (C4) in the UK, Discovery Channel in the U.S. and ProSiebenSat.1 in Germany. C4 first announced the ambitious plans to crash the plane two and a half years ago, and the scheme has now come to fruition, with a feature-length documentary set to air later this year....

Dreamliner Makes Biofuel Flight from ATW Daily News by Lisa Ray | The latest Boeing 787 to be received by All Nippon Airways (ANA) was partially powered on its delivery flight April 17 by biofuel, marking the first time a Dreamliner has used alternative fuel. The flight from Everett, Washington, to Tokyo Haneda used a fuel mix partly derived from used cooking oil, and marked the first transpacific biofuel flight, according to Boeing...

Free airplane rides offered for kids - WDTN | The EAA Young Eagles Program was begun in 1992 with the goal of giving a new generation a chance to learn more about the possibilities that exist in the world of aviation by offering free airplane rides. Since the program was launched volunteer EAA...

Plane pull pits Yanks against Brits - msnbc.com | A match of strength at JFK Airport where TSA members competed against their British counterparts to pull a Jet Blue Airbus. Msnbc.com's Dara Brown reports...

111 nominated for astronaut program from Air Force Times | The Air Force has nominated 111 airmen to vie for openings in the astronaut training program.

Felix Baumgartner: Red Bull Stratos Suits Him from Aerial Sports Feed | Felix Baumgartner will perform a BASE jump from the edge of space. His full-pressure suit and helmet are his personal life support system. Once Felix jumps...

Apollo Astronaut to speak at museum from National Museum of the USAF Top Stories | Former NASA astronaut and retired Air Force colonel David R. Scott will present "The Air Force in Space -- and on the Moon: The Flights of Apollo 9 and Apollo 15" during a special presentation on May 22 at 7:30 p.m. at the National Museum of the U.S. Air Force. Scott began his professional career...