Holloman air show to honor past, inspire future - Alamogordo Daily News | HOLLOMAN AIR FORCE BASE - The official name for the 2011 Holloman Air Show and Open House has been confirmed. The "Legacy of Liberty" 2011 Air Show, scheduled for Oct. 8, will honor service members of the past ...

Student flies high with award winning aerobatic pilot - WWAY NewsChannel 3 | WILMINGTON, NC (WWAY) -- The Coastal Carolina Airshow is this weekend at the Wilmington International Airport. A Holly Shelter Middle School eighth grader got the chance of a lifetime to fly with one of the show's aerobatic pilots. ...

Wings Over Desert wows spectators - Arizona Daily Star | Jeff Olmstead and Sam Egan prepare a plane for takeoff during the annual Wings Over the Desert military aircraft fly-in and swap meet. About 50 people from Tucson and outside the state attended ...

A Little Tour of the Sun 'n Fun Warbird Ramp | Warbird Wednesday
from Leaving Terra Firma | The guys at Sun 'n Fun haven't stopped. In fact I think they've put out more great pictures and videos after the fact than they did during the actual fly-in. ...
Australian International Airshow a success in 2011
- Australian Flying | Organisers of the Australian International Airshow at Avalon Airport have revealed overall attendance and participation numbers for this year's event. Held at Victoria's Avalon Airport from March 1-6, the numbers show that Avalon 2011 was an ...
Not just another mission: Doolittle Raiders reflect on bombing run to Japan
- Lincoln Journal Star | This week, the last five surviving Doolittle Raiders have come to Nebraska to mark the 69th anniversary of the mission. Events in their honor will be held Thursday through Sunday in Lincoln, Omaha and at the Strategic Air and Space Museum near Ashland. ...
"Fifi"
by Randy Rothhaar | Spent the past couple days shooting the only airworthy B-29 Superfortress "Fifi" and the Commemorative Air Force Arizona Wing at the Deer Valley Airport in Arizona...will be spending the next few weeks editing images from all the 2011 airshows so far until the next one in May
Freeman Field Recovery UPDATE – Warbird Radio LIVE! – Thursday
from WarbirdRadio.com | THURSDAY – David Gray from the Freeman Field Recovery Team joins us with an update on their upcoming dig. Tune in and hear all the details at 10am (EASTERN) this Thursday morning on Warbird Radio LIVE. For more information on the Freeman Field Recovery Team just [...]
WORK on restoring a former military fast jet has started
.- This is Lincolnshire | The Newark Air Museum's Lightning T5 is being restored and given a fresh coat of paint ahead of plans to have it on more prominent display. The Lightning T5 was a supersonic jet trainer used by the RAF to train interceptor pilots to fly at Mach 2, ...
CoolPix - Homebuilt: The 'Back To The Future' Dyke Delta
from blog by Martt | There's quite a story to go with this Dyke Delta (N18DW) built and owned by Dave Williams. In fact, after you click on this CoolPix image (so you can see it really big) you should go read this EAA Sport Aviation story about Dave's Dyke Delta experience - originally completing the airplane way back in 1972, and then rebuilding it about 25 years later. ...
Burt Rutan Makes Retirement Official
from Aero-News Network | Quietly Left Scaled Composites April 1st There are five of his airplanes hanging in the Smithsonian National Air and Space Museum. One of them flew around the world on one tank of gas. One was the first non-government-built spacecraft to fly to the very fringe of space ... twice.
Former Thunderbirds pilot survives harrowing ordeal over Lake Mead
- Las Vegas Review-Journal | Tyrone Douglas flew lead solo for the Thunderbirds air demonstration team in 2009. Air Force Photo By Keith Rogers When Air Force Maj. Tyrone Douglas took off Friday from North Las Vegas Airport in his privately owned experimental airplane, ...
Yuri's Night at Hampton
- Space Ref | Hampton Roads residents will have the chance to celebrate that and another historic space anniversary during "Yuri's Night" at the Virginia Air & Space Center on April 16, 2011, from 7 pm to midnight. On April 12, 1961, Gagarin became the first human ...
School Vacation at the Air Museum; "Flaming Guns" and "The Tourist" in
... - Patch.com | School vacation activities at the New England Air Museum in Windsor Locks include workshops on how to build a parachute. Courtesy New England Air Museum Build a model airplane; take the pilot's seat in an ...
EAA Chapter 1359 Young Eagles Day "Kids Fly For Free Day"
- Saugerties Post Star
By Anonymous Proudly present their annual Young Eagles Fly For Free Day on Saturday, May 14, 2011 from 9am -1pm at the Kingston Ulster Airport, Kingston, NY. Young Eagles Event is for kids 8-17. rain date 5/15 same times The EAA Young Eagles program ...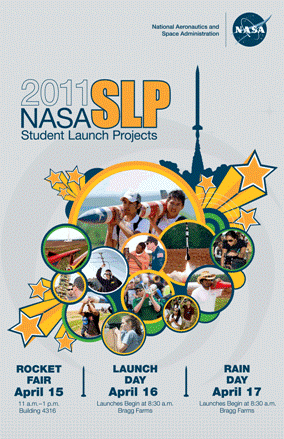 NASA Student Rocket Launch Competition this Weekend NOTAM -Video
from Alabama Aviator - Aviation News | NASA University Student Launch Initiative, or USLI, is a competition that challenges university-level students to design, build and launch a reusable rocket with a scientific or engineering payload to one mile above ground level, or AGL. The project engages students in scientific research and real-world engineering processes with NASA engineers. ...
Houston, We Have No Shuttle
from Aero-News Network | Johnson Space Center Director Says He Is "Disappointed" While there was a lot of celebration in the cities selected for display of one of NASA's retiring space shuttles, Houston, home of the Johnson Space Flight Center, did not get to join the party.
Historic space capsule sells for $US2.9 million
- Sydney Morning Herald | The Ivanovich mannequin has been on exhibition at the Smithsonian National Air & Space Museum since 1997 after being purchased at Sotheby's at a Russian space history auction. Sotheby's had estimated the test capsule would sell for anywhere from $US2 ...