Warbirds at NAS Fort Worth JRB - April 16-17, 2011
NAS Fort Worth Joint Reserve Base had its annual air show this year with me in attendance for the first time looking forward to being able to spend time on the ramps that many years ago had B-36s sitting on them when it was previously Carswell AFB. It is also the location where portions of the 1955 movie "Strategic Air Command" with James Stewart, June Allyson and the B-36 were shot. So this is a historic aviation location to visit and watch an air show at. Most of the warbirds were static at the event but a warbird aerobatic act new to me was the locally based Trojan Phlyers consisting of two T-28Bs that put on a very nice combination aerobatic and formation show. Even though they have been flying shows since 1999 this is the first time I have been able to see them.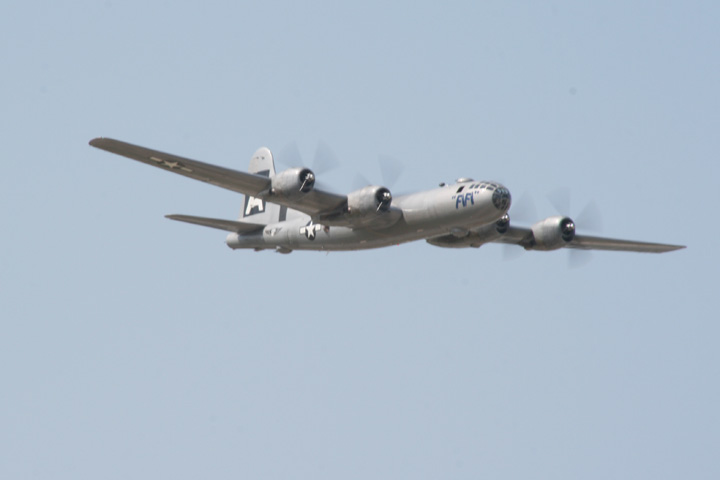 B-29 'Fifi" making a special unplanned flyby on Sunday for the air show crowd. This replaced the B-52 flyby that occurred on Saturday only.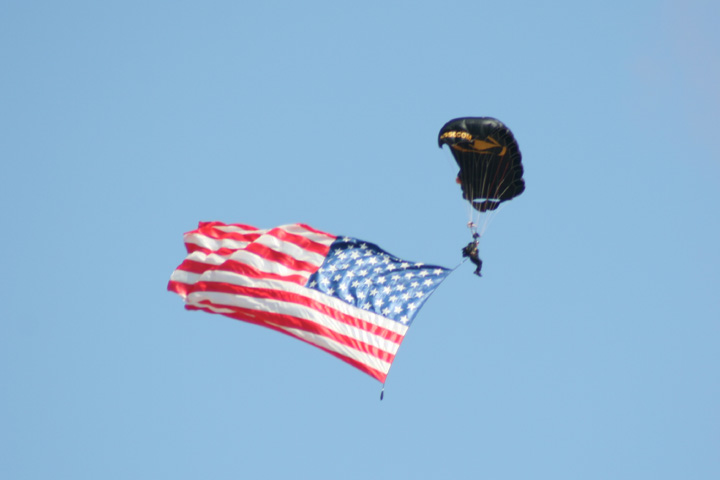 Flag Jump to open the show by the Special Operations Command Para-Commandos.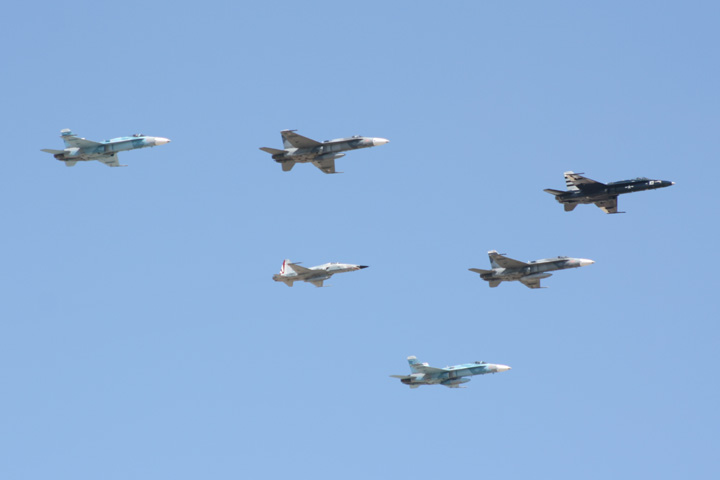 Five F-18 Hornets from VFA-204 at NAS New Orleans Joint Reserve Base along with one Northrop F-5 opened the show right after the flag jump. I have never seen a formation like this. This was great!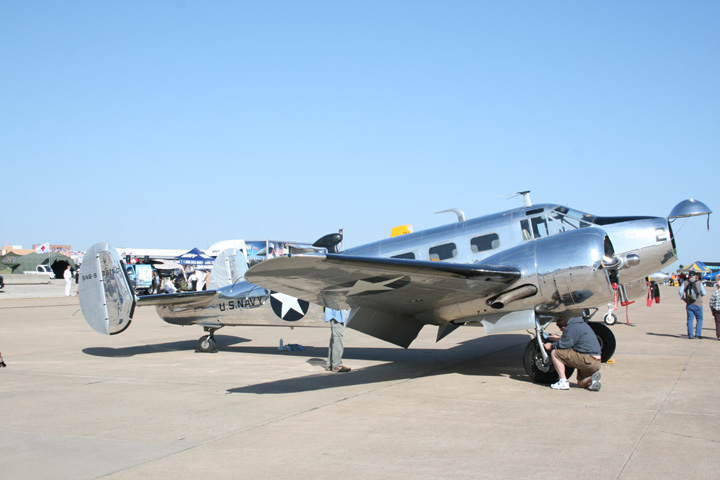 This great looking UC-45 on static display belongs to James Martin of Odessa, TX.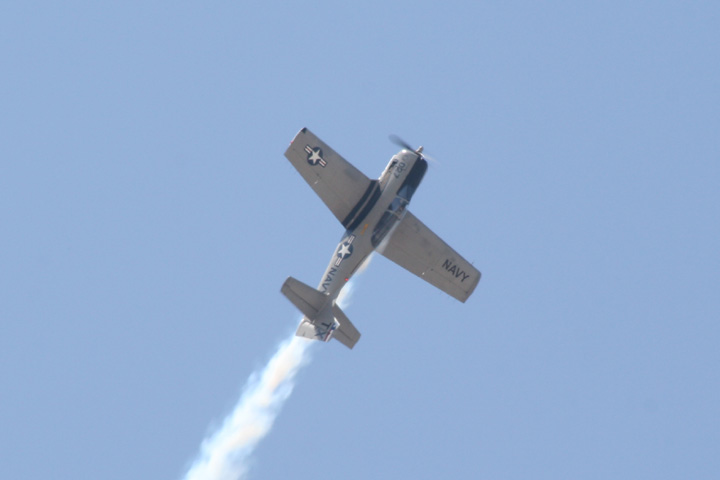 One of the two Trojan Phlyers going up over the top in an aerobatic maneuver.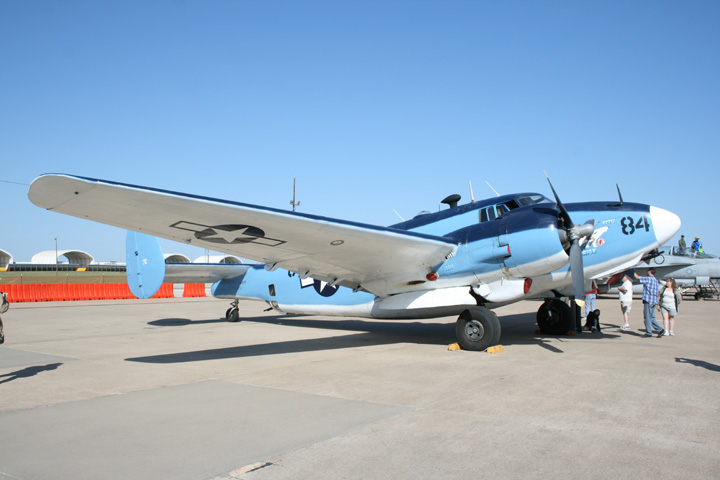 This static display PV-2, "Attu Warrior", is owned by Dave Hansen and came all the way from Heber City, UT to be part of the event.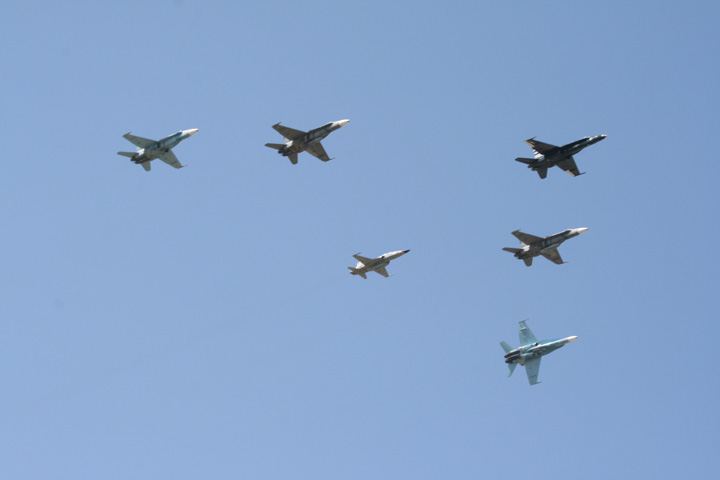 The River Rattlers and F-5 making the overhead approach and break for landing.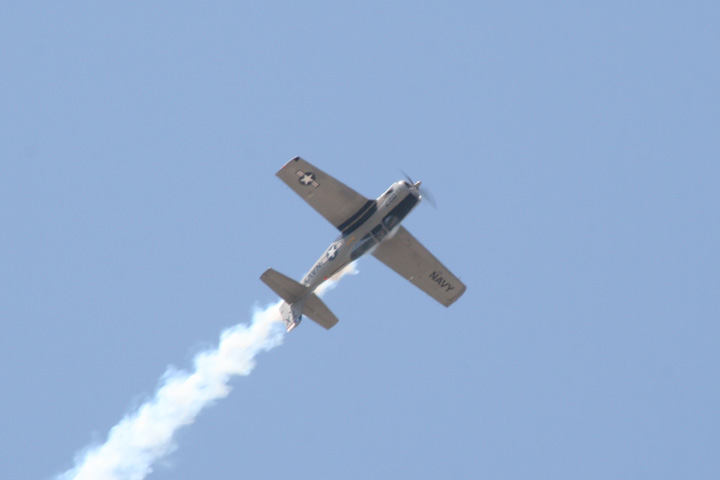 Over the top.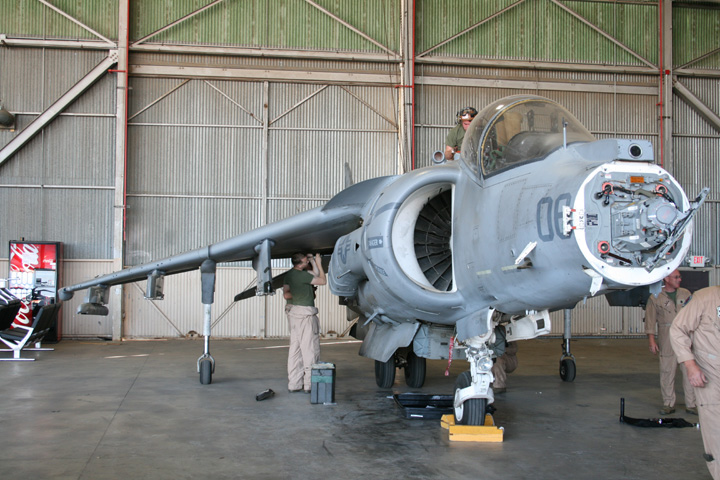 This Harrier sucked asphalt chunks up into the engine during the practice show on Friday during the hover demonstration. The pilot was unaware he was over the meltable material. It takes 500 hours of labor to change the engine, which is going on in the photo.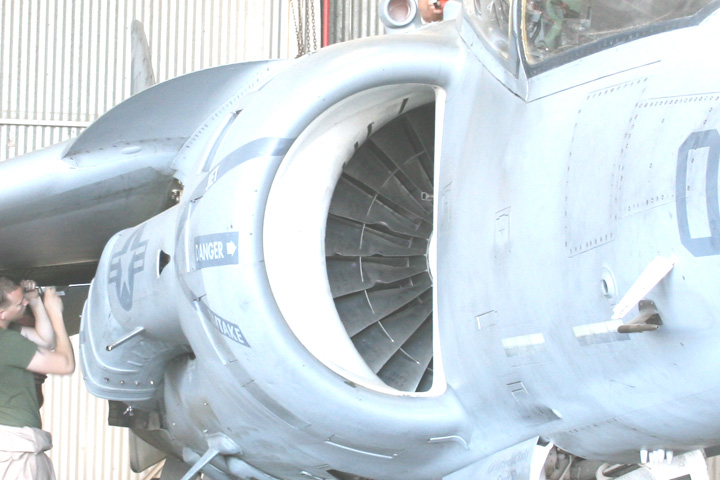 One can see the dings in the turbine blades. No doubt similar damage happened through the entire engine.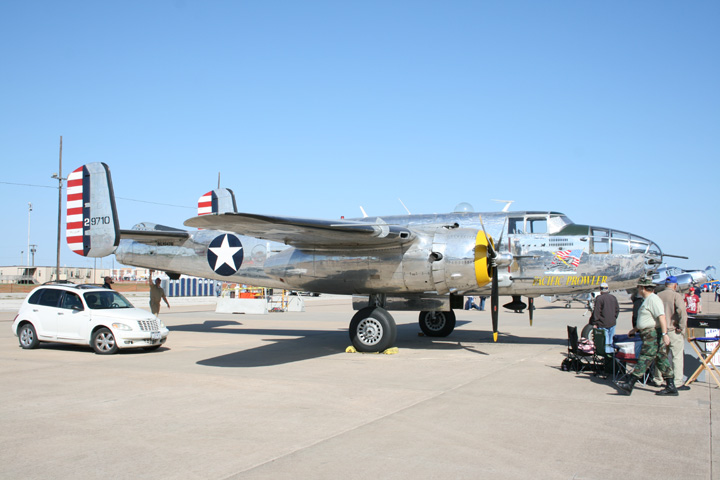 Pacific Prowler made the short hop from Meacham Airport a few miles to the North East in Ft. Worth.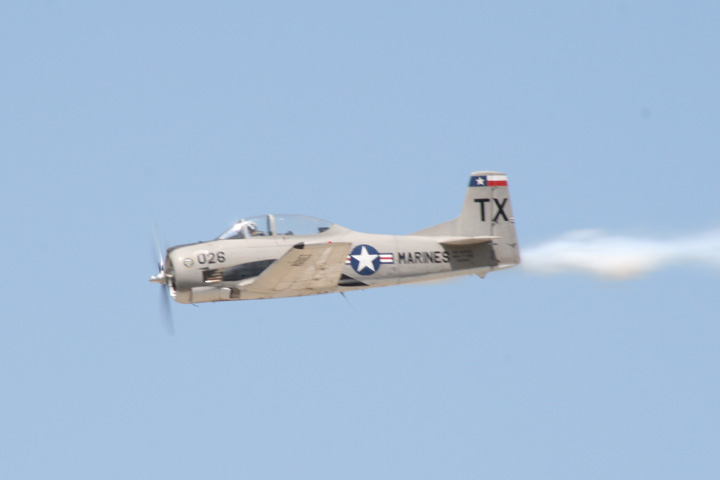 One of the Trojan Phlyers is in Marine markings and the other in Navy. Otherwise they are painted the same.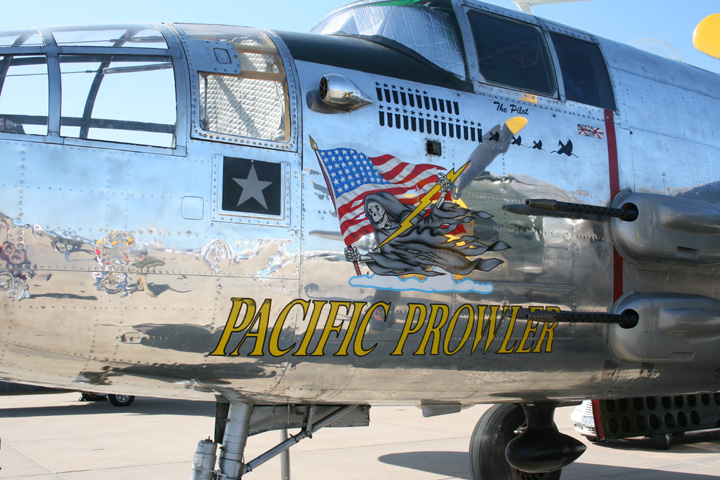 The great nose art that owner Jim Terry has had applied to the aircraft.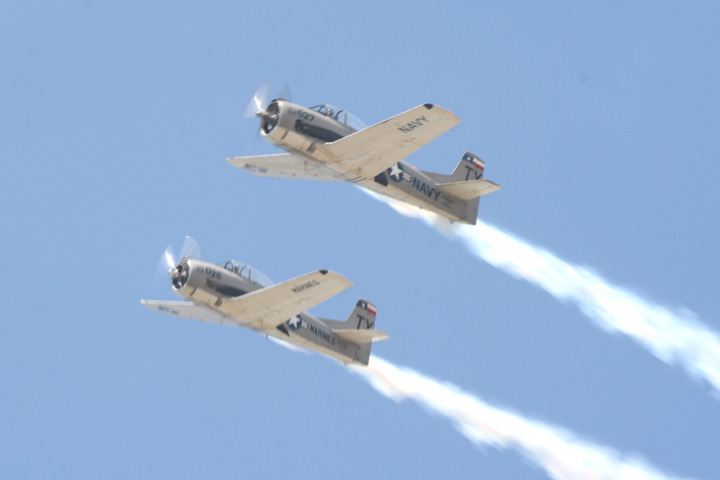 Trojan Phlyers formation pass.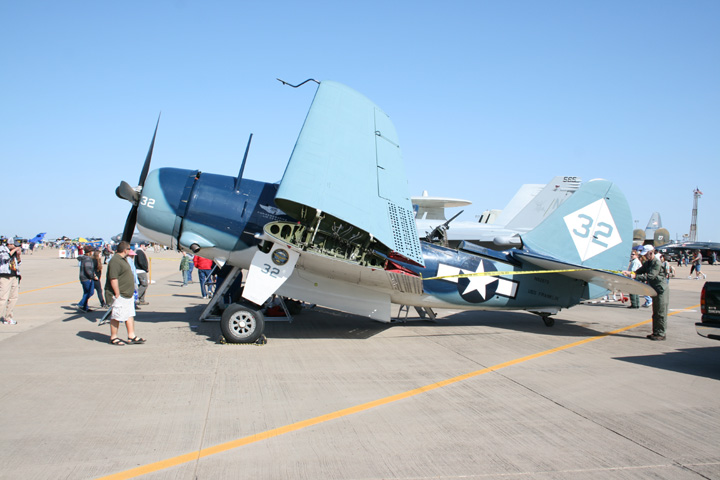 The world's only flyable Curtiss SB2C Helldiver which is operated by the Commemorative Air Force out of Midland, TX.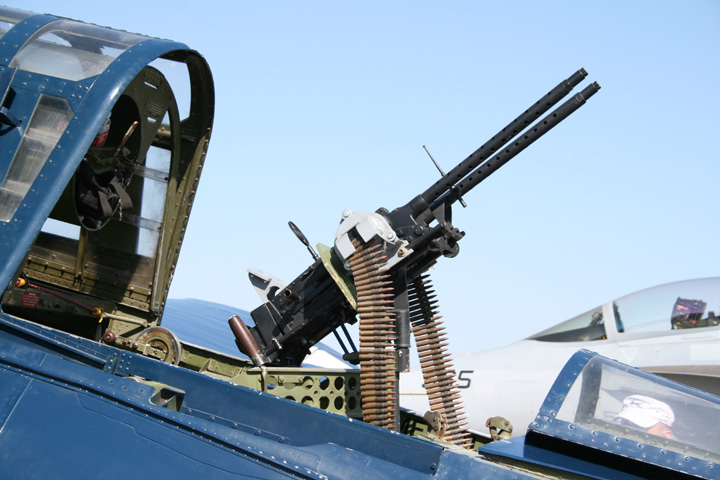 The rear gunner's twin 30 caliber machine guns.
See the rest of David's fantastic post, here.
This portion posted with permission.