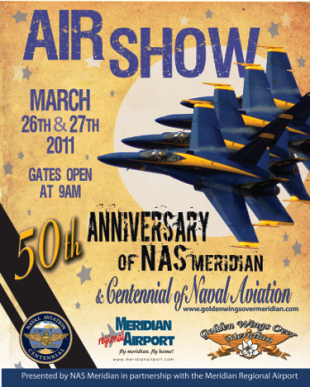 Blues Angels Coming to Meridian Air Show This Weekend
from Alabama Aviator - Aviation News | Naval Air Station Meridian celebrates its 50th anniversary honoring the commissioning of the base in July 1961, along with celebrating the Centennial of Naval Aviation with an air show featuring the Navy's elite Flight Demonstration Squadron, the Blue Angels. Only a short drive from Alabama, parking opens at 8:00am. The "Golden Wings Over Meridian" is set for March 26-27. ...
"Days of Thunder" Luke AFB
- Northern Arizona News | A special feature of the air show was the F-22 Raptor demonstration that had most in attendance on their feet cheering. "Days of Thunder" will continue on Sunday, March 20 for those who missed Saturday's activities.
Amberley air show takes off
- Springfield News | IPSWICH will hear the roar of Australia's most powerful aircraft at this weekend's Defence Force Air Show at Amberley RAAF base. Amberley personnel say the skies above Ipswich will become a playground for some of the most thrilling and respected ...
Thanks for the support
- Team Muroya 31 | I would like to express my sincere sympathy to everyone affected by the recent earthquake off northeastern Pacific Ocean coast. My Staff and myself, living in Fukushima City, Fukushima Prefecture, directly encountered the earthquake.
Thank you all of for your messages of concern. My staff and aircraft are all safe for now. ...
Monday book: Girls Cant Be Pilots, by Margaret J. Ringenberg
from You Fly, Girl by Cathy Gale | ... Margaret J. Rosenberg's dream took flight in the Women's Flying Training Detachment in 1943. More than fifty years later she is still living her dream. Readers will relate to her down-to-earth style as she shares her unique perspective on life as a female aviator. As a World War II ferry pilot, flight instructor, corporate pilot, and air racer, Mrs. Ringenberg has not only made history, set records, and won trophies; she has changed lives. All while doing what she loves-flying. ...
From CAF Minnesota Wing Blog
by Commemorative Air Force, MN Wing
Picture of the Week: AVweb's Flying Photography Showcase
from AVwebFlash Current Issue
This week's winning photo comes from Jeffrey N. Jeffords of Lenoir City, TN. Click here for the rest of this week's submissions.
Hawker Sea Fury. Low. Loud. Fast.
from You like airplanes, too?
First Runner Up for March 21, 2011
from AIRFIGHTERS.COM - Top Photos of the Day | This is a
last SR-71 flight
, mach 3.21, 24.400 m. It was to make a second flight for t´he event the next day, but a fuel leak grounded it and no Blackbird ever flew again!. The 61-7980 is on display at NASA-Dryden flight research center, Edwards AFB, CA.
Formation flight Sunday. A-17s
from Planeshots
Operation Odyssey Dawn explained (Day 2)
by David Cenciotti | ... new details about the first hours of air war surfaced bringing some interesting analysis. First of all the initially denied involvement of 3 B-2 bombers was confirmed. As happened during Operation Allied Force in 1999, the stealth bombers operated directly from Whiteman AFB, Missouri with the support of many tankers along the route. ...
Todays Photos - Monday, 21th March, 2011
from Military Photos | 3/20/2011 - BARKSDALE AIR FORCE BASE, La. -- Sometime after noon CDT today, three Air Force Global Strike Command B-2 Spirit bombers returned to home base after striking targets in support of the international response which is enforcing a no-fly zone over Libya. The B-2s landed at Whiteman Air Force Base, Mo., after a ...
Air-to-air with 747-8 Intercontinental on maiden sortie
from Flight Image of the Day [photos] | Boeing has released these two photos, one showing the 747-8 Intercontinental above clouds and the other of the aircraft above snow-capped mountains in Washington state. They were both taken during the aircraft's
For Joe it was a nice birthday
from Things with Wings | Joe Sutter, the young engineer who was put in charge of creating the world's first widebody jet in the mid-1960s was one day short of his 90th birthday Sunday when he saw the third generation of that passenger jet complete its first flight. ...
Top Gun Sequel's Best Asset May Be 28-Year-Old Billionaire's Son
- mediabistro.com | Under a headline that suggests Ellison Jr. is intent, with $350 million in funding, in working with Paramount Studios to make his Skydance Productions a "media company 2.0", writers Claudia Eller and Ben Fritz put forth a portrait of a young man who ...
The Tragic Story of a Russian Cosmonaut Who Was Sent into Space Knowing He Would Die
[Space] from Gizmodo | Vladimir Komarov, a cosmonaut, knew he was going to die when he left Earth for space on the Soyuz 1. His friend Yuri Gagarin, the first human to reach outer space, knew Komarov would too. But Leonid Brezhnev, leader of the Soviet Union, wanted to ...
Museum exhibit traces Nev. ties to space program
- Washington Examiner | A northern Nevada museum is launching a new exhibit about rockets and the role area residents have played in space exploration. The Sparks in Space exhibit at the Sparks Heritage Museum was developed with the help of the Challenger Learning Center of Northern Nevada and a group of Sparks High School astronomy students. It includes information on rocket testing in Sparks, animal "pioneers" sent into orbit and the next generation in space exploration.