100th Anniversary of Naval Aviation Foundation Board Announced
- Marketwire
SAN DIEGO, CA--(Marketwire - December 14, 2010) - The 100 th Anniversary of Naval Aviation Foundation has announced its Board of Directors for the 2011 ...
Still Relentless
- PlaneAndPilotMag.com (via Dasher)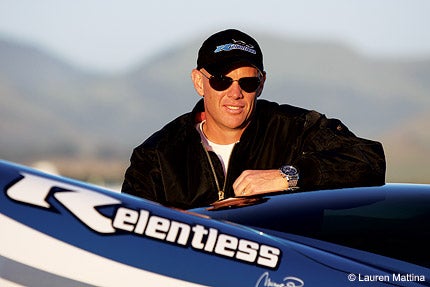 Aircraft specifications, airplane reports, planes for sale and more information for pilots from Plane & Pilot and Pilot Journal magazines.
Awesome article about Kevin's Mayday - in his own words.
I have already told him personally what a great job I thought he did.
Check this out and consider how you would have reacted at 400+ mph when your prop departs the aircraft. Amazing!
Warbird Radio Presents – ICAS 2010
from WarbirdRadio.com
WARBIRD RADIO PRESENTS - Join us as we re-visit some of our favorite conversations during the 2010 ICAS Convention. Hear from the U.S. Navy Blue Angels, Dale Snodgrass and many more. For more information on the 2011 air show season just stay tuned to Warbird Radio. Thanks for listening and enjoy the show. STUDIO LINE: [...]
See this tweet from the Blue Angels: Blue Angels fans, what celebrities/ sport stars would you like to see in the backseat of a Blue Angel jet in 2011? Taking suggestions! from Twitter / BlueAngels (The Indy Transponder thinks
@StephenForce would be an excellent Backseater in 2011 Hooah http://ow.ly/3peGy)
Organizers prepare for 2011 Air Show
- WEPN
Preparations for the 2011 Thunder Over the Blue Ridge Air Show and Open House are underway.
Next year's show, set for September 17th and 18th, will focus on variety over power according to President of Thunder Over the Blue Ridge Colonel Brian Truman.
There are still some details that will not be finalized until next year but members of the board said ...
Mike Goulian
by Jen Shannon
Here are the photos of Mr. Mike Goulian. He did an excellent job at the air show. Apparently he's been flying since he was super young (I think they said 9 years old).
2011 Bahamas Pilot Challenge - General aviation pilots challenged to visit all 20 Bahamas ports of entry
- Bahama Islands Info
FORT LAUDERDALE, Florida -- The Bahamas Ministry of Tourism has announced their partnership with Pilot Mall.com aviation superstore, in an exciting promotion designed to promote tourism and encourage general aviation travel throughout The Islands Of The Bahamas.
The promotion challenges participants to visit all twenty Bahamian Airports of Entry (AOE) during the 2011 calendar year. ...
December 14, 2010 Punkin Chunkin in Alabama
from Ely Air Lines
Linda: "How low do you want to go," asked the young pilot as I climbed in the Cessna 150 at sunset, basketball-sized pumpkin in hand, preparing to take the final shot in the Tennessee Valley Punkin' Chunkin' contest. My goal: to be the one to hit the target, a port-a-potty set way out on the grass between two runways. We were far enough from persons ...
Production Update: Return from ICAS, T-38A, Acro Camp Soundtrack, and More
from Airspeed
Okay, I think my head is back from Vegas and ICAS 2010. Great convention, lots of contacts made, and lots of friends revisited.
And lots on the hot plate for the next few weeks. Don, Barry, and I go into the studio on Friday to record parts of the Acro Camp movie soundtrack. I have all of the basic tracks down, but the real
magic won't happen until we're all together with the instruments set up and the click track begins.
And I'm close to finishing the episode covering the T-38A flight with the 9th Reconnaissance Wing at Beale ...
Gate Guards and Base Displays (not museums)
from FenceCheck Forums
New Stearman pix
from The PapaGolf Chronicles
Red Stewart Airfield is one of those quaint old airports where people will just go hang around watching (and apparently photographing) airplanes. One of my blogging buddies, Steve DiLullo who chronicles his flying activities out of his home airport at Red Stewart, came across some pictures that had been taken of my momentous flight in the Stearman. He was kind enough to pick them up and send them to me, and here they are:
2011 Fly-In Theme: Life Begins at Fourty
from Antique Airfield News
In Sep of 1971 the first AAA/APM Invitational Fly-in was held at Antique Airfield near Blakesburg, IA. At that point in time Antique Airfield had only existed for a little over a year. The move of the AAA and APM from the Ottumwa Industrial Airport had been a busy and exciting time though fraught with yet-to-overcome challenges and resistance from various quarters. But the die had been cast and the 1st AAA/APM Fly-in at Antique Airfield went on as scheduled. Despite the ... and ....
Stinson Model "O" Flying Update
,
Dale Jewett's New Aeronca Chief
an eclectic trio of Republic Aviation aircraft
- from x planes
an eclectic trio of Republic Aviation aircraft - the P-47 Thunderbolt, XF-12 Rainbow, and the RC-3 Seabee
Style in the Aisle
- The Museum of Flight
The Museum of Flight's extensive flight attendant uniform collection made its first public appearance in Style in the Aisle, a temporary exhibition that opened on February 9, 2008. A dozen complete uniforms were featured, dating from the 1930s to the 1980s and representing several different ...
Museum in Trouble
- UpperMichigansSource.com
KI SAWYER -- The KI Sawyer Heritage Air Museum was located at the W building or West Branch Community Center in KI Sawyer for four years, ...
Historic 747 demolished in South Korea
from Warplanes Online Community
The first 747 jetliner to carry commercial passengers and a symbol of the golden age of air travel was demolished in Namyangju, South Korea last Sunday, Dec. 12, as its owners gave up a frustrating decade-long attempt to make a profit from the mammoth piece of aviation history.
After decades of flying to nearly every continent, the Juan T. Trippe, built at Boeing's plant in Everett and ...
Hot Air Balloon Flights – THE New Celebrity Activity!
- Release-news.com
... in 1996 as an off-shoot of Air Displays International Ltd (operator of the world-renowned Biggin Hill Air Fair), offering flying activities and lessons. ...
Lyla
from AF.mil Photos
Members of the NATO Air Training Command - Afghanistan participate in a group photo for Lyla, a cancer patient and the St. Jude's Childrens Research Hospital Dec 9, 2010. (U.S. Navy photo/ Petty Officer Jared E. Walker)
Struggle at the top over decision to scrap UK Harriers
- BBC News
... jet from RAF Cottesmore, completing a fly-past of several other air stations, hurtling through the sullen winter skies before landing for the last time. ...
Orbital Sciences Corporation Submits Proposal for New Spaceplane to Serve ISS
from Spaceports
The orbit capable vehicle would seat four astronauts, providing a cost-effective solution for NASA's astronaut transportation needs, as well as enabling future commercial applications.
Orbital Sciences Corporation has announced that it has submitted a proposal to the National Aeronautics and Space Administration (NASA) in response to the Commercial Crew Development-2 contract solicitation. The company also provided several top-level details of its proposal for providing safe and affordable transportation services to and from the International Space Station (ISS) and for commercial activities in Earth orbit in a press release.
The space plane is proposed to launch on a United Launch Alliance Atlas V rocket, but Orbital says other ...
-Subscribe for daily automatic e-mail delivery directly to your Inbox!

-Also join us on -Facebook
-Twitter
-Send Notices > Releases > Updates > Be a Contributor > Contact: IndyTransponder@gmail.com