Fans of aviation enjoy Blue Angels downtown Cleveland fly over during photo ... - NewsNet5.com | CLEVELAND - Visitors to Voinovich Bicentennial Park in downtown Cleveland received an aviation treat Wednesday as pilots with the U.S. Navy Flight Demonstration Squadron, The Blue Angels, performed a fly over during an official Blue Angels photo shoot....

Teachers fly with Navy Blue Angels - NewsNet5.com | CLEVELAND, Oh. - Two Northeast Ohio
teachers had the rides of their lives today. Josh Hubeler, of Lutheran West High School and Nick Lapsevich, who teaches at North Royalton High School, each spent 45 minutes getting a bird's eye view of the area from the cockpit of an F/A-18 Hornet, the current jet of choice for the Navy Blue Angel Squadron. The Navy Blue Angels are in town for the 2014 Cleveland Air Show which takes place this Labor Day Weekend. Hubeler, who is also a soccer coach, and Lapsevich, who coaches basketball, were chosen as part of an outreach program to get the word out about career opportunities in the Navy....

Upping the excitement: Cleveland Air Show's soaring return - fox8.com | CLEVELAND– The Blue Angels gave Northeast Ohio a preview of what we can expect this Labor Day weekend, during a unique photo shoot with Cleveland's city skyline serving as a backdrop Wednesday afternoon. Organizers of the 2014 Cleveland National Air Show are promising this year will be bigger and better than past years, with fans already fueling the excitement....

Comic, singer, Thunderbirds to fly high at Glacier's Mountain Madness Airshow - The Missoulian |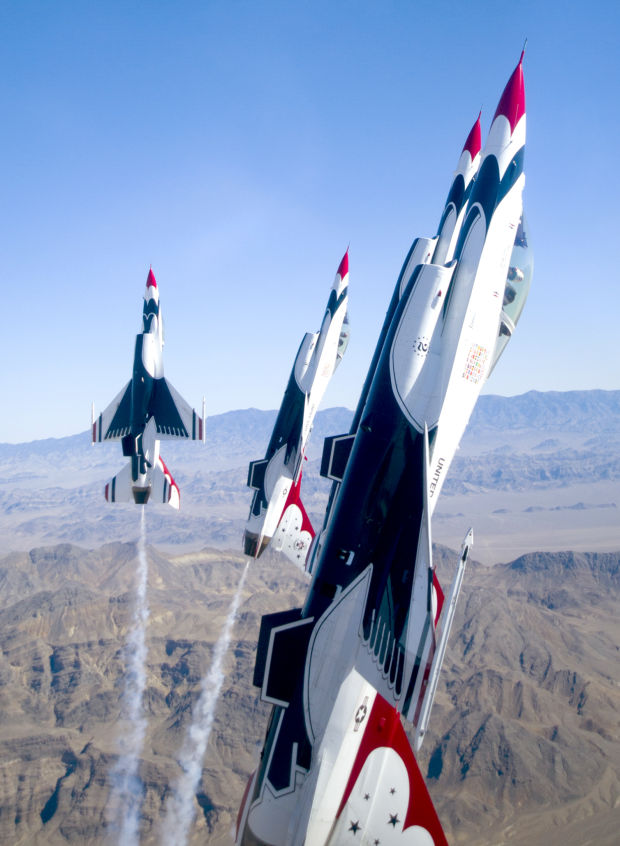 KALISPELL – A comedian … a singer … a performer whose ballet-like act involves something called the "Outside Humpty Bump." Put them on a stage and you might have a show. Then again, you might not. But put them in the skies over Kalispell – a much better spot for them, given that they're all pilots – and you've got part of Saturday and Sunday's Mountain Madness Airshow at Glacier International Airport. Kent Pietsch (the flying comic), Will Allen (the flying tenor) and Gary Rower (a commercial airline pilot whose passengers on overseas flights presumably never experience the "Outside Humpty Bump") aren't even the main attraction...

Video: Voodoo Pre-Reno Update * Pylon Place

Help out Team Ruby - Donate! * Pylon Place | Have you ever wanted to sponsor an Air Races Team? How about Team Ruby!

18th annual Airfest held at Cape May County airport - NBC40 | A local aviation museum is playing host to some very impressive aircraft this week. The 18th annual Airfest kicked off Wednesday at the Cape May County airport. Guests of the airport's Naval Air Station Museum will get the chance to see several famous World War II aircraft....

47th annual BBQ, Fly-in Sunday - The Trinity Journal | The 47th annual Lions Club BBQ and Fly-in will soar from noon to 5 p.m. Sunday, Aug. 31, in Trinity Center. Festivities begin at 11 a.m. with the opening of the Art and Craft Faire. A barbecue meal is available from noon to 5 p.m. with live music from 1 to 5 p.m. The barbecue is held on the grounds of the Trinity Airport Resort, a beautiful park-like setting adjacent to the airport on Airport Road....

Flight enthusiasts can take a 'Sentimental Journey' - Stafford County Sun | "Like a child in wild anticipation, I long to hear that 'All aboard.'" Even though Frank Sinatra's "Sentimental Journey" home was on a train, residents in the Culpeper area can take a sentimental journey of their own by visiting Culpeper Warbird Week at Culpeper County Airport....

Photos: B-17 Flying Fortress comes to Baltimore * WBAL Baltimore | The Movie Memphis Belle is the B-17 that visitors can explore at Martin State Airport. Made in April 1945 and never used for combat, it's one of the few B-17s left that can still take to the sky. WBAL-TV/Katie Lange. View Large. Photos. The Movie...

1937 Electra being restored for trip home to Prague - Kansas.com | A 1937 Lockheed 10A "Electra" — sister to the one flown by aviatrix Amelia Earhart on her ill-fated final flight — is getting new life inside a Newton hangar. Restoration work is underway by Wichita Air Services' vintage aircraft maintenance and restoration business at the Newton City-County Airport. Work began nearly four years ago...
From Mike and Linda Ely:

There's MORE HERE. Updated frequently.