Brilliant Bonhomme is first past the post at Ascot - Red Bull (International) | Britain's defending Red Bull Air Race world champion Paul Bonhomme landed an epic home win at round five of the 2014 series at England's historic Ascot Racecourse....

Wounded Times: Navy Blue Angels Cover Chicago Sky CHICAGO (CBS) — Thousands crowded Chicago's lakefront as the U.S. Navy Blue Angels made their return to the Chicago Air and Water Show on Saturday. WBBM's Lisa Fielding reports Fullerton Beach was filled with a diverse group and there were many from overseas experiencing their very first airshow...

Chicago Air & Water Show Canceled: Officials | NBC Chicago | Disappointed spectators went home today without seeing high-flying acrobatics at the lakefront, after poor visibility canceled the Chicago Air and Water Show.

Kwik Fill Rochester International Air Show pleases crowds - News 10NBC | Several of the world's top aerobatic performers were in our area this weekend for the Kwik Fill Rochester International Air Show. The amazing show wrapped up on Sunday, but not before some talented pilots entertained thousands of spectators. All eyes were to the sky at the Kwik Fill Rochester International Air Show. The two day event featured some of the world's most unique and historic airplanes....

2014 Warsaw Air Show Hangared - Stacey Page Online | After an eventful weekend, air space over Warsaw is relatively clear. The second Warsaw Air Show has come and gone. Saturday afternoon saw droves of people at the airport to check out the high flying acrobatics of a variety of airplanes, study a bit of history in the C-54 "Candy Bomber," enjoy some tasty foods, and generally have a good time...

WINGS AND WHEELS: Historic aircraft land at Hobby Airport - Your Houston News | A bit of aviation history touched down on the old tarmac adjacent Hobby Airport on Saturday, and the hundreds of visitors who showed up for the "Wings and Wheels" event got an up close glimpse of rare vintage warplanes at the 1940 Air Terminal Museum....

Aviators and visitors turn out to enjoy Tazewell County Airport Fly In - Bluefield Daily Telegraph | CLAYPOOL HILL, Va. — A powered parachute light sport aircraft operator, helicopter rides, a chance to fly in a racing plane, bounce houses, great southern gospel music, food, face painting and more awaited visitors to the Tazewell County Airport Fly In on Saturday....

Heroes, feats of derring-do delight at Greenwood Lake Airshow - NorthJersey.com | Awe-inspiring aerobatics, decommissioned warplanes and icons of living history are drawing thousands of enthusiasts to the Greenwood Lake Airshow this weekend. The annual air show, which took flight Friday and concludes today, pairs the latest in state-of-the-art aerobatics with the pioneers and heroes of the American air forces....

7 unusual harvest photos: bombers, rainbows, Red Arrows and windmills - FarmersWeekly | Harvest
isn't just a time of hard graft, combines and crops, but big open skies and the beauty of the outdoors. Look up and you'll be surprised by what you can see - harvest seems to attract the unusual. These harvest photos are full of wonders, from the last two airworthy Lancaster bombers to the Red Arrows looping the loop to rainbows decorating the skies....

Photo Gallery: The Will Rogers Wiley Post Fly-In * Tulsa World

Thunderbirds return to Thunder in the Valley air show - Waterloo Cedar Falls Courier | WATERLOO | Officially, the featured performers for the Thunder in the Valley II air show Aug. 23-24 are designated the U.S. Air Force Air Demonstration Squadron. The 120-person unit, though, is better known by another name -- Thunderbirds -- a perfect handle conjuring up imagery fitting for America's finest airmen and aircraft....

Molinaro family covers cost of Thunderbirds' performance - Waterloo Cedar Falls Courier | WATERLOO | The family of Robert Molinaro provided the largest contribution to date with directions to use the money to cover the full cost of bringing the U.S. Air Force Thunderbirds to the Thunder in the Valley II air show. Air show organizer Chris Harshbarger in a prepared statement described the gift as significant and as "a fantastic tribute" to Molinaro's memory....

Cockpit Video of the USAF Thunderbirds * Waterloo Cedar Falls Courier

Congratulations to Minden Soaring Club | Minden-Tahoe Airport is pleased to announce that the
Minden Soaring Club (MSC) is #3 in the World standings, out of 1,111 clubs. MSC is only 12 points out of first place in the World. Club members will be getting the...

Pikes Peak Regional Air Show 2014 - CAF Redtail Squadron | The Pikes Peak Regional Airshow exceeded all expectations for the community of Colorado Springs. The CAF Red Tail Squadron was honored to be a part of this inaugural airshow. With the P-51C Mustang flown by Alan Miller and the RISE ABOVE Traveling Exhibit, the Squadron played an important role in the show. There were lines all day long and the exhibit was full for almost every showing. Terry and Jeanette Hollis did an excellent job of promoting the story of the Tuskegee Airmen...

Old Rhinebeck Aerodrome kicks off fundraising effort for new Visitors Center · General Aviation News | RHINEBECK, N.Y. — With a goal of breaking ground in November, Old Rhinebeck Aerodrome volunteers are hustling to raise funds for a new $150,000 Visitor Center. Plans are now complete for the gift shop, model museum and modern restrooms in one building....

Video: Oshkosh Calling · Ben Sclair, General Aviation News | I'm still recovering from AirVenture 2014 but seeing this YouTube video (thank you Slick) makes me ready to go back…

EAA AirVenture Oshkosh 2014: A New Season Begins · The Aero Experience | Lots of great photos!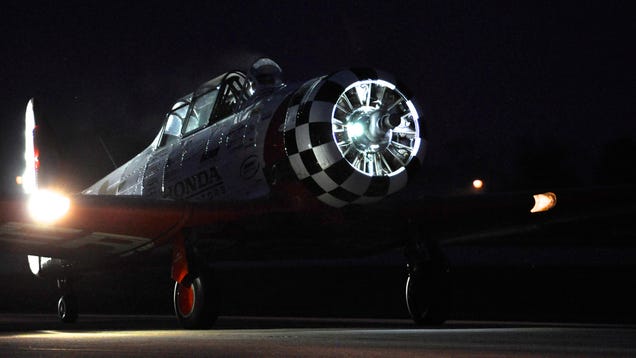 A Night Air Show Is The Best Air Show - Jalopnik
| When I was making plans to attend the annual EAA AirVenture air show in Oshkosh, Wisconsin last month, I specifically planned my trip around the chance to see the famous night air show. Acrobatic pilots perform routines while shooting fireworks and sparks from their wings — and it's amazing!...
PICTURES: Lancaster bombers fly in formation
* Flightglobal | Two Avro Lancaster bombers have flown in formation for the first time in more than 50 years, with the duo set to appear at numerous air shows and events in the UK over the coming weeks. Performed from the Royal Air Force's Coningsby base in...
The One USAF Thunderbird Demo Plane That Suited Up For Combat
* Tyler Rogoway | ..."It was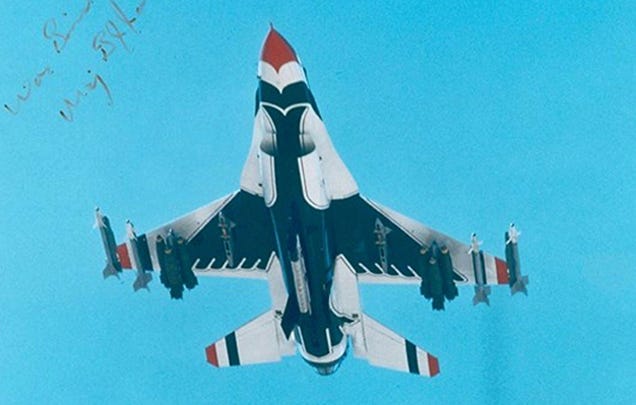 1988; the USAF Thunderbirds were tasked by Gen Robert Russ, who was Tactical Air Commander (TAC) at the time, to put one of our Thunderbird aircraft into combat configuration in the allotted (mandated) 72 hour period, a task never done before on the team....
Close call: two Turkish Air Force NF-5 jets almost collide during aerobatic ...
* The Aviationist (blog) | Two NF-5s belonging to the Turkish aerobatics team, Turkish Stars, almost collided over Konya, during a display practice. Filmed in 2009, the following video shows two NF-5 of the Turkish Air Force aerobatic team "Turkish Stars" coming quite close to...
Galion man all that is left of B-17 crew - Mansfield News Journal
| GALION – Rollie Wilson, 94, has long been the lone survivor of his B-17 crew that served in the skies over Nazi Germany. "Some were killed and a few spent up to two years in prisoner of war camps," Wilson said. "I met a couple of them after the war and they told me that toward the end they were nearly starved to death." Staff Sgt. Wilson, a tail gunner, flew 30 hectic missions over the Third Reich and has an ugly memento from his fourth mission....
Aviator monument destined to be a tribute to many
* Hanford Sentinel | When Drew heard about the NAS Lemoore Aviator Memorial Association (AMA), he knew he wanted to help make the memorial a reality. That is why Drew emptied out the contents of his piggy bank, approximately $9, and donated it to his t-ball coach, ...
Video: Aspiring Young Pilot Gets Ride Of His Life, Alongside Blue Angels
* CBS Local | CBS 2's Ed Curran was on hand Thursday when one young Chicagoan got his first flight — and the ride of his life. Malik Baker is a Chicago public school student. Sean D. Tucker is a legend in aerobatics, and chairman of the EAA's Young Eagles Program.
There is more news.... Check HERE. There is some good stuff. Updated through the day!