Everything you need to know about this weekend's Red Bull Air Race * GQ.com | After a three-year hiatus the Red Bull Air Race World Championship has returned to pit the world's best pilots against each other. With new rules standardising the engines and propellers, and various safety and technical regulations introduced, the...

2014 Unlimited Racing Roster · The Pylon Place

Stunt pilot was flying high before harrowing drop onto Maine road * Portland Press Herald | ...The
experimental Christen Eagle is capable of incredible feats in the air – even flying upside down over the runway so low that his brother, speeding along on a motorcycle, can grab the plane's tail. But without power, the stubby aircraft flies "like a bag of wet hammers," Werth said.... [Note: We're elated Billy is OK. Indy Transponder staff]

Warsaw Air Show Returns This Weekend * Stacey Page Online | ... Bob "Pitts Bob" Richards in his Pitts S1S; Ralph Lutes in his Air Tractor; Dave Folk piloting a F-4U Corsair; Patrick McAlee in a Pitts S1S "Blue Demon"; Hoover with a Staudacher S300 and the Commemorative Air Force/Glider Demo of a PT-26 Tow Ship....

Legendary plane on display at this year's Abbotsford International Airshow * Global News | Former WWII Mosquito Pilot Bill Mar is one of the few who flew a unique and rare plane, the de Havilland Mosquito. More than 7800 Mosquitos were built. Today, one of two that can still fly was featured in Abbotsford...

Daring performers boost air show excitement * Quad-City Times | ...Fans were treated to an array of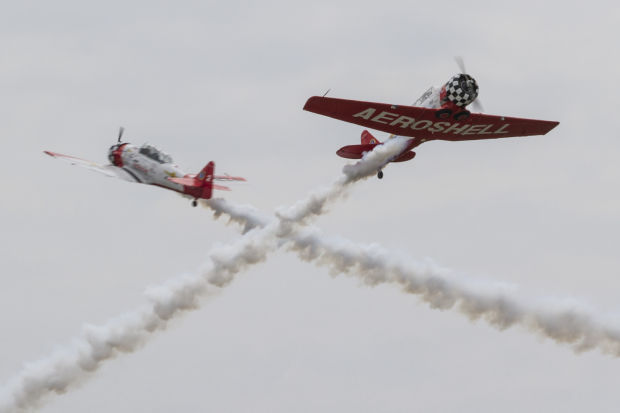 stunts, including trick aerial maneuvers from a variety of planes, races between jet cars and flying machines, skydiving acrobatics and other death-defying deeds. While mild weather helped boost the total attendance to at least 45,000 for the weekend, the performers undoubtedly pump the blood through the event for the appreciative audience. Just think about how it feels for the performers....

Annual fly-in breakfast takes flight Saturday * The Newark Advocate | The Newark-Heath Airport and Experimental Aircraft Association Chapter 402 are hosting their annual fly-in breakfast from 8 a.m. to noon Saturday at the Newark-Heath Airport, 530 Heath Road.

Forest Lake Airport Fly-in lifts off * Forest Lake Lowdown | Up to 3,000 attendees, including an estimated 200 pilots, are expected at the 13th Annual Forest Lake Fly-In and Open House event from 7 a.m. to 4 p.m. Saturday, Aug. 16. Ashbach said those numbers have risen from about 1,700 attendees when the event...

Fester will help pilot B-25 at Sullivan Airport Fly-In * Three Rivers Publishing | Free airplane rides for kids will be just one of the exciting events held at the 5th Annual Sullivan Airport Fly-In on Saturday, August 16 from 8 a.m. to 2 p.m. Children aged eight to 16 are welcome to come out for a ride, sponsored by the EAA Young...

Melbourne air show includes Thunderbirds, parachute jump team * Florida Today | In addition to the previously announced U.S. Air Force Thunderbirds, the Oct. 4-5 air show will include such acts as the U.S. Army Silver Wings parachute jump team, as well as aerobatic demonstrations from Greg Connell, Gary Ward and Kent Pietsch, who...

Vintage World War II aircraft coming to 1940 Air Terminal Museum Saturday * Your Houston News | It has been nearly 70 years since the last combat aircraft lifted into the air during World War II to join the largest air armada ever to fill the skies, but on Saturday, August 16, four rare WWII warbirds will be roaring over Houston. Leading the...

Historic B-17 lands in Pittsburgh * Pittsburgh Post Gazette | After waking at 3 a.m., Stanley Lantz and other members of the 452nd Bomb Group in England would clamber into the back of a B-17 called "Lady Be Good" and wait to hear about their next mission, hoping for somewhere other than Berlin. Snow or sleet, in...

WWII B-17G plane in Glenville * Albany Times Union | GLENVILLE -- To celebrate its 30th anniversary, the Empire State Aerosciences Museum has special events all week. On Monday, the Commemorative Air Force's World War II B-17G Sentimental Journey flew in for the week. Events include tours, new...

WWII era Bomber lands at the Olympic Flight Museum for a week's visit * The Olympian | Commemorative Air Force pilot Spike McLane gives the history of the WW2-era B-25 Mitchell bomber, "Maid in the Shade" at the Olympic Flight Museum before airplane loadmaster Mike Mueller gives pre-flight instructions to a group of passengers Aug. 11...

Airport seeks memories of Stead Air Force Base * Reno Gazette Journal | He was the brother of Reno Air Races founder Bill Stead. Today, the military history largely exists in the memories of those who served and worked there and a scattering of buildings still standing in Stead, many of them boarded up and likely bound for...

Lawrence native is one of few black pilots in rare World War II aircraft * Lawrence Journal World | He's a volunteer pilot for the Commemorative Air Force Red Tail Squadron — an organization aimed at sharing the story of the Tuskegee Airmen, the black pilots most famous for their success flying Mustangs in WWII. Shepard performed in an air show in...

A Terrifying Beauty – the Art of Piotr Forkasiewicz · Vintage Wings of Canada | In the black of night
of June 8, 1944, two days after the D-Day invasions of Normandy, the dark hulk of a four-engined Lancaster bomber of 15 Squadron, Royal Air Force, trailing a blow-torching curtain of livid flame, lurches heavily into a dive over the French countryside, a few miles to the west of Paris. The flame is bright enough to illuminate the farms below in a pale and ghostly light. The big bomber is dying, her lifeblood streaming in angry, high octane sheets from her starboard wing fuel tanks. Behind the Lancaster, a Luftwaffe night fighter follows her down to finish her off. Its cannons hammer continuously at the British aircraft, while their tracer rounds rocket and shriek past, trailing smoke, lit by the burning, streaming wounds of the Lanc....

Historic Aircraft: Spruce Goose | One of the highlights of the Evergreen Aviation and Space Museum in McMinnville, Oregon, is the historic "Spruce Goose" – the one and only Hughes H-4 Hercules ever manufactured. With a wingspan of 320 feet and measuring 219 feet long, the H-4 is the largest flying boat ever to be constructed, and although it only ever made one flight on November 2, 1947, it proved that an airplane of that...

A Pilot's View of Historic Aircraft · WarbirdsNews | Aviation fans from across the country are being given the chance to sit inside some of the world's most historic aircraft at the Open Cockpits Evening being held at the Royal Air Force Museum Cosford next month. Just 300 tickets are available for this exclusive evening on Saturday 20 September, where a wide range of aircraft will be available for close viewing on the night: including transport aircraft, jet fighters and unique research airframes. Aircraft enthusiasts will be able to get a feel for what it was like to fly these much loved machines by entering their cockpits and enjoying a Pilot's view. In addition....

Antique Airfield:

Ohio professor releases book on record-breaking flight across state
· General Aviation News | Pilot Gordon (Joe) Murray, Ph.D., an associate professor at the School of Journalism and Mass Communication (JMC) at Kent State University in Ohio has published "
Lost in Oscar Hotel: There is Something in the Air
," chronicling the peculiar world record-setting journey he and physician Ron Siwik made in two 1946 Piper J3 Cub airplanes last spring....
Amelia Earhart: Canadian aviation protégé
* RCAF | ...This well-known American aviatrix made a name for herself in the field of aviation during the 1920s and 30s through a series of "firsts". The most famous of these was perhaps being the first woman to fly solo across the Atlantic Ocean in 1932; a feat for which she received the Distinguished Flying Cross from the United States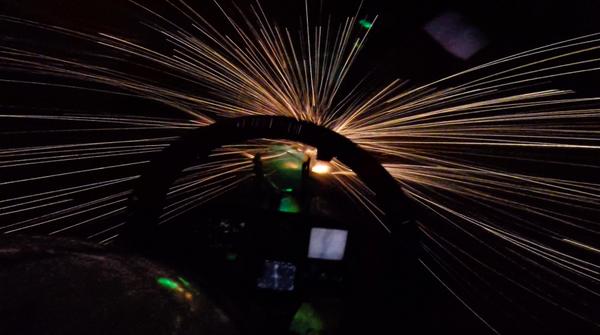 Congress....
Breathtaking photo as F/A-18E Super Hornet pilot seemingly activates "Hyperspace Drive"
* The Aviationist | This photo was taken by an F/A-18E Super Hornet pilot with the U.S. Navy's Strike-Fighter Squadron 27 (VFA-27) "Royal Maces" during a night gun strafe practice. The visual effect of the...
NASA's 'flying saucer' test project deemed a success
* Valley Sun | When it was at the right height and spin, a Supersonic Inflatable Aerodynamic Decelerator installed around the edge of the payload instantly filled with air to reduce the speed to Mach 2.5. Fractions of a second later, a helium-filled balloon parachute...