Blue Angels Plan Advance Photo Shoot Over Cleveland - ErieTVNews | The Blue Angels are scheduled to fly the squadron's six-jet F/A-18 Hornet Delta Formation around the city with a seventh flying abreast of the formation to photograph the Delta with the city in the background...

Lt. Cmdr. John Hiltz, Right Wing, Blue Angels - FederalNewsRadio.com
| If you've been to an air show, you've seen them: The Blue Angels. They're the Navy's flight demonstration squadron zooming in formation in meticulously painted F-18s. Tom Temin caught up with Lt. Cmdr. John Hiltz, number 2 pilot and right wing, on the
Federal Drive
as the Angels prepare to receive
new recruits
. He told Tom about the crew of 130 that make the show happen day in and day out...
Get ready Texas – the Red Bull Air Race is coming
* Red Bull World Series | The fifth round of the
Red Bull Air Race might have only just wrapped up, but the racing is stepping up a gear and taking it to the next level with the next stop in Texas, USA just over two weeks' time. The Texas Motor Speedway in Dallas - Fort Worth will welcome the sixth stop of the Red Bull Air Race as the action hots up and there's everything to play for... and only limited points left to be won...
UAS Challenge latest addition to National Championship Air Races
* News4 | RENO, Nev. (MyNews4.com & KRNV) -- In addition to drone displays, National Championship Air Race fans can now fly UAVs this coming September. "Incorporating UAS into the National Championship Reno Air Races has been a huge push for us," said Vice Chair of Sponsorships Mary Beth Sewald....
Wings and Wheels expo returns to OC Airport - Delmarva Daily Times
| A vehicle and aircraft exhibition this weekend will raise money for maintenance and upkeep of a Vietnam-era helicopter on display at the Ocean City Municipal Airport. Proceeds will support the Huey Memorial Display Fund. The helicopter is a Bell UH-1 Iroquois, manufactured in 1973. It's one of the latest in the series, which made its debut in the 1950s. The troops call it a Huey, a play on its UH-1 designation....
A Look Back at EAA AirVenture
*
eaavideo.org
Fort Bend Radio Control Club air show to benefit ADA - Your Houston News
| The Fort Bend Radio Control Club will host its 16th annual Model Air Show and Model Aircraft Fly-in on Saturday, Aug. 30 at the club's flying field in Rosenberg. The program is held to raise money for the Muscular Dystrophy Fund (Jerry's Kids)...
Thunder in the Valley
· U.S. Army Parachute Team "Golden Knights" | Over the past weekend Gold Team participated in the Thunder in the Valley Air Show in Waterloo, IA conducting 3 shows. On Friday, the team did a mass formation with SSG Roman Grijalva, fresh out of Senior Leaders Course, jumping into the show first and then narrating for Children's Appreciation Day. There were hundreds of students, which came from...
World Champion Golden Knight's 8-Way Team
· U.S. Army Parachute Team "Golden Knights" |
Monday morning at the 2014 World Parachuting Championships in the Czech Republic. The 8-Way Formation Skydiving Team has completed their eighth and final practice jump out of the L-410 Turbolet aircraft. The L-410 is extremely different than the UV-18 Twin Otter aircraft that the Golden Knights primarily train from. The turbojet door is...
A Sentimental Journey aboard a B-17 - Fredericksburg.com
| The Free Lance-Star Photography Department shares the stories behind the photos. One of the last flying WWII B-17 bombers, "Sentimental Journey," will be available for cockpit tours and flights at Culpeper Regional Airport, August 25th – 31st, 2014. The Boeing B-17 Flying Fortress was the primary bomber used by the American Air Force against the industrial strength of Nazi Germany, and is widely acknowledged as having turned the tide of World War II. Of the...
Five World War II aircraft scheduled here Aug. 29-31 - Princeton Union Eagle
| The Commemorative Air Force-Minnesota Wing, based in South St. Paul, plans to bring five World War II aircraft, including the, to the Princeton airport for the public to inspect for free on Friday, Aug. 29, through Sunday, Aug. 31. Miss Mitchell was flown during World War II, serving with distinction as part of the 12th Air Force, 57th Bomb Wing in Corsica, Sicily and Italy, and completed more than 135 missions with no serious injuries to her crew...
The Aero Experience:
World War One anniversary: Bullet passed through pilot's neck and hit my leg ...
* Nottingham Post | Nottinghamshire airman William Hodgson Sugden-Wilsn was taken prisoner after landing his plane in northern France during the First World War. Marcus Boocock reports. WITHIN three months of gaining his Aero Club certificate, William Hodgson...
Dan Rossman, who piloted B-25 that sank in Lake Greenwood in 1944, dead at 90 - Greenwood Index Journal
| The late Daniel Rossman is associated with an often-talked-about incident in Greenwood's aviation history that occurred on the same date as D-Day, the invasion of then German-occupied France, during World War II. Rossman was one of two Army Air Service students in training in the Upstate, under the guidance of an instructor, when a B-25 bomber went down in Lake Greenwood....
Potez 29 Squad 1 Indochina
* Xavier Cotton | Here again is a picture of Jacques Hemet collection. To
the question on Aéroforum Lucien Morareau who participated in the book "
The French Air Force in Indochina 1910-1945
"Christophe Cony Michel Ledet replied. This photo was...
F-4D Phantom II Cockpit Resurrected from the Dead
· WarbirdsNews | The hobby of collecting aircraft cockpits first really took off, so to speak, in the UK, where hundreds of people are involved in their collection, restoration and display. These range from just the actual cockpit section, all the way up to entire forward fuselages of aircraft types as large as an Avro Vulcan bomber. Typically, the...
National WASP WWII Museum Participates in"Museum Day Live" by the Smithsonian
* WASP Museum | On September 27th, the National WASP World War II Museum will be participating in "Museum Day Live" by the Smithsonian.
Wingfoot One ushers in new era for Goodyear Blimps
·
| AKRON, Ohio — The Goodyear Tire & Rubber Company's newest blimp, Wingfoot One, was
christened Aug. 23 by Robin Roberts, the co-anchor of ABC News' "Good Morning America." Wingfoot One officially joins Goodyear's fleet of blimps, ushering in a new era of technologically-advanced airships....
Flying On The New Goodyear Zeppelin Is Unlike All Other Flying
from Jalopnik | I've flown on many aircraft types, from modern widebody jets to vintage turboprops, helicopters and even a military transport plane. But of those hundreds of flights, nothing I've flown on in the past compares to the Zeppelin LZ N07-101 I flew on Saturday. It's Goodyear's newest airship, dubbed Wingfoot One....
Museum to begin restoring massive Titan 4B rocket
by Sarah Swan, National Museum of the U.S. Air Force | DAYTON, Ohio -- It sits in gigantic pieces in a World War II era hangar at Wright-Patterson Air Force. Acquired in 2005 from Lockheed Martin, this important space artifact has been waiting in storage for restoration specialists to bring it back to life. Now, as the National Museum of the U.S. Air Force prepares for its new 224,000 square foot fourth building, the time has finally come to begin restoring the Titan 4B space launch vehicle....
Women in Aviation expands youth outreach
· General Aviation News | Women in Aviation, International (WAI) has announced that the association's "Bring Your Daughter to the Conference Day" held for the past three years during WAI's annual conference has been expanded to include an international day to attract girls to aviation planned for Sept. 26, 2015....
Young pilot named finalist in Entrepreneur contest
· General Aviation News | At just 19, John Hill already has three years under his belt working the front desk at an FBO. A passionate pilot — he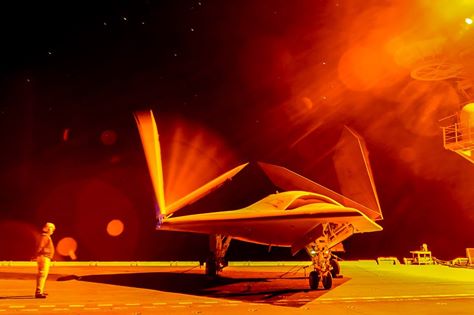 earned his ticket at age 17 — Hill divides his time between his work at ProJet Aviation, the FBO at Leesburg Executive Airport (KJYO) in Virginia, and his studies at George Mason University...
X-47B night ops
by suas News • Along with its successful mission of flying with a manned aircraft, the X-47B team also completed "Night Taxi Ops." The team successfully maneuvered X-47B around the...
There's MORE HERE.