Thunderbirds roar into EAA AirVenture - WBAY | Aviation fans gathering in Oshkosh are excited as the Air Force's famous Thunderbirds are about to fly in the EAA AirVenture air show for the first time. Their arrival Thursday provided a sneak preview. Passing through the sky at high speed, the Thunderbirds arrived at AirVenture from Nellis Air Force Base in Las Vegas to the thunderous applause of thousands watching the afternoon air show....

EAA, AirVenture 2014 Thursday Update * eaavideo.org

Video: AirVenture Night Airshow — General Aviation News | Video: AirVenture Night Airshow. July 31, 2014 by Ben Sclair Leave a Comment. In cased you missed the Wednesday night airshow at AirVenture, Frederick A. Johnsen from Airailimages put together a great recap. Enjoy.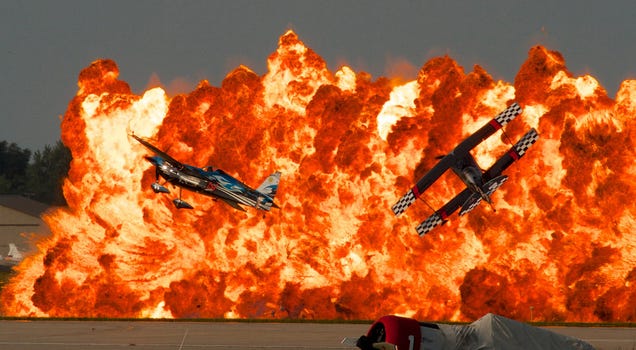 The size of this stunning explosion at an air show defies belief - Gizmodo | Yesterday, photographer Mike Miley took his Canon 7D to the Oshkosh Air Show in Wisconsin, and holy crap, did he get some good shots. Chief among them is a jaw-dropping shot of two planes dancing around an explosion of Michael Bay-proportions....

FLOPS * EAA Video

Isn't it cute! The micro jet has a shower cap! · Franklin's Flying Circus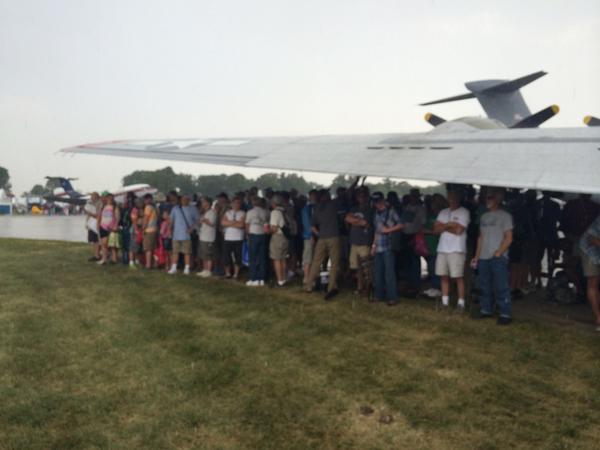 Only at OskKosh * Steve Tupper

Ford donates F-35 inspired car for Young Eagles auction at AirVenture · General Aviation News | OSHKOSH – The engineering and design teams at Ford Motor Co. led the development of the one-off 2015 F-35 Lightning II Edition Ford Mustang, which will be donated by Ford and sold at the the Gathering of Eagles charity event Thursday at AirVenture....

Building an Airplane in One Week at AirVenture * Flying Magazine | Volunteers are currently hard at work at EAA's One Week Wonder tent at AirVenture as they strive to build a Zenith CH75 Cruzer in just seven-days' time. More than 1,000 volunteers have lent their hands to the program, which kicked off earlier this week ...

There is more news.... Check HERE. And we'll be adding to this through the day!