Organizer: EAA AirVenture attendance rises 5-6 percent, helped by ... * Minneapolis Star Tribune | EAA Chairman Jack Pelton said Tuesday the attendance was helped by the U.S. Air Force Thunderbirds, who made their first appearance at an EAA event. The convention featured daily air shows that include everything from aerobatic feats to warbirds...

Observations Of A Week At AirVenture * Aero-News Network | As The Annual Pilot Pilgrimage Ends, Just A Few Parting Thoughts. In no particular order here are a few thoughts about this years annual event called AirVenture.

Thunder Over Michigan to feature custom biplane fitted with Lear jet engine * The Ann Arbor News | Peaking at speeds of 250 miles per hour, the Screamin' Sasquatch isn't your typical air show plane. But this weekend, the Screamin' Sasquatch will be one of several planes participating in Thunder Over Michigan, at Willow Run Airport, but the Sasquatch...

Airport Fly-in is Saturday * Moody County Enterprise | The annual Fly-In at the Flandreau Airport will be held Saturday, Aug. 9 from 8 a.m. to 12 noon at the Flandreau Airport. The Team of Angels will be serving breakfast. There will be free airplane rides, the opportunity to see medical helicopters up...

Video: Hawker Sea Fury Crash-Lands at Airshow * Flying Magazine | A Hawker Sea Fury that was
flying as part of the Royal Navy Culdrose Air Day in Cornwall, in the southwestern corner of England, crash-landed last week in front a large crowd. Video shows smoke coming out of the engine cowl as the 1940s-era fighter...

WWII bomber flight signals approach of Colorado Springs air show * Colorado Springs Gazette | The plan was to fly about 100 miles north to Erie for an air show flyby to promote the museum's upcoming air show. Several media members had come to strap themselves in, and experience the ride. Piloting the bomber was museum volunteer Bill Klaers, who...

B-17 on Display in Honor of "Dutch" Van Kirk * wnep.com | During the graveside service, a B-17 flew over the cemetery to honor the man who was the navigator on the Enola Gay. After the service, the B-17, also known as the "Memphis Belle" flew into the Sunbury Airport. "It's unique. I mean, I've never seen one...

Herschel Walker visits Fightertown [Image 6 of 8] · DVIDS Unit RSS Feed: Marine Corps Air Station Beaufort , Cpl. John Wilkes | Capt. Christian Lapp, a pilot with Marine All Weather Fighter Attack Squadron 533 shows former NFL icon and mental health advocate, Herschel Walker, an F/A-18 Hornet aboard Marine Corps Air Station Beaufort, Aug. 5. Walker, who was diagnosed with Dissociative Identity Disorder, addressed service members, dependents and retirees during his visit in an effort to promote the Patriot Support Program's Anti-Stigma Campaign which aims to educate and inform the audience about Depression and other behavioral health issues. The...

Canada's last airworthy Avro Lancaster embarks on UK tour * CBC.ca | Dave Rohrer, president and CEO of the museum, was riding in a B-25 Mitchell medium bomber with a documentary film crew behind the Lancaster when it became airborne. The film crew followed the Lancaster all the way to Oakville's waterfront and got...

EAA AirVenture hopes to bring B-29 "Doc" to Oshkosh in 2015 * Wichita Business Journal (blog) |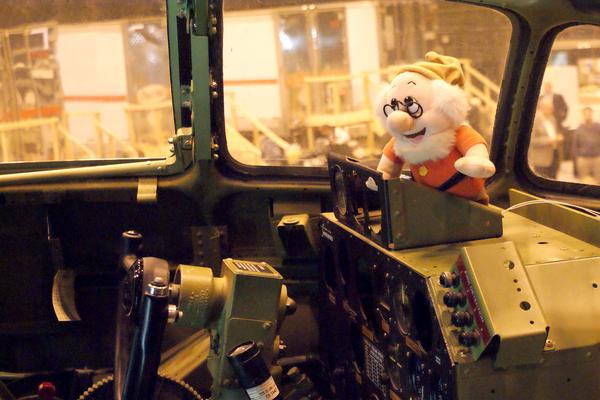 EAA AirVenture hopes to bring B-29 "Doc" to Oshkosh in 2015. b29 doc1 WEB. View Photos. Daniel McCoy / WBJ. Doc, a World War II-era B-29 bomber, is being restored in Wichita. The restoration group, Doc's Friends, put the aircraft on display for an open...

B-29 Superfortress Nears First Flight * Flying Magazine | Volunteers in Wichita, Kansas, who are working to restore a B-29 Superfortress named Doc have brought the massive airplane close to completion and are getting ready to return the bomber to the skies before the new year. The non-profit volunteer...

Rebuilt 'Baby Ace' Plane Brings AirVenture Back to its Wisconsin Roots * AviationPros.com | Aug. 01--OSHKOSH -- This was the plane that put the Experimental Aircraft Association on the map. The red and yellow open-cockpit, single-engine "Baby Ace" built by Paul Poberezny was featured on the cover of Mechanix Illustrated in May 1955 along with...

Small-Block Chevy Reno Air Racer * Hot Rod Magazine | There's an aerospace-spec, small-block Chevy nestled into "Sweet Dreams," the Reno Air Race GP-5 of retired U.S. Air Force pilot Lee Behel. What else would you use in an Unlimited Air race class where the only restriction is the engine must displace...

Antique Airfield

First Flight: One Week Wonder
· eaavideo.org | On August 5, 2014, the airplane that was built in seven days at EAA AirVenture Oshkosh 2014 flew for the first time—carrying more than 2500 signatures of those who helped build the plane into the air...
South Dakota CAP Wing wins award
· General Aviation News | South Dakota's
Civil Air Patrol
Wing has been awarded the North Central Region's Search and Rescue Missions Award. The commander of the North Central Region, Colonel Robert Todd, remarked that the award is well merited as the Wing has been aggressive finding new missions for its aircraft and personnel. Despite its small size, South Dakota Wing ranks 10th in the nation (each state is a Wing) in aircraft utilization...
Video: Is Space X's Elon Musk looking to aircraft for his next project?
· General Aviation News | Elon Musk appeared on The Colbert Report on July 24. At the 1:50 mark of this video he says, "Aircraft should be vertical take-off and landing." Could a Musk revolution being coming to aviation?...
Astronaut Mike Massimino Departs NASA For University Position
* Aero-News Network | Was First Astronaut To Tweet From Space After almost two decades with NASA, including two space shuttle missions, astronaut Mike Massimino has left the space agency for a full-time position with Columbia University in New York...