Blue Angels Impress at Duluth Airshow | The Navigator Online * After fog kept them out of the sky Saturday, the U.S. Navy Blue Angels flight team were able to take to the sky today to 'wow' a crowd of thousands....

Photos and Video of the 2014 Duluth Air Show - Mix 108 · Tony Hart | Despite her best effort, Mother Nature couldn't keep the Navy's Blue Angels and the 2014 Duluth Airshow grounded all weekend. Clouds, fog and low visibility/ceiling were the buzzwords flying around the 2014 Duluth Air Show, those three things kept the planes on the ground Saturday, and kept the flying to a minimum on Sunday....

Insane Video Takes You Inside the Cockpit of a Blue Angels Jet - io9 | The Blue Angels are the stunt pilots of the US Navy and Marines, showing off the very best aviation tricks every year at airshows. They soar, swoop, and turn upside down — all in formation. It's incredible to watch from the ground, and it's just blisteringly insane from inside the cockpit.

USAF Thunderbirds swoop into Kalispell - Great Falls Tribune | Over the past 20 years, Kalispell has
acquired a taste for air shows. While past shows have drawn huge crowds, planes haven't come to the hub of the Flathead Valley for almost a decade. That will change this weekend, with the Mountain Madness Air Show, which will feature several flying acts, including the United States Air Force Thunderbirds, and a static display on the ground....

Moving the Snowbirds into the Modern Era - Canada Free Press | ...Unfortunately, the Snowbirds' fleet of CT-114 Tutor jets is simply not a good public face for a modern military—notwithstanding that some other nations use similarly unimpressive aircraft for their military aerobatics teams. CT-155 Hawks, which some have suggested as possible replacements for the Snowbirds' CT-114 Tutors, are equally unimpressive airshow material. Perhaps these planes make good training equipment, but they will not inspire the public and project Canadian military power....

Air Show sputters; turnout well below 2011 event - KWWL - Eastern Iowa ... - kwwl.com | WATERLOO (KWWL) - Excitement filled the air, but the problem was on the ground: Attendance for Thunder in the Valley was down significantly from the last show three years ago. About 10,000 people were at the Waterloo Regional Airport on Saturday. That's down 75 percent from the same day in 2011....

Lehigh Valley Airshow drew 30000-plus - Allentown Morning Call | More than 30,000 people attended the Lehigh Valley Airshow last weekend — and none of them had to wait 90 minutes to buy a bottle of water. The 2014 air show didn't hit last year's attendance of more than 40,000 people, but it also didn't reach last year's level of frustration, when the crush of aviation fans overwhelmed concessions and the road system around the airport....

Fly-in delights spectators at Grand Haven airport - Grand Haven Tribune | Motor glider pilots from the Tuskegee Airmen National Historical Museum provided flight formation and general maneuver demonstrations, and other pilots performed fly-bys and special takeoffs and landings at the city's airport. "It's a great event. It's nice they can get the young kids in the planes and interested in flying," Allendale resident Steve McMaster said....

Pilot Mike Wiskus using his airplane to encourage kids - Waterloo Cedar Falls Courier A number of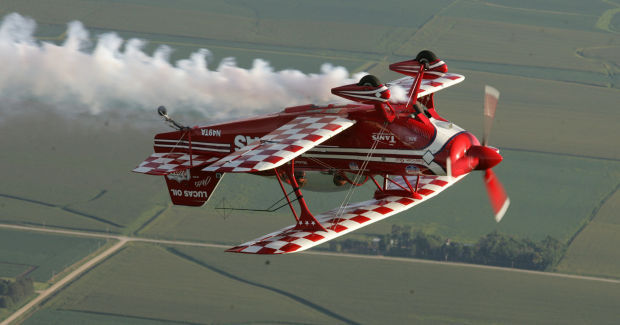 challenges confronted Michael Wiskus over his 55 years, most recently cancer. Which is why he feels blessed. "This is all part of my faith walk," he said, confessing an ongoing learning process about his Christian beliefs. "All these things that are thrown at me are tests. He keeps coming back, 'Do you trust me?'" Wiskus added....

Rotary Fly-In Breakfast offers history lesson - Fremont Tribune | Its aluminum body shining brightly in the morning sunshine, Mark Novak's airplane was attracting a lot of attention. The Dawson man decided to take advantage of a near-perfect morning to fly his World War II-era BT-13 trainer to the annual Fremont Rotary Fly-In Breakfast on Sunday at Fremont Municipal Airport...

By George, he's the voice of air festival - Bournemouth Echo | YOU might not recognise the face, but you will certainly recognise the voice. George Bacon has been commentating on the Bournemouth Air Festival since the start in 2008 and has seen it all – the triumphs, the tragedy and, of course, the weather....

Fox Fire to participate at annual Fly-In on Saturday - McLeansboro Times Leader * Hamilton County Fox Fire will be making an appearance at the eighth annual Jim LeRoy Memorial Fly-In hosted by the Hamilton County Fearless Flyers Model Club.

A Tour of the Boneyard * Air & Space Magazine | My son Ian and I had already spent two days at the Pima Air & Space Museum outside Tucson, Arizona, walking the hangars and the terrific collection of aircraft parked outside. Pima is adjacent to the fence line of Davis-Monthan AFB, home of the "Boneyard.

Amon G. Carter Travel Air 5000 Restoration · WarbirdsNews | Fort Worth Meacham International Airport in Fort Worth, Texas is home to the Veterans Memorial Air Park which itself houses three aviation museums on its campus: the B-36 Peacemaker Museum, The Forward Air Controllers Museum and the OV-10 Bronco Museum. There are numerous, mostly military aircraft on display around the Air Park, some of them quite rare. However...

EAA chapter hosts annual fly-in * chillicothenews.com | The 22nd annual North Central Missouri EAA Chapter 944 Fly-in / Dive-in Breakfast and Young Eagle's Flights event was held Saturday at the Chillicothe Municipal Airport.

There MORE HERE.