Honor Flight receives Spirit of Flight Award from General Aviation News by Janice Wood | The recipient of the National Aviation Hall of Fame's Milton Caniff "Spirit of Flight" Award for 2012 is Honor Flight, a non-profit organization that transports America's veterans, at no cost to them, to Washington, D.C. to visit the memorials that honor their service and sacrifices...

Fly-in gets state award - El Defensor Chieftain | Socorro's M Mountain Fly-In has been named "Airshow of the Year" by the New Mexico Airport Managers Association, according to a report by the New Mexico Aviation Division. Jonathan Miller/El Defensor Chieftain: The UH-60 Blackhawk helicopter made an ...

Air show organizer tells upcoming of event - North Fort Myers Neighbor | With the American Heroes Air Show in Fort Myers now just 30 days ahead of us, we invite your team to deploy to our admission-free, helicopter-only aviation event with a mission to educate the community, elected officials and the media about the...

Mustang is star of fly-in - Northern Star | THE Great Eastern Fly-in at Evans Head is finally returning next weekend with expectations that it will be bigger than ever. With all manner of aircraft converging on the Evans Head Aerodrome, the fly-in's 21st anniversary is promising to be a true ...

Gliding the Wright way from General Aviation News By AMELIA T. REIHELD | It's a beautiful view from the top of Jockey's Ridge, the towering sand dunes on North Carolina's Outer Banks. To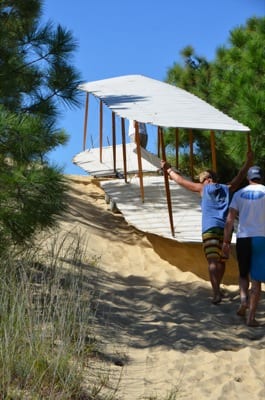 the east, there are cheek-by-jowl beach cottages and then the expanse of the Atlantic Ocean, topped with whitecaps. To the west the Currituck Sound forms a swath of blue between dunes and the lavender shadow that is the rest of the United States. Between here and the sound, there are vast mountains and valleys of soft golden sand and scrubby dune vegetation...

Patrick King, 91; English High coach - Boston Globe | He decided to interrupt his studies and enlist in the Army Air Corps, which trained him as a B-17 tailgunner and sent him to the European theater. The war ended about 14 months after Mr. King's plane was shot down. He was freed and sent to a hospital...

Britain's first Yankee Christmas - Telegraph.co.uk | Their B-17 Flying Fortresses and Liberator bombers would have been stranded on Britain's grassy airstrips. This was the Americans' first winter away from home – and the first time that British families would have the opportunity to share Christmas with...

Kansas Aviation Museum offering F-4 similar flights over the holiday break - Yahoo! News (blog) | WICHITA, Kan. - The Kansas Aviation Museum is offering a rare opportunity for the public to experience a flight in an F-4 simulator. The so-called F4 experience will be available Wednesday through Sunday at the Wichita museum. Detailed flight controls ...

Spitfires' Excavation Date Set from AVwebFlash Current Issue | The long-anticipated dig to unearth a cache of brand-new Spitfires that are believed to be buried in Burma is expected to start on Jan. 12, local press has reported. According to The Irrawaddy, archeologists first will spend about a week studying the site, then the digging can begin. Up to 36 pristine Spitfires, still in the packing crates they were delivered in near the end of World War II, are expected to be found. David Cundall, who located the burial site, said he has confirmed the airplanes are there by sending a camera through a borehole. "We went into a crate, you can see an object which resembles a Spitfire," he said...

Signing from Apron 6 | A great thing about Sanicole Airshow is the Redbull tent where there are signing sessions with the pilots. It's a great way for the visitors to meet the pilots, while for the kids it's a way of getting posters and gadgets for free. Here's one of the Seaking crewmembers signing some posters.

Hangar Chats, 12-25-2012 from Other People's Airplanes by David | ...This is the first in our new series of what we are currently calling "hangar chats". The will be short, upbeat episodes packed full of yummy aviation goodness. Each show will contain some combination of...

Video: Stinson 108, GoPro HD, And Some Ice And Snow! from AirPigz by Martt | Since there's a little snow in the air in my neck of the woods (northern Indiana) and quite a bit of it on tap for the northeast, I thought a nice little ski-flying video would be appropriate. After turning over a lot of youtube rocks I finally found one I felt was well worth sharing. It's of a 1948 Stinson 108-3 being flown in Wisconsin back in February 2012....

All I want for Christmas ... Daddy! from Air Force Link Top Stories | ...For the Madera family, it was looking like this Christmas was going to be one spent apart, or at least that's what 7-year-old Anastacia Madera thought. Her dad, Staff Sgt. Eduardo Madera-Muniz an F-16 Fighting Falcon crew chief, is serving a year-long remote...