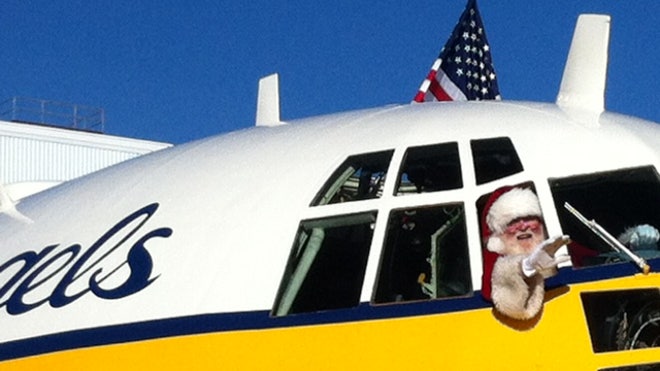 Santa rides on wings of (Blue) Angels to deliver gifts to Sandy victims
- Fox News | KEANSBURG, N.J. – Santa made an early flight to New Jersey for storm victims this year with the help of the Blue Angels. The aerobatics team used its C-130 support plane "Fat Albert" as a "sleigh" -- picking up Toys for Tots donations at a Lockheed ...
Blue Angels, 'Fat Albert' assist Toys for Tots
- WBRC | The Blue Angels are helping the Marines' Toys for Tots program by collecting hundreds of gifts for children in New York and New Jersey whose lives were upended by Superstorm Sandy. The Navy calls her "Fat Albert," the Blue Angels support plane.
Blue Angels Gearing Up For Indy Airshow
- 93.1 WIBC Indianapolis | Two Blue Angels flew into Indianapolis International Airport to spread the word and get Hoosiers excited. Ryan Chamberlain and Michael Cheng came for a pre-season air show visit Tuesday. Chamberlain says they're in the process of touring the nation and ...
Wings of Freedom Tour to stop at Sebring LSA Expo
from General Aviation News by Janice Wood |The Collings Foundation Wings of Freedom Tour will stop at the
Sport Aviation Expo
in Sebring, Florida, this January. Expected to attend the show, known by most as the Sebring LSA Expo, is the Boeing B-17 Flying Fortress "Nine O Nine," Consolidated B-24 Liberator "Witchcraft," and P-51 Mustang (pictured). All are slated to fly into Sebring Regional Airport at 1:30 p.m. Jan. 18...
The Memphis Airshow presented by FedEx Express will be held at the Millington Re...
by Memphis Airshow | The Memphis Airshow presented by FedEx Express will be held at the Millington Regional Jetport on September 28 and 29, 2013! Stay tuned for exciting information.
Rocky Mountain Airshow moves up a week next year
from General Aviation News by Janice Wood | DENVER — Advance tickets are now on sale for the
Rocky Mountain Airshow
, which moves up a week in 2013 with new dates of Aug. 16-18...
Air show lands new management
- Register Pajaronian | WATSONVILLE — The 48-year-old Watsonville Fly-In and Air Show is under new management, and will get a new look and a new name for the 2013 event. New manager Mike Hennessy is an automobile repair shop owner-turned promoter who, among other...
Video: Red Bull Brings The Airplane And The Parachute Together (Why Not?)
from AirPigz by Martt | ...I love the view you get of an aircraft being tossed about the sky when shot from a roving helicopter. Wow. This is the kind of stuff that people like you and me could watch ALL DAY LONG! Hmm, I like that idea. How about a major motion picture (with an emphasis on motion) that's really just two hours of insanely hot aerobatics and the most incredible camera views ever....
The Women of the NAAA
- AgWired | Reply. The current President of the Women of the National Agricultural Aviation Association is Katy Diehl. We visited here in Savannah at the NAAA convention. Kathy is from Garden City, KS and is married to an agricultural aviator and is personally a...
Taking to the skies
- Liberty Champion | "There has been great advancement of women in aviation in the last several years," Morris said. "Contrary to what many think, I have witnessed a huge level of support for women in aviation, and this is very encouraging." Boardman said that the first...
A Gift of Wings
from WAI Connect Blog by Amy Laboda | What compelled 45 women from Anchorage to Chesterfield, N.H., to trek to Vernon, Texas, a tiny north-Texas town where there are more trucks than cars?
The sky is the limit for Girls Inc. of Chattanooga
from You Fly, Girl by Cathy Gale | Six girls who had never been on an airplane spent Monday afternoon at Wilson Air Center with a female pilot. "I just want to get up there," said 13-year-old Angel Townsend, while standing near pilot Rebecca Gibson at the airport....
Aeronautics accepts plane donation
- Liberty Champion | The Liberty School of Aeronautics (SOA) has recently accepted a 1931 Travel Air Plane, the same one to win the Powder Puff Air Derby, which would later become the Air Race Classic, back in 1929. This race was the first solely women's air race. David ...
Sky is the lower limit - Aero Modelling Club
- AOL | But here at our club, Aero modelling is considered not only as a hobby to invest our time and money in, but also as means to study our designs, their aerodynamic feasibility and it's practical applications. The good thing is, the campus and the SnT ...
Timeline, flight simulator upgrades made at museum
- Rantoul Press | As the economic health of the air museum steadily improves, employees and a solid core of volunteers continue to add to the array of attractions at the museum. A DC-9 flight simulator has been added, and restoration of a vintage World War II-era P-51...
December 4, 2012 Flying Clubs
from Ely Air Lines by Linda Street-Ely | ...I learned to fly before I bought my first car so I guess you could say it was my passion for flight that forced my first auto purchase. My local airport had no flying club, so ground transportation became necessary. The motivation was always flight....
November 27, 2012 Jerrie Mock
from Ely Air Lines by Linda Street-Ely | ...Her story, in the back pages and nooks of history books, few people know: that she was the first woman to circumnavigate the globe solo. Many people think Amelia Earhart was the first to fly solo around the world but she only completed about 75 percent of the trip before she and her navigator Fred Noonan disappeared someplace over the Pacific Ocean....
Air Race Posters
by RARECJ8 | Been storing these for a long time. Any race fans interested? Some are worth $, others not so much. prefer a pacakage deal. SOme signed by pilots...
A place where dreams take flight
- Manawatu Standard | Manawatu Districts Aero Club flying
director David Cameron at Taonui Aerodrome, Feilding, stands by a Tecnam Sierra plane.
Does the USAF have a secret ISR/Strike jet in development at Groom Lake?
from The DEW Line by Dave Majumdar | Is there a stealthy intelligence, surveillance and reconnaissance (ISR)/strike aircraft secretly under development at the US Air Force's facility in Groom Lake, Nevada?...