Top Air Show Solo Performers Form New Four-Ship Team Video from Alabama Aviator - Aviation News | From ICAS- Team 4ce (force, get it?) has announced that they are open for business and eager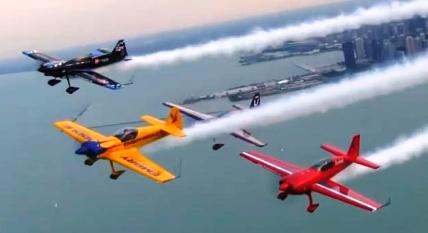 to book shows during the 2013 air show season and beyond. Comprised of Matt Chapman, Jack Knutson, Rob Holland and Bill Stein, these four aerobatic monoplane pilots represent some of the finest solo talent in the air show business...

Blue Angels pilots to fly into Lynchburg next week - WSLS | Lieutenant Ryan Chamberlain (#7 Blue Angel) and Lieutenant Commander Michael Cheng (#8 Blue Angel) will visit the Hill City on Monday, December 3rd and 4th, as a pre-site visit for the 2013 Lynchburg Regional Airshow that will take place on Memorial...

Entebbe air show set for December 15-16 - eTurboNews | UGANDA (eTN) - Uganda's Civil Aviation Authority is partnering to put together a show case aviation event on the weekend of December 15 and 16, bringing together the aviation industry to give Ugandans a hands-on experience. Air Uganda has already ...

1 million airshow fans can't be wrong from General Aviation News by GAN Staff | STORY AND PHOTOS By HAYMAN TAM Over 1 million spectators flocked to San Francisco in October to enjoy the Fleet Week festivities and watch the airshow that is the highlight of the event (although the America's Cup attendees may have a different opinion). Anyone along San Francisco's waterfront had a ringside seat for two jet teams and the many other performers flying over show center, marked by ships and buoys in the bay. Some folks chose to watch the show from Alcatraz Island, site of the infamous prison.

"Yeah baby!" Nice shot of Sean Tucker and his... from You like airplanes, too? by marvinsmith

Air Show to Help Valley Economy Take Flight - HQ Comox Valley | Comox hasn't staged an Air Show since 2005. When the bi-annual event was first abandoned in 2007, then-Wing Commander Jon Ambler defended the decision, saying "commercial air circuses" weren't exactly a growth industry. Now though, he's happy to ...

CAP Marks 71st Anniversary from Alabama Aviator - Aviation News | NATIONAL HEADQUARTERS - Civil Air Patrol's rich history of protecting America comes full circle Saturday when the U.S. Air Force auxiliary officially celebrates its 71st anniversary...

High-flying attorney keeps his feet far from the ground - Denver Business Journal | Aerobatic competitions require pilots to complete a precise sequence of aerial maneuvers. Somewhat like ice skaters, pilots are judged on how well they fly each figure. Leach competes at the relatively beginner Sportsman level, performing maneuvers ...

Portrait of a leader from Aviation.ca News by Dave O'Malley, Vintage Wings Canada | At the start of November, Vintage Wings of Canada hosted its Third Annual Members' Gala, enjoyed by all 150 guests in attendance. As is our tradition, the climax of the evening's festivities and formalities is the raising of a commemorative banner to honour one of Canada's great aviators of the Second World War. The honour is always a surprise for the honoured guest attending...

Aviation Community Provides Aerial Salute to Veteran at Jefferson Barracks National Cemetery from The Aero Experience - Celebrating Midwest Aviation by Carmelo Turdo | The greater St. Louis area aviation community came together this week to provide an aerial salute to a U.S. Naval Aviator and career commercial pilot laid to rest Wednesday at Jefferson Barracks National Cemetery....

He bombed Tokyo – 1st Lt. Bob Althoff flew 35 missions over Japan in a B-29 'Superfortress' from War Tales by Don Moore | Old "Iron Pants" decreed that the B-29 bombers would fly firebomb raids over Tokyo at 7,000 feet after taking command of the 20th Air Force. The "Superfortress" crews had been flying raids at 25,000 feet, Bob Althoff, pilot of one of the bombers, recalled decades later. "'If you send those B-29s in at 7,000 feet [...]

Solar Impulse has 60 Minutes from CAFE Foundation Blog by Dean Sigler | Alexandra Gindroz, Media Relations Manager for Solar Impulse, shared this late-breaking development today. "60 MINUTES recently visited Solar Impulse, the first manned solar airplane able to fly day and night without fuel. Learn about this groundbreaking project widely recognized as a 21st century adventure with a real utility in ...

More Gee Bee 'R' Awesomeness... With Some Help From Gizmodo.com.au from AirPigz by Martt | It's true, my lifelong adoration for the Gee Bee racers is on the threshold of becoming an obsession.
So we're taking another little journey into the Granville Brothers raindrop-inspired flying machines. The pic above is of NR2100, the R-1 powered by an 800hp Pratt & Whitney R-1340. This airplane was piloted by the amazing Jimmy Doolittle to victory in the 1932 Thompson Trophy closed-course race with...

The Henry Ford Museum – Part 1 (of 3) from CAF Red Tail Squadron | This is one of two entryways to the Heroes Of The Sky exhibit at the Henry Ford. That's a DC-3 (NC21728) hanging overhead. When the aircraft was donated to the Museum in 1975, it had spent more time aloft than any other airplane in history (that record was later broken by – another DC-3!). The statistics about this...

Forward Air Controller's Museum at Veterans Memorial Air Park from Travel for Aircraft by joseph_may | When it comes to flying, Forward Air Controller's (FACs) have a unique blend of responsibilities and skills. FAC pilots must have situational awareness in four dimensions with regard to arriving attack aircraft which will be helicopter, fighter or heavy bomber [...]

Super Constellation low pass! from You like airplanes, too? by marvinsmith | Certainly don't see many Connies behaving like this one!

Ben Morphew's New Piper Clipper from Antique Airfield News | ...For years I've been looking for a Clipper especially the one I flew years ago when I was still in my teens. It's supposedly in parts somewhere in Maine last time I heard. I was minding my own business lurking on the computer and ran across a nice looking Clipper. Further checking...

Barry Branin's WACO UBA NC13054 Restoration from Antique Airfield News | ...In 1932 WACO introduced the first "A" an open cockpit with side by side rather than tandem seating. The prototype airplane was powered...

Patuxent River Naval Air Museum Accepts Retired CH-46E - Bay Net | Patuxent River Naval Air Museum on November 23 accepted a recently retired test helicopter from the Patuxent River based Air Test and Evaluation Squadron TWO ONE (HX-21) "Blackjack." The CH-46 Sea Knight is the Marine Corps' primary medium lift ...

Rare WWII-era bomber could join state's collection - The State | The S.C. Historic Aviation Foundation has located one of the rare planes in a nearby state. ... "The heritage of the B-25 is particularly unique in South Carolina and having a flying example would be a much more tangible tribute to all the airmen that ...

A treasure trove of historic aviation images from Bayou Renaissance Man by Peter | I was very happy to discover the image gallery of NASA's Dryden Flight Research Center. It contains images covering the last sixty years or more of aviation research, including some of the most iconic aircraft in aviation history. Most are available in high resolution, making them perfect for computer wallpaper or large-scale printing....

Itty Bitty Jets... FLS Microjet (Neo BD-5J) VS SubSonex JSX-1 (Videos) from AirPigz by Martt | It's a pretty universal dream: a tiny little jet that feels like it has become a part of you... you think it, and
it does it... the perfect dream machine that'll do pretty much anything you can think of. If you really love flying and you haven't had that dream yet, I'm guessing it's just a matter of time. It's a dream first made real by Jim Bede back in mid 70's with the BD-5J: as in J for 'jet'. And now, just about 40 years later, we've got two recent videos worth watching of two airplanes that are born, to one degree or another, out of Bede's original dream machine....

Andy Schwaderer from Flight To Success by Karlene Petitt Friday Fabulous Flyer | Major Andrew Schwaderer—Andy—is a C-17 pilot who is just finishing his Active Duty pilot commitment, and will start with the Reserves this winter. One of his dreams is to fly with FedEx, and I have no doubt he will make that dream come true....



Our trip to see the Defender from Wasabi Air Racing by Elliot "Stinky" Seguin | Back in 2009 we were in North Dakota to speak to engineers and pilots at UND. While we were there we couldn't resist the opportunity to hop over to Carman and check in with an aviation icon. If you haven't seen "The Defender" I assure you that you are missing out. The movie chronicles Bob Diemert and his friend Chris Ball as they design a home built airplane to defend Canada against a Russian invasion. In the course of designing and building the airplane they fundraise by restoring a Pearl Harbor Veteran Zero and deliver it to the CAF in Texas....

Author Craig Harwood Restores John J. Montgomery to the Pantheon of Aviation Pioneers with Quest for Flight from Featured by S. Mark Rhodes | Fully 20 years before the Wright Brothers flew at Kitty Hawk, N. C., a California aviation pioneer and inventor named John J. Montgomery managed to fly heavier than air craft in 1883 marking the first such flights in the Western Hemisphere. Authors and aviation historians Craig Harwood and Gary Fogel have recounted the...

Air Force Week in Photos from Air Force Link Top Stories | This week's photos feature Airmen around the globe involved in activities supporting expeditionary operations and defending America. This weekly feature showcases the men and women of the Air Force. View the slideshow.

ACC Commander ends time as F-22 pilot confident in Raptor from Air Combat Command - ACC Headlines | After five months in the cockpit and numerous discussions with combat-ready pilots and maintainers, the commander of Air Combat Command is ending his tenure as an F-22 pilot, confident that the aircraft is safe to fly and on a path toward unrestricted worldwide operations. Gen. Mike Hostage recently completed his final flight in the F-22 during a tour of U.S. Air Forces Central Command bases....

US Navy completes first shore-based catapult launch of X-47B from The DEW Line by Dave Majumdar | The US Navy has completed the first ever catapult launch of the Northrop Grumman X-47B unmanned combat air system demonstrator (UCAS-D) aircraft at NAS Patuxent River, Maryland...

NORAD is ready to track Santa's flight from Aviation.ca News by NORAD | The North American Aerospace Defense Command is prepared to track Santa's yuletide journey!...

Buckley AFB (KBKF) from FenceCheck Forums | The NASA Super Guppy departing after spending the night to offload and subsequently pick up some cargo....

Starbase Indy continues to grow in audience - Reporter-Times | David Wolf, a recently retired NASA astronaut, returned and once again preached the gospel of how Star Trek has inspired the space program. The videos he presented offered an entertaining look at the space program since President Kennedy and hopes for ...

Soyuz readied for lift-off at French Guiana; Launch Reset for Dec 1, 2012 9:02 PM-ET from Spaceports | Liftoff of the Soyuz on November 30, 2012 is set for a precise moment—11:02:50 p.m. local time (in French Guiana—initiating a 55-minute mission to deploy Pléiades 1B in a 695km. circular orbit, inclined 98.2 degrees. The launch of...