ICAS Opens Strong from Airspeed Online by Steve Tupper | ICAS formally kicked off this morning with a keynote by Pittsburgh Steeler and Vietnam veteran Rocky Bleier. It takes a major personality to stand in front of a room like the convention room at ICAS, but a guy with four Super Bowl rings is probably just about right. Bleier spoke for about an hour, recounting [...]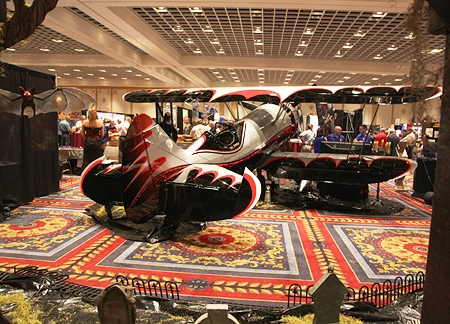 ICAS Exhibits Opens Today from Alabama Aviator - Aviation News | Las Vegas NV- This year's 46th International Council of Airshows Conven­tion exhibit hall features 234 exhibitors on 60,000+ square feet of exhibit space and hosts more than 1,500 air show professionals. It will also be the center of activity for this year's ICAS Convention. ICAS members rated the convention exhibit hall the single most important program that ICAS offers....

Kyle Franklin Reveals 'Dracula' Airshow Biplane - Flying Magazine | After the tragic loss of his wife Amanda in an airshow accident, Kyle Franklin will return to the circuit with a dramatic new airplane. Revealed this week at the International Council of Air Shows (ICAS) convention in Las Vegas, "Dracula" is a highly ...

USN BLUE ANGELS SCHEDULE
USAF THUNDERBIRDS SCHEDULE
CANADIAN SNOWBIRDS SCHEDULE
US ARMY GOLDEN KNIGHTS SCHEDULE
VFA-122 AND VFA-106
**Thank you FenceCheck!

Navy's Blue Angels to return to Baltimore for War of 1812 finale - Baltimore Sun | The Navy's Blue Angels precision flying team announced Tuesday that it will perform in the skies over Baltimore for the finale of the War of 1812 commemoration in the fall of 2014. Star-Spangled Spectacular will be held Sept. 6-15, 2014, and also will ...

Navy Blue Angels to highlight return of Spirit of St. Louis Air Show ... by Kyle Quick-Publisher | Photo courtesy of Spirit of St. Louis Air Show ST. LOUIS, Dec. 11, 2012 –Tuesday The Blue Angels, the U.S. Navy Flight Demonstration Squadron, will perform in St. Louis on May 3 & 4, 2014, the team recently announced...

Thunderbirds will return in April - Sun-Sentinel | The U.S. Air Force Thunderbirds will be returning to South Florida as part of the 2013 Lauderdale Air Show, organizers announced Tuesday. The precision jet demonstration team, now in its 60th season, will provide high-flying highlights during the show, ...

Thunderbirds to return to Dayton Air Show - Dayton Daily News | The air show announced Tuesday the storied six-jet demonstration team will make a return engagement in a shortened U.S. performance schedule. The team of red, white and blue F-16 Fighting Falcons, headquartered at Nellis Air Force Base in Las Vegas, ...

Air show's a go for Flathead Valley - Daily Inter Lake | The USAF Thunderbirds fly east of Bucharest, Romania on June 7, 2011. The demonstration squadron will fly at air shows at Glacier Park International Airport July 20-21, 2013. Posted: Tuesday, December 11, 2012 11:46 am | Updated: 11:53 am, Tue Dec 11, ...

June 2013 set as target date for proposed air show - Cedartown Standard | Chairman Cleve Hartley said an air show provides entertainment for the entire family and could be an added attraction at the airport. However, he emphasized that agreements must be reached and a promoter secured before it can become reality. Two air ...

F-18 Gladiators to perform at St. Cloud Air Show - St. Cloud Times | St. Cloud Air Show officials found out Tuesday that the the Navy's F/A-18 Strike Fighter Squadron 106, known as the Gladiators, will perform at the show this summer. The Gladiators will join the U.S. Navy Blue Angels on July 20-21. The group serves as ...

Video of Golden Knights world championship - Fayetteville Observer (blog) | Video of Golden Knights world championship. Tweet · comment(s). I can't promise this will be the coolest video you'll see on the Internet today, but I can swear it will be MUCH better than any Gangnam Style parody you might find. Related: Fort Bragg's ...

Engine malfunction to blame for fiery air show crash in 2010: Report - Sun News Network | An engine malfunction caused an CF-18 Hornet fighter jet to crash at an Alberta air show in 2010, a report has found. Capt. Brian Bews was injured when he ejected from the demonstration plane at the Alberta International Air Show in Lethbridge, Alberta ...

Flying the Curtiss Pusher from General Aviation News by Jamie Beckett | The twin airfoil canard out front looks like a box kite, one of the prominent building materials is bamboo, and there was never a Pilot's Operating Handbook of any kind produced for the airplane. However, when Kermit Weeks lines the Curtiss Pusher up on a 5,000-foot grass strip to take his first hop, heads turn and attention is being paid. It's not every day you see an airplane from the earliest days of powered flight take to the air. The airplane arrived at its new home at Fantasy of Flight in central Florida just recently to join Weeks' ever-growing aircraft collection. Weeks and his crew of top-flight mechanics wasted little time assembling it and getting it ready to fly...

Killeen: Retired Aviator Flies 50 Aircraft For 50th Birthday - KWTX | Killeen: Retired Aviator Flies 50 Aircraft For 50th Birthday. KILLEEN (December 11, 2012)--Belton resident and retired Army aviator Levi B. Noguess will fly fifty different aircraft for his 50th birthday Saturday. The aircraft will be flown within a 12 ...

Where are all the women of Alaska aviation? - Alaska Dispatch | According to a 2010 study investigating the lack of women in aviation, the top reasons that more women aren't involved in flying -- either recreationally or as an occupation -- may be attributed to the cost, "a lack of readily available female mentors ...

Wichita pilot recognized for decades of flight - KFDI | John Riggs, 88, is a member of the Commemorative Air Force Jayhawk Wing. He has logged more than 13,000 hours and 2.8 million miles flying airplaines. He still holds a current medical certificate and a private license. He flies his Piper Tri Pacer and...

Army Aviation Museum Gets $18K Donation from Alabama Aviator - Aviation News | Fort Rucker- According to WTVY, a man, who fought for our country in World War ll, is continuing to give back. Selden Bailey, a retired army colonel, has donated stocks to the army aviation museum at Fort Rucker. The value is close to 18 thousand dollars. The museum is putting the money toward an expansion of the building...

Flightline TV cleared for take off from General Aviation News by Janice WoodThe Flightline, an aviation-themed magazine television show, is making its national debut Jan. 5, 2013 on Discovery Communication's Velocity network. The Flightline is set for a 52-week run as part of the Saturday morning programming on Velocity...

Secret shuttle launch: Air Force sends mystery mini-shuttle back to space
from RGJ.com by MARCIA DUNN,AP Aerospace Writer | CAPE CANAVERAL, Fla. (AP) — The military's small, top-secret version of the space shuttle rocketed into orbit Tuesday for a repeat mystery mission, two years after making the first flight of its kind.

X-37-C Human-rated Mini-Shuttle in Works? from Spaceports | Arthur Grantz, chief engineer of Space and Intelligence Systems' Experimental Systems Group at Boeing, indicated last year that the U.S. Air Force and Boeing are already on the way toward developing a manned Shuttle replacement based on the X-37B robot space plane....

The Physics of Santa's Flight Confirm Annual Sightings from The Aero Experience - Celebrating Midwest Aviation by Carmelo Turdo | Have you even wondered about the physics behind Santa's annual round-the-world flight? Check the link below, and you may be surprised at how he pulls it off! (OK, a little magic may be needed to get things rolling). Enjoy! Merry Christmas!...