'Dracula' Premieres At ICAS Airshow Convention from Aero-News Network | Kyle Franklin Returns To The Circuit With 'Monster Biplane' Its been a tough few years for Kyle Franklin... but in the true spirit of a survivor, Kyle is unveiling his next big act for North American airshow audiences in 2013. Kyle is returning to the airshow circuit with a truly monstrous bipe he calls... 'Dracula.' Evolving over a nine-year design and construction period, Dracula was completed in secrecy...

FCTC welcomes Blue Angels officer - St. Augustine Record | The aerial stunts of the Blue Angels thrill millions of spectators each year, and Mercado shared information from the perspective of the maintenance and support team that makes the acrobatic magic possible. Mercado specifically addressed students ...

Canada's Aviation Hall of Fame to Induct Four New Members and Honor a Belt of Orion Recipient
from Aviation.ca News by Canada's Aviation Hall of Fame | Canada's Aviation Hall of Fame (CAHF) will induct four new members, and honor a Belt of Orion recipient, at its 40th annual gala dinner and ceremony to be held in Ottawa, Thursday, May 30, 2013.

Three Exciting New Acts at International Air Show - Scoop.co.nz (press release) | So not only will New Zealand see the return of the much-loved Red Checkers, experience the adrenaline of Chuck Berry, witness up-close air racing and be host to two international aviation heavyweights, but audiences of the NZ International Air Show...

Perth dumps Red Bull Air Race over costs - Herald Sun | PICTURE: Paul Kane Source: Getty Images. PERTH has dumped the Red Bull Air Race, with the government saying it doesn't represent value for money. Tourism Western Australia today said it will not bid to host the Oceania round of the proposed revamped ...

ICAS Convention 2012 – Arrival from Airspeed Online by Steve Tupper | The Delta flight from Detroit settled onto the runway just after 5:00 a.m. PT, the baggage claim system worked flawlessly, there was a cab waiting when I walked through the sliding doors, and the reception desks at Paris Las Vegas were fully staffed with no waiting. Not even the President of the United States of [...]

Cool GoPro video brings you onboard "Kubinka Diamond" display team's Su-27, Mig-29 fighter jets from David Cenciotti's weblog | The following video was filmed with a GoPro HD Hero2 camera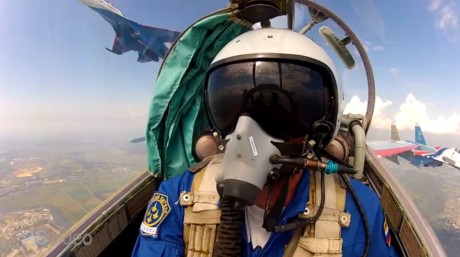 installed on the tail of a Mig-29 and inside the cockpit of a Su-27 of the so-called "Kubinka Diamond", the Russian Air Force display team made by four Flankers of the "Russian Knights" and and five Fulcrums of the «Strizhi» (Swifts)....

December 11, 2012 Catching up with Billy Werth from Ely Air Lines by Linda Street-Ely | ...I caught up with Billy last week before he left for ICAS – the International Council of Air Shows annual convention in Las Vegas. Growing up in an aviation family and flying since 1988, Billy is a military pilot (Aircraft Commander on the air re-fueler KC-135R), a Chautauqua Airlines captain on the Embraer 145, and a modern-day barnstormer, dazzling air show crowds in his newly acquired Christen Eagle and giving rides and lessons in the Pitts through his company, Grayout Aerosports, of Indianapolis...

Air acrobats in Radom - our Official | ... French aerobatic team Patrouille de France, White-Czerowne aircraft TS-11 "Iskra" and anti-military equipment expositions - are just a few attractions prepared for air show Air Show 2013, which will be held in...

Top 10 Airshow Moments of 2012: No 3 – The return of the B-2A Spirit to the Royal International Air Tattoo from Flightline UK | The late 1990′s were golden times for the Royal International Air Tattoo, and nigh on impossible to repeat. Not only had the thawing relations between East and West produce some stunning appearances by the Air Forces of the former Warsaw Pact, but also the United States Air Force was finally letting its 'Stealth' strike aircraft be seen in public outside the US. Naturally, it was RIAT and Mildenhall that first saw these remarkable machines – first the F-117A Nighthawk and then the B-2A Spirit....

Top 10 Airshow moments of 2012: No.4 – P-47G Thunderbolt SNAFU debut at Flying Legends from Flightline UK | 2012 saw an iconic shape return to UK skies with the public display debut of The Fighter Collection's Curtiss P-47G Thunderbolt SNAFU at Flying Legends. The P-47 Thunderbolt has...

EAA AirVenture Oshkosh 2012: Embraer EMB-314 Super Tucano from The Aero Experience - Celebrating Midwest Aviation by Carmelo Turdo | An interesting aircraft on display midweek was a privately-owned Embraer EMB-314B1 Super Tucano operated by Tactical Air Support, Inc. of Reno, NV. This Super Tucano, a civil variant of the sophisticated trainer/armed reconnaissance aircraft from the Defense and Security division of the wildly successful Brazilian Embraer aerospace company, is used for close air support simulation for U.S. military forces. ...

Airshow flies highest again - The New Age Online | Apart from being the major airshow in Gauteng with airworthy military aircraft, the thousands of people who attended the May airshow made a major financial contribution to keeping the centre of South African military aviation history functioning...

Earl S. Allen - Morris Daily Herald | He flew as pilot in command on the C-47, C-54, B-25 and the B-26 through South America, Africa, the Middle East and Europe. His rank at time of discharge was 1st Lt. Golf was an ongoing passion with Earl. He was a long-time member of the Morris Country...

Antique Airfield: December Posts

Pilot celebrates 100th birthday flying his Evektor SportStar
from General Aviation News by GAN Staff | By John McVey, The Journal MARTINSBURG, W.Va. — Thomas Guy Reynolds Jr. eased back on the stick of his Evektor SportStar light sport aircraft and it lifted effortlessly off the runway
at the Eastern West Virginia Regional Airport (MRB). He circled the field three times, making a couple of low passes over the runway for pictures, and softly set his plane down. That would not be extraordinary, but Reynolds flew Dec. 1 on his 100th birthday...
North American B-25C "Poopsie", of the 445th...
from x planes
"This is going to be bad."
from The Lexicans by Busbob | ...We had the best seat in the house. The roar is intense and you can feel it even with the jet blast deflector between you and the wicked exhaust. The cat officer checked everywhere, got a thumbs up from all the observers around the fighter, dropped to one knee and touched the deck with his extended arm, the launch signal. Buttons were pushed on the deck edge and with a sudden jerk the double tailed fighter accelerated down the deck and the JBD began to drop back into the deck to make room for our launch....About halfway down the cat stroke the bright flame from the afterburner on the starboard engine disappeared. Burner blowout.....
9 Incredible, Human-Powered Aircrafts--And The Gutsy Pilots Who Flew Them
- Fast Company | Built by the American team Paul MacCready and Peter Lissaman of AeroVironment, the aircraft had an unusual control setup a little reminiscent of the Wright brothers' aircraft and was made of lightweight plastics and aluminum spars in a very aerodynamic ...
Registration now open for Women in Aviation conference
from General Aviation News by Janice Wood | Registration is now open for Women in Aviation, International's 24th Annual Conference in Nashville, Tennessee, from March 14-16, 2013.
November Photos of the Month Published
from FenceCheck Forums
Spirit of Aviation Aircraft Auction
- EAA AirVenture | EAA, The Leader in Recreational Aviation, is an international membership organization encouraging and supporting recreation aviation and is also the home of EAA AirVenture Oshkosh, the World's Largest Aviation Celebration.
Legendary aviator visits Parker med students
- Our Colorado News | Legendary aviator visits Parker med students. Retired military pilot and ...
VIDEO: Unmanned on Deck - X-47B Taxis on Truman
from Ares by Graham Warwick | This is quite a sight - the US Navy's Northrop Grumman X-47B unmanned combat air system demonstrator
(UCAS-D) taxiing around the flightdeck on the USS Truman while the aircraft carrier is under way off the east coast of the US....
Could This be the World's Coolest Airport Hotel?
from Airplanista Aviation Blog by Dan Pimentel | We #avgeeks are always - ALWAYS – looking for aviation-related good times...the kind of fun you can only find situated on or around most any airport. We will all enjoy an afternoon watching J3 Cubs glide onto a tiny grass strip in Pennsylvania, and we'll cherish the ...
The Last American Flag on the Moon
from Spaceports | The first moonwalk of the last mission placing humans on the surface of the Moon began approximately four hours after landing...