Thunderbirds to headline April air show at Barksdale base
| The RepublicThe RepublicThe Air Force Thunderbirds flying team will perform at Barksdale Air Force Base in the annual Defenders of Liberty open house and air show April 21-22. The Times reported (
http://bit.ly/AyQ0Cmn
) that this year's show will be directed by Air Force ...
2012 Midwest Aviation Conference and Trade Show In Full Swing This Weekend
from The Aero Experience | The 2012 Midwest Aviation Conference and Trade Show (MACTS) is in session this weekend at the Maryland Heights Centre in St. Louis County. Sponsored by the Greater St. Louis Flight Instructors Association, the program offers technical and safety briefings as well as discussion of general aviation aviation topics. The schedule of events is below:...
"Red Tails" premieres!
from Guided by History by Charles Riggs | Today, the Lucasfilm feature Red
Tails opens in theaters. I blogged about the film here and here, and it's a significant chapter in history. And may I say, a pretty darn exciting chapter, too. Another plug for a good, thrilling movie—go see it this weekend! Take everyone you know. Let's get this awesome story out there, have everyone talking about it. We asked team members to send us stories and images from their past, whether family, acquaintances or...
Tuskegee Airmen changed attitudes and history in the air and in the military
- Villages Daily Sun | Richard Davis, a B-17 bomber aircraft ball turret gunner in World War II, recollects the role escort pilots played in providing safety for the bomber aircraft. THE VILLAGES — A group of young African-American men gathered at the Tuskegee Institute in ...
Traveller returns
from Vintage Aeroplane Writer | It's been a while, and it's been pretty intense with a number of visits to interesting aircraft collections and talking to many and varied people involved in the vintage aviation scene. One particularly special moment was a long chat (thanks to Jonathan Pote) with Mac Bettjeman (left) on the Museum of Transport and Technology's Short Sunderland Mk.V (right). Mac flew as a 'Second Dickey' in 1944-5 in Sunderlands with 490 Squadron RAF off West Africa, a...
Today in 1976: Concorde enters commercial service as two flights take off at the...
from National
Air and Space Museum, Steven F. Udvar-Hazy Center, Smithsonian's Facebook Wall by National Air and Space Museum, Steven F. Udvar-Hazy Center, Smithsonian | Today in 1976: Concorde enters commercial service as two flights take off at the same time: Air France AF085 from Paris to Rio de Janeiro and British Airways BA300 from London to Bahrain. Our Concorde, on display at the Udvar-Hazy Center, flew that first Air France commercial Concorde flight to Rio....[
NASM Page
]
P38 flight instruction Part 1
- YouTube | The original introduction training film for the Lockheed P-38 Lightning. In part #1, bailing out, takeoff and handeling are covered. This video has what was...
Crane Crushes Restored A-4
from Airline Pilot Central Forums by KC10 FATboy
EXCLUSIVE: Downed airmen tell their tale
By CNN Pentagon Correspondent Barbara Starr | What to do when your plane crashes over Libya? According to two U.S. airmen: eject from the aircraft, stay on the run - and call dad. The U.S. aerial bombing campaign over Libya was just two days old last March when F-15 pilot Maj. Kenneth Harney and Capt. Tyler Stark got their mission - conduct airstrikes against Moammar Gadhafi's forces near Benghazi. Harney would pilot the F-15 in the front seat. Stark, a weapons system officer on his first combat mission, was in the back...
Happy 90th Anniversary to Alabama Air National Guard and the 106th-117th
from Alabama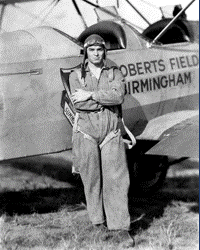 Aviator - Aviation News |BIRMINGHAM AL- Based in Birmingham since 1922 the historic Alabama Air Guard celebrated their 90th Anniversary on Friday night with a gala affair. Early in 1919, Major James Meissner, a famous World War I flying ace, organized some ten to twelve ex-aviators from the recent war. The club, called the Birmingham Flying Club, was nicknamed the "Birmingham Escadrille". Their primary goal was promoting aviation in Birmingham and in Alabama. On 21 January 1922, once federally recognized, the 135th Observation Squadron, Alabama National Guard was born....
Watch rockets launch for free
- Arizona Daily Star | Southern Arizona Rocketry Association (SARA) is holding a model and high power rocket launch Sunday from 9 am to 1 pm at 3850 N. Reservation Road. All ages and skill levels are welcome to participate. Launch fees are $5. Members and kids under 18 fly ...