Changes, Job Losses, At EAA from AVwebFlash Current Issue | EAA Thursday announced that a shift in strategy will result in the termination of roughly 30 employees, but because other jobs will be
added, the net reduction in workforce will be less dramatic. The change represents a shift in priorities, EAA spokesman Dick Knapinski told AVweb, and...

'Miracle on Hudson' pilot named to EAA post - Milwaukee Journal Sentinel | Skiles has been Young Eagles co-chairman for the last two years. The program pairs youngsters with pilots and provides free flights for youths. Skiles, who lives in Oregon, Wis., and has been an EAA member for many years, was named EAA vice president,...

Big cuts at EAA from Letters from Flyover Country by Bob Collins | It appears to be Black Thursday at the EAA. From what I am told, Twenty to 30 people were let go today, including the people who put together the electronic newsletters...

Air Force Thunderbirds returning to Daytona 500 - My Fox Orlando | The U.S Air Force Thunderbirds are set to return to the Daytona 500. The Thunderbirds will fly over the 54th annual Daytona 500 NASCAR Sprint Cup Series on February 26th at the Daytona International Speedway. It will be the third time the flying team will perform the flyover for the Daytona 500. The Thunderbirds previously flew over the race in 2008 and 2011....

AOPA's general aviation summit commits to Palm Springs from General Aviation News by Janice Wood | The Aircraft Owners and Pilots Association has committed to hold its general aviation trade show and convention, the AOPA Aviation Summit, at the Palm Springs Convention Center Oct. 11-13, 2012, as well as Oct. 9-11, 2014....

AV Press RARA response article 1-6-12 from Wasabi Air Racing by Elliot "Stinky" Seguin

Top pyrotechnics for city's airshow - SunLive | The same pyrotechnics team which provided a stunning fireworks display at the Rugby World Cup is helping to reinvent scenes from World War Two at the Tauranga Airshow. Waikato based Dr Martin Van Tiel is providing the special effects for the...

Shoreham Airshow will mark 100 years of the RAF Central Flying School - Shoreham Herald | A CENTURY of aviation history will be celebrated at this year's Shoreham Airshow. The theme of the 2012 event will be Celebrating the 100th anniversary of the RAF Central Flying School. Acting airshow organiser Derek Harber said: "The theme will be a deserving tribute to the RAF Central Flying School which has been...

Air Show in 2013 - The Lighthouse | The Blue Angels are coming back to Point Mugu next year. The 44th Naval Base Ventura County (NBVC) Air Show at Point Mugu is scheduled for Saturday and Sunday, Sept. 28 and 29, 2013. The show will feature the Blue Angels, the U.S. Navy Flight Demonstration Squadron. Based out of Naval Air Station Pensacola, Fla., the Blue Angels operate the Boeing FA-18C Hornet strike/fighter aircraft....

On a wing & a prayer... or two - The Lady | ...I am greeted by a diminutive beauty running down the stairs. This is Sarah Tanner (team name: Sahara) to whom I have come to chat about her extraordinary
job – as a wingwalker. In fact, she is a member of the world's only aerobatic formation wingwalking team, AeroSuperBatics. Which means that when Sarah goes to work, she doesn't sit down at a desk in front of a computer; she climbs into a jumpsuit and stands on the flimsy wings of a plane travelling at 150 miles per hour....

"Imports" with Jim Beasley – The Warbird Rescue Hour | Listen in this Thursday as Warbird Rescue's good friend Jim Beasley joins us for a lively discussion on the in's and out's of importing aircraft to the United States. Jim has brought two aircraft over from England to his stable in Pennsylvania, and will cover his experiences and sto...[podcast if you miss the live show]

Singapore Air Show offers stage for Chinese aviation firms - Straits Times | A Lockheed Martin F-35 JSF jet, which uses stealth technology to prevent detection by radar or infrared sensors, on display at the Singapore Airshow in 2010. The event is one of the top three aerospace and defence exhibitions in the world and hopes to...

Smithsonian celebrates Marine Corps aviation centennial - Marines.mil | The exhibit also provides
human and historical context, such as uniforms and memorabilia from aviation and the combat artists materials used to capture the moments in aviation history. You can come to this wonderful museum and see art work that...

F-35B maintainer trains to be part of aviation history - DVIDS | EGLIN AIR FORCE BASE, Fla. -- As the Marine Corps celebrates its centennial of aviation this year, a member of the 33d Fighter Wing became a part of that history having recovered the first F-35B Lightning II, here, Jan. 11. After quick hand signals to...

Red Tails: Hollywood Didn't Want to Fund Because of Black Cast - AVweb | Famed director George Lucas says his soon-to-be-released movie on the Tuskegee Airmen almost didn't make it into theatres because the film industry didn't want to fund its release because of the all-black cast. "It's because it's an all black movie. It has no major white roles in it at all," Lucas said in an interview with Comedy Central's Jon Stewart this week. Lucas said Red Tails,...

Local air racing star visits Oshkosh Public Library - The Oshkosh Northwestern | Brennand won the first race he ever flew, the 1947 Cleveland National Air Race. He was flying Buster, built from the wreckage of Wittmans pre-war race plane, Chief Oshkosh. During the 1940s, the Cleveland National Air Races were the aviation equivalent...

True tales of Flying Tiger aviator's adventures Jan. 21 - Valley Community Newspapers | Join local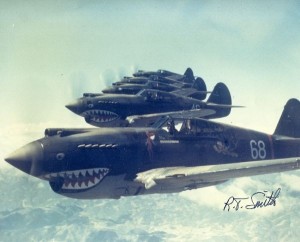 author Barry S. Martin as he shares some tall, but true tales of Royal Leonard's extraordinary adventures as Chiang Kai-shek's personal pilot, co-conspirator with the Flying Tigers commander, and aviator on the "Skyway to Hell,...

Grumman Avenger for WOW - Yahoo!7 News | An historically significant torpedo bomber aircraft will be heading across the Tasman Sea in February, en route to the Warbirds Over Wanaka International Airshow, airshow officials announced yesterday. The high-powered WWII-era Grumman Avenger was the...

Still Time to Apply for New WAI Scholarships! from WAI Connect Blog by Amy Laboda | This just in! The Boeing Company will award one last minute 737-NG Type Rating Certificate Scholarship. If you have already applied for two other WAI scholarships, you are not eligible to apply for this one. Candidates must possess Commercial, Multi-Engine and Instrument ratings with a minimum of 1,500 hours fixed wing total time, instrument currency and possess a First Class Medical with no waivers....


Nice cockpit shot - You Like Airplanes, too? | U.S. Air Force Airmen from the 746th Expeditionary Airlift Squadron handle an in-flight...

Pompeo unveils general aviation campaign - The Wichita Eagle | ...Pompeo said that's why he was unveiling a campaign called "America Flies." He said it's an effort to get the word out about the importance of general aviation to Wichita and the United States. "The last great manufacturing jewel left in America is the aviation industry," Pompeo said. Pompeo said he is using some of his campaign money to set up an America Flies website, www.americaflies.us. ...