Hot air balloon crash in New Zealand kills 11 - CNN | A hot air balloon crash in New Zealand early Saturday killed 11 people -- the pilot and 10 passengers -- officials said. No one survived the crash, which happened on the outskirts of Carterton, a town northeast of Wellington....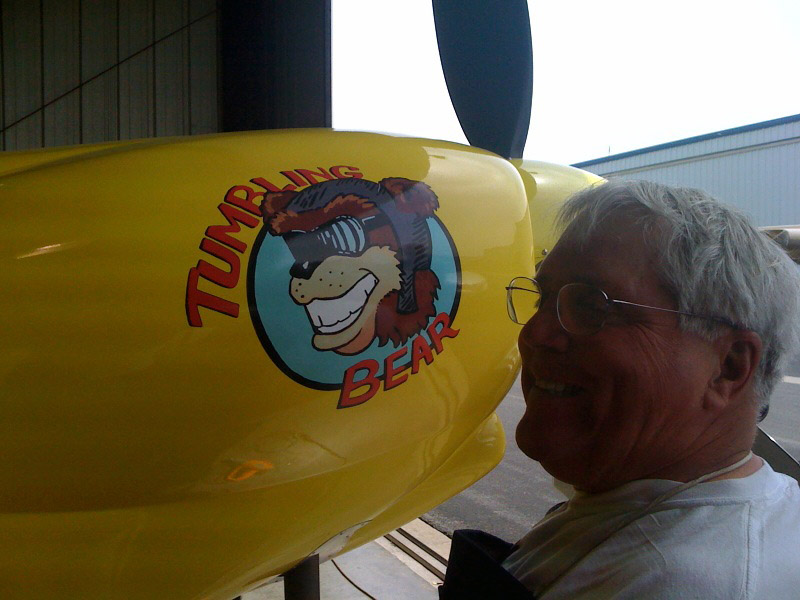 Cable Airshow set for today and Sunday - Daily Bulletin | Skydivers, antique cars, aerobatic pilots as well as homebuilt and antique aircrafts will be just some of the thrills at the 37th annual Cable Airshow today and Sunday. The annual event at Cable Airport will include favorites such as accomplished pilots Rob Harrison, "The Tumbling Bear," in his yellow Zlin 50; and Dr. Frank Donnelly, "Dr. D's Old Time Aerobatics," in his Taylorcraft; Doug Jardine in his Sbach 342 "Thunderbolt;" Clay Lacy in his bright orange Pilatus PC6 Porter; and, for the first time, a 17-year-old riding in an open cockpit Stearman.... [photo via harrisonairshows.com]

Boise pilot helps bring back Reno Air Races - KIVI-TV | The devastating crash last year at the Reno Air Races killed eleven people and injured 70. But this year, the show will go on. A Boise pilot sits on the board that made the decision to move forward. Some are asking why take the risk?... And what can be done to make a 500 mile an hour sport safer?...

Air show expected to draw crowd - Wanganui Chronicle | When RNZAF Ohakea opens its gates for a commemorative air show later this year, anywhere from 50,000 to 75,000 people are expected to turn up. The air show will be part of the air force's 75th anniversary celebrations and...

Q-C Air Show flies to Labor Day weekend - Quad City Times | Moving this year's Quad-City Air Show from its traditional June or July spot to Labor Day weekend has already received several thumbs-up. "When we had this chance, I called the committee, our key people and major sponsors," air show producer Ken Hopper said Friday. "They all thought it was pretty neat. So far the response has been excellent." The change is being made mainly to accommodate the U.S. Air Force
Thunderbirds air demonstration squadron, which is making its eighth appearance at the show, but its first since 2007....

This Just In - CAF Red Tail Squadron | THIS JUST IN TODAY! | Here's a special message for our readers in Minnesota and western Wisconsin (and anyone who knows anyone who lives there…): There will be a special viewing of the movie "Red Tails" in Oakdale, Minnesota on the day it opens, January 20. Here are the details...

Golden Knights Close Season At The Sun Bowl - Aero-News Network | The Jump For The Bowl Game Has Become A New Year's Tradition | Every year, Golden Knights are invited to El Paso, Texas to close out the year by taking part in the Sun Bowl. Each year, the Sun Bowl is held on New Year's Eve in this unique stadium, cut out of the mountainside of western Texas. This has become one of the team's most sought-after traditions as they close out each year's show season....


USA vs. Russia- Competition History from US Army Golden Knights | Digging deep into competition history you'll find that Russia is the "Mother" of competitive parachuting. As early as 1930, jumpers in Russia were competing to see who could land their parachutes closest to a target- known today as Classic Accuracy. The first sanctioned World Parachuting Championships took place in Yugoslavia in 1951, USA was not [...]

Women In Aviation Conference - PacificFlyer | The 2012 International Women in Aviation Conference is scheduled for March 8-10 in Dallas, Texas at the Hilton Anatole. Invited speakers in-clude:FAA Acting Administrator Michael Huerta; Z. Nagin Cox, Assistant Flight System Engineering Manager, Mars Science Laboratory, NASA Jet Propulsion Laboratory; Sherry Carbary, Vice President of Flight Services, The Boeing Company; Rod Hightower, EAA President; Sandra Magnus, Astronaut; and an all-female helicopter pilot panel....

Countdown to the U. S. Sport Aviation Expo – 13 days to go! - Flight Monkeys | It's hard to believe, but it's true. The first major event of 2012 is upon us. The U. S. Sport Aviation Expo will throw open their doors in 13 days, making Sebring, Florida the epicenter of sport aviation – for a few days anyway. So mark your calendar, fill the car, or the airplane, or both with fuel, and get ready to head yourself to Sebring. Two weeks from today the place will be hopping....

Museum of Aviation Copes With Budget Cuts - 13WMAZ | More than 600,000 visitors toured Warner Robins' Museum of Aviation last year. Leaders there want just as many people to come through the doors this year, but they face some challenges after the Department of Defense cut the budget for Robins Air Force Base. The museum is looking to make up for the losses with increased fundraising efforts and a push to recruit more volunteers....

Cold War Air Museum to Assist Educational Research - PR Web | Cold War Air Museum transfers asset to assist in a helicopter research program at the Operator Performance Laboratory of the University of Iowa. | Lancaster, TX (PRWEB) The Cold War Air Museum (CWAM) located in Lancaster, Texas has recently combined forces with University of Iowa's Operator's Performance Lab (OPL) by selling a helicopter to OPL for use in human factors research. OPL is a leading human factors research organization that conducts research on manned and unmanned aerial systems. It is a member unit of the...

Randy Rothhaar Photography

NORAD Tracks Santa Program has record-breaking success in 2011
- Aviation.ca | The North American Aerospace Defense Command's NORAD Tracks Santa Program exceeded its own records in the number of calls, emails and Facebook and Twitter followers on December 24. The program, which began after a misprinted ad in a local paper in 1955, has volunteers and NORAD staff answering queries on the location of Santa Claus as he circles the globe delivering presents on December 24. More than 1,200 volunteers in the 23-hour NORAD Tracks Santa operations center...