U.S. Air Force Thunderbirds announce Hometown Heroes honorees - KIONrightnow.com | SALINAS, Calif. -The California International Airshow and the U.S. Air Force Thunderbirds will honor a local Olympian and an Alisal teacher as this year's "Hometown Heroes." The Thunderbirds host a "Hometown Hero" Orientation Flight program in communities throughout America during their show season. The program is designed to showcase American citizens doing amazing things in their communities...

Jets and the P-51 Mustang For The Heart Of Texas Airshow * Warbirds News | The Heart Of Texas
Airshow returns with smoke and thunder to the skies over Waco, Texas Saturday, September 27th at Texas State Technical College airport. The Heart Of Texas Airshow is proud to welcome back the presenting sponsor, Allen Samuels Dodge Chrysler Jeep Ram of Waco. This is a multifaceted partnership with a premiere dealership. In true Texas tradition the performers will ride the show line in a Dodge Ram truck! Ted Teague says, "We are so glad to be able to help bring such a First Class Air show to Waco. I truly hope the Heart Of Texas Air show will be a long lasting tradition in Waco for many years and...

Canadian Forces Snowbirds dazzle, delight crowd for Oregon International Air Show finale (photos) * oregonlive.com | Thousands braved the heat Sunday afternoon to see the final day of the 2014 Oregon International Air Show. The Canadian Forces Snowbirds demonstration team received loud praise from the crowd, headlining Sunday's events with its 9-plane routine. Pilots closed the show with skywriting, synchronized formations and a finale that featured extravagant pyrotechnic explosions...

Air show a big success; Willey stepping aside as president - Hillsboro Tribune | The 27th annual Oregon International Air Show kicked off a full weekend of airborne entertainment Sept. 19. The three-day show enjoyed excellent weather, and highly skilled pilots and parachutists kept the crowd looking skyward to catch the fast and furious action. Approximately 81,000 people attended the show, easily topping last year's crowd of 68,000...

Weekend air show draws huge crowds * LaGrange Daily News | "The air show went better than expected, we were hoping for 200-500 people, but we had about 3,000 people show up," Traylor said. "I enjoyed seeing everybody who's never been to an airport, much less our airport, get to experience what we see every day...

The most interesting aircraft displayed at the Belgian Air Force Days * The Aviationist | On Sept. 13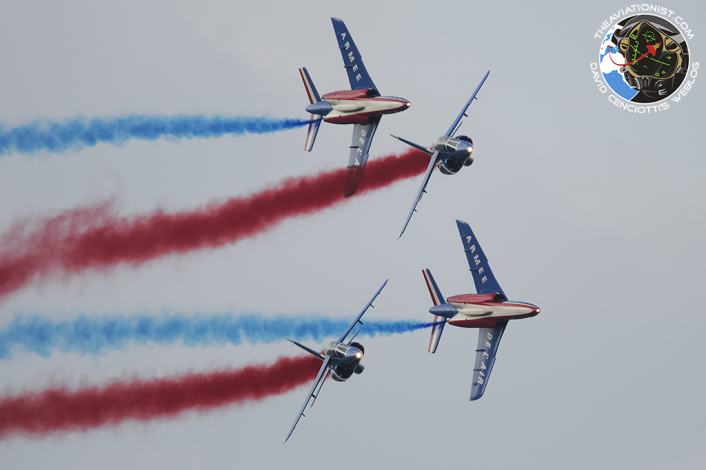 – 14, Kleine Brogel airbase, in Belgium, hosted the Belgian Air Force Days, an airshow attended by several interesting local and foreign aircraft whose main themes were the +100 years of Military Air Power and the 40th anniversary of the F-16....

Pictured: Southport Air Show 2014 – Red Arrows, Lancaster Bomber and more ... * Manchester Evening News | Families and aviation enthusiasts from all over the north west descended on Southport Beach this weekend for the annual air show, and despite grey clouds the Red Arrows did not disappoint. The event, held over two days, has around 20 aerial displays...

Cadets participate in Winston-Salem Air Show * Headline News - Civil Air Patrol | NORTH CAROLINA -- Three cadets from the Gastonia Civil Air Patrol squadron participated with 125 other CAP members from the region in the 2014 Winston-Salem Air Show held recently at the Smith Reynolds Airport. The cadets camped at the airfield and, despite some rain, enjoyed the camaraderie with other cadets, learned some practical skills and...

Cheesehead Fly-in * West of the I | A group of people from all over, interested in flying airplanes controlled by two lines gathered at the Westosha Community Center on Sunday afternoon. They have dubbed the annual event, the Cheesehead Fly-in. They can fly maneuvers by their control of...

Video: BLACK DIAMOND JET TEAM kicked off the Jags football game on Sunday in perfect formation and timing.

Ferrying Miss Demeanor * Wasabi Air Racing | On Saturday Justin Gillen and I had the opportunity
to ferry an awesome airplane for a friend from Stead to Mojave. Miss Demeanor is a long time racer. The airplane currently is configured with a stock Cassutt vertical and horizontal and a Craig Catto tapered wing that was originally on outrageous. The wing installation was well done and addressed a lot of the handling concerns of the Cassutt. The limited throw of...

Reach for the sky! Flying coach wants to build 12 new Spitfires to mark 75th ... * Daily Mail | 'I wasn't very aerodynamic, but it certainly made me want to become a pilot. 'I came up with the idea of the Spitfire club as a way of getting pilots to keep flying. 'I've found over the years that many of them give up once the excitement of learning...

Qantas Founders Museum Saves a 'Super Constellation' · WarbirdsNews | The Manila International Airport Authority in Manila, Philippines recently announced an auction to forcibly sell off a dozen dormant airliners which had lain more or less abandoned at the airfield's general aviation facility for some years now. These included five DC-9′s, an Antonov 24, Yak-40, four DC-3s and most importantly a Lockheed Super Constellation. The civilianized, former US Navy C-121J (Bu.131623) has been ground-bound at Manila for more than twenty five years now. It was...

Barrington Irving to Fly Business Jet On Global Learning Adventure for Kids * AviationPros.com | The event hosts are the Aero Club Foundation of Washington, Metropolitan Washington Airport Authority, and Signature Flight Support. Photo ops and interviews will be available upon request from noon - 1:00 pm. From September 23rd through November...

2015 Ford Mustang 'Top Gun' Edition Officially Unveiled [PICS] * AutooMobile.com | Ford Mustang has officially unveiled their latest Top Gun Edition. It is no surprise that the automaker is a big fan if aircraft, since they have been a huge supporter for the EAA AirVenture for a few years now. The annual air show is held in Oshkosh, WI...

There's MORE HERE. Updated frequently.