Pilot Killed In Reno Air Races Crash Remembered As Founder Of Sport Class * CBS Local | The plane quickly hit the ground, killing Lee Behel, 64 of San Jose, a man well-known in the air racing community. "He's one of the fixtures of our sport," said Mike Draper. "He's the founder of the sport class. He's a former military Air Force fighter...

RIP - Lee Behel· Marilyn Dash | The Reno Air Racing family mourns the loss of a wonderful friend and competitor.

Snowbirds Fly-By Thursday * BlackburnNews.com | Tourism Sarnia-Lambton has organized a coffee break and fly-by at 10am at the entrance to Germain Park gardens. Coffee and Timbits will be served for one dollar beginning at 9:30am with parking available at the Strangway Centre on East St. All proceeds...

Great North Run: Red Arrows pilot takes incredible photo as display team fly ... * ChronicleLive |
Soaring high above the Tyne Bridge with red, white and blue smoke billowing behind, this is the incredible view from the cockpit of a Red Arrow visiting the Great North Run. The snap, the near opposite of many a famous shot of the display team flying...

Record crowds turn out for 'best ever' airshow * Shoreham Herald | RECORD-BREAKING crowds flocked to the 25th Shoreham Airshow, dubbed the 'best ever' by organisers and visitors alike. The eagerly anticipated weekend of aerobatic entertainment featured a vast array of aircraft and some truly breathtaking displays.

CAF Red Tail Squadron – Event Update * Red Tail Squadron | The CAF Red Tail Squadron was invited to share its mission of inspiration with the Alfonza W. Davis Middle School in Omaha, NE. They are known as the "Aviators". The school was named after Alfonza W. Davis, who at one time was commander of the 99th Pursuit Squadron and is an Omaha native. The school serves a diverse population of students in grades 6- 8. The Davis Middle school is...

Aviation Heritage Fair to be held at Kent State's airport on Saturday * The Plain Dealer - cleveland.com | STOW, Ohio - Kent State University's 18th Aviation Heritage Fair will feature static displays of several aircraft, including a North American B-25 Mitchell, a Fairchild C-123 Provider, a Douglas C-47 Skytrain (DC-3) and the Cleveland Metro Life Flight...

Museum hosts World War I airshow · General Aviation News | The Virginia Beach Airport will once again host the Military Aviation Museum's World War I airshow Oct. 4-5. This year's show commemorates the 100th anniversary of the start of the war, museum officials note....

Documentary Makers Turn To Kickstarter To Fund Mosquito Film * Aero-News Network |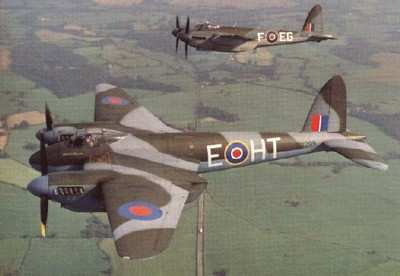 Filmmakers Have Followed The Restoration Of A de Havilland Mosquito The makers of the documentary Gaining Altitude ... which chronicles the restoration of a de Havilland Mosquito to flying condition ... have launched a Kickstarter campaign in an effort to finish the film and bring it to theaters....

F-86 Lifted With an "Airbag" · WarbirdsNews | On September 7th,members of the 175th Maintenance Group, Crash Damaged Disabled Aircraft Recovery (CDDAR) team,Maryland Air National Guard ,used a 26-ton airbag to raise an F-86 Sabre jet onto stanchions as part of a permanent static display. The CDDAR team worked together to raise the aircraft for the display and also to gain valuable training using the CDDRA equipment.In 2011 members 175th Maintenance Squadron's crash recovery teams, Maryland Air National Guard, removed the supports of the F-86 static display once the lifting bags raised the aircraft high enough. The team of over 50 worked to move the Korean War aircraft to make room for the new 135th operations building....

Air Museum alive with activity during its annual Memorial Day * Pocklington Post | The Yorkshire Air Museum in Elvington was alive with activity, colour and spectacle when it hosted its annual Allied Air Forces Memorial Day last Sunday. Some 100 members of Service Associations from across the region took part in a parade, with 23...

Where American Legends Live On: Yanks Air Museum Welcomes AOPA to Chino, California By Donia Moore | The "sister" ship of the famous "Ryan N.Y.P." Spirit of Saint Louis, piloted by Charles "Lucky" Lindberg. The aircraft is made of welded chrome-moly steel tubing, solid spruce spars and covered with fabric (Yanks Air Museum) The lanky, quiet young U.S. mail-carrier ambled out to the airstrip and climbed into his Ryan B-1 Brougham. On May 20-21, 1927, this former barnstormer/wingwalker wasn't flying his regular route. He was on his way to accomplish the first solo...

There's MORE HERE. Updated frequently.