Air show begins Wednesday - The Lawton Constitution | The Wings of Freedom Tour will set down Wednesday through Friday at the Lawton-Fort Sill Regional Airport. Visitors will get an up close look at the Boeing B-17 Flying Fortress, B-24 Liberator, P-51 Mustang and Messerschmitt Me 262 four planes used in the aerial battles of World War II in Europe and the Pacific....

EAA Chapter to honor aviation legend Steve Wittman from General Aviation News | On April 13, Oshkosh's local EAA Chapter 252 will host a pancake breakfast fly-in to commemorate legendary pilot and aircraft designer S.J. "Steve" Wittman's 108th birthday. This event is open to the public.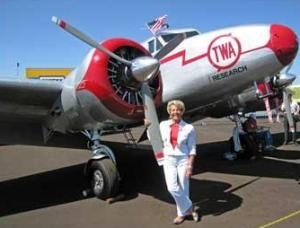 Held at the Wittman Regional Airport (OSH) terminal building, the event...

Warbirds And Legends Event To Feature Vintage TWA Story from Aero-News Network | Lockheed Model 12 In TWA Livery Joining The Event The year was 1932. America struggled to launch airline service that could reliably connect major cities. In this time, names like Jack Northrup, Howard Hughes, Donald Douglas, and Paul Richter were industry giants of early airline travel. Paul Richter was an experienced line pilot, but he also held an executive position of the fledgling Transcontinental and Western Airlines (TWA) in Kansas City, MO. Mr. Richter flew the Douglas DC-2, the DC-3, and both the Lockheed Model 12A and the Model 18.

Lehigh Valley International Airport will host airshow this August - UPDATE - The Express Times - LehighValleyLive.com | Charles Everett, the airport's executive director, said at today's Lehigh-Northampton Airport Authority meeting that LVIA should be able to draw 15,000 people and turn a $30,000 profit at the airshow Aug. 24 and 25. The airport has not hosted an ...

Video: B-17 'Memphis Belle' vintage aircraft flies into Long Beach for anniversary - Daily Breeze | LONG BEACH -- Laurence Stevens was a 19-year-old B-17 tail gunner, dozing off above Brux, Czechoslovakia, in 1944 when a jolt snapped him alert. Dozens of white parachute canopies were blossoming in the freezing stratosphere as B-17s began ...

World War II planes are star of living history exhibit - Austin American-Statesman | For $12, people interested in touching military history can also see a B-17, B-25, P-51 Mustang, a Huey helicopter piloted by Medal of Honor recipient Major Stephen Pless during the Vietnam War and a even German ME 262 jet. A ticket allows people to ...

Korean Aerobatic Team 'Black Eagles' - Ariring | Korea's air force aerobatic team 'The Black Eagles' will now operate under a separate command raising the status of the decorated demonstration unit. The Air Force announced that it will hold the inauguration ceremony for the new unit at its Wonju base on Monday....

Julie in the Sky - Check out the latest: Reno Air Race galleries for many of the racers, the F4U-1A Corsair at Planes of Fame, and more.

MAGNIFICENT SEVEN - DAY SIX from Royal International Air Tattoo News | The week is nearly over - find out our sixth announcement and see what you can win today!


British Aircraft Corporation TSR-2 from Planeshots

B-25 flyover preps for Opening Day - WXIX | In preparation for Opening Day, a B-25 and two Korean-War-Era planes flew over the Tri-State on Saturday. The B-25, owned by Cincinnati Warbirds, and two prop trainer planes took off from Clermont County Airport around noon on Saturday for a 45 minute ...

Aviator Ball on April 27 to honor Vietnam War veterans - Tulsa World | TASM Executive Director Glenn Wright (left) joins Larry Anduss, former Air Force pilot and TASM board member; Lee Hubby, Aviator Ball chairman and TASM board member; Hobie Hammond, former Huey helicopter pilot; and Barbara Smallwood, TASM ...

Alberta Aviation Museum gets extra special delivery from Holland - Edmonton Journal | Alberta Aviation Museum gets extra special delivery from Holland. Public will get chance to sit in cockpit of speedy 1950s-era Starfighter plane.

Georgia Museum Of Aviation Downsizing from Aero-News Network | Thirty-Two Aircraft To Be Relocated Or Scrapped For the first time in its 29-year history the Georgia Museum of Aviation in Warner Robins, GA, is having to take a step backwards, and is cutting 32 aircraft from its inventory. Some will be moved to other museums or put into storage, but others, among them a cold war iconic B-52 Stratofortress, will be scrapped.

Osa's Ark from Apron 6 | First picture for the last album of the photoflying days. These last few pictures will be about the S38′s departure. I'm glad to have photographed the last take of at Zoersel as the plane is being sold to Kermit Weeks and we probably won't see it back in Belgium. Some more info can be found [...]

Open Days in Strasbourg Aerodrome Polygon from Passion for aviation by Xavier Cotton | Polygon Strasbourg airport | Open Days | 27, 28 and 29 April 2013 | Alsace and its capital offering European owners had a meeting on the former airfield Strasbourg Polygon (LFGC) where the association "Les Ailes du Rhin History" is now based....

A blast from the aviation past from Bayou Renaissance Man by Peter | ...Here's a 1930's dramatized film report about the journey. We've covered the China Clipper flying boats in these pages before, so those who remember that earlier article can see some of them in operation here....