While Government Plays Financial Chicken- Tradition at Risk from Alabama Aviator - Aviation News | EDITORIAL- At this writing millions of dollars will be lost to small business and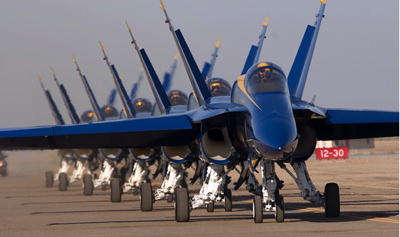 professionals that depend on the Air Show industry each season. This is just one consequence of out of control government spending and a political gaming exercise named "sequestration". The financial ax is poised to fall on March 1, 2013. Taxpayers, the supporters of our magnificent military and backbone of air shows large and small, will be denied their participation. The result is a crushing effect on annual events that yield millions of dollars to communities across the nation, support a variety of small business, aviation professionals, ancillary companies and non-profit organizations. When the military shows are cancelled it takes the civilian performers down with them....

The start of the Asian Tour ! from Apache Roll, le blog de la patrouille Breitling by Grifil | Waiting on the ramp for take off ! Over the next 5 weeks the BJT will fly 9000km, approx. 40 flight hours, through Philippines, Indonesia, Singapore, Malaysia, and Thailand!! We'll keep you posted...
First fight from Apache Roll, le blog de la patrouille Breitling

AIRSHOW NEWS: Green light for Reds at RAF Cosford from Flightline UK | RAF Cosford's 75th Anniversary Air Show is extremely pleased to announce that the Royal Air Force Aerobatic Team, the Red Arrows, has been nominated to attend the event on Sunday 9th June....

Freedom Pavilion tells story of World War II - Liberty Tribune | The new center cost more than $35 million, and features engineering and manufacturing accomplishments of the war, such as the B-17 Flying Fortress bomber, the B-25 Mitchell bomber, the TBM Avenger torpedo bomber and the Corsair F4U-4 fighter, among ...

President, PM witness Air Show in Jaisalmer - Indian Express | President, PM witness Air Show in Jaisalmer. President Pranab Mukherjee and Prime Minister Mamohan Singh witnessed the Indian Air Force's largest "day-dusk-night" firepower demonstration in the Rajasthan desert on Friday. The President arrives to ...

Video: Historic Flight Foundation DC-3 from AVwebFlash Current Issue | Everett, Washington's Historic Flight Foundation recently flew home its newly-restored DC-3 from Sealand Aviation in Campbell River, British Columbia. The museum's founder, John Sessions, talks about the aircraft's rich history and its future at the Foundation.

Bessie Coleman was born the daughter of sharecroppers, but through grit and dete... from National Air and Space Museum, Steven F. Udvar-Hazy Center, Smithsonian's Facebook Wall | Bessie Coleman was born the daughter of sharecroppers, but through grit and determination took her life to new heights. While working as a manicurist in Chicago, she decided to become a pilot. Because she was African American, she had to travel to France to earn her pilot's license. As a pilot,...

Chico Air Museum gets first airworthy aircraft - Enterprise-Record | Knowing a plane like this — airworthy and in great shape — would be a plum acquisition for any air museum, Rosene worked quickly to convince the owner that Chico would be a worthy destination. The Pilatus was a training aircraft for the Swiss Air ...

Air France flight Paris-Marseille in 1937 from Passion pour l'aviation by Xavier Cotton | Here are the printing of Dr. Robert Delabost on his flight from Paris to Marseille with Air France Potez 62 in
1937. This testimony was published in the "Journal of the Aero Club de Normandie" (quarterly) in August 1937. Air France was a young airline since founded in 1933....

Sebring's Vintage World War II Air Traffic Control Tower from Travel for Aircraft by joseph_may | Sebring Florida is a quaint and picturesque town in central Florida which sits amid beautifully formed karst terrain lakes. Seen from the air these lakes have wild shapes, anything but round really, due to millennia of sinkhole [...]

HISTORY BEGAN ON MCCHORD FIELD - Avionics Intelligence | On April 18, 1942, 16 B-25 bombers and their crews sailed toward Japan on the U.S.S. Hornet. Each crew of five would take off from the aircraft carrier, drop their bombs over military targets and continue west to land on secure airfields in China. Each ...

Winterland from apron6 | This is the first part of a new album which is actually in two parts. First part are some pictures from the Fieseler Storch running it's engine in the snow. Second part is from a flight with a Robin above the snowy landscape. These pictures are taken back in 2009, but I still remember the [...]

Grizzly? Check. Northern Lights? Check. Frozen photographer? from Flight Image of the Day by Dominic Perry | You wonder quite how long the photographer from Airbus Military waited in the cold and the darkness for this perfect moment, assuming, of course, it's not just crudely photoshopped. Anyway, look...

Air Force Week in Photos from Air Force Link Top Stories | This week's photos feature Airmen
around the globe involved in activities supporting expeditionary operations and defending America. This weekly feature showcases the men and women of the Air Force. View the slideshow.

VIDEO: Up close and personal with Norwegian F-16s from The DEW Line by Craig Hoyle | Our friends at the Norwegian MoD sent us this link to a recent video showing cold-weather ops at Orland air base, involving six Lockheed Martin F-16 fighters from the air force's 338 Sqn. I'm told that...

F-35s grounded due to cracked engine blades from Black Horizon by Steve Douglass | (Reuters) - The Pentagon on Friday suspended the flights of all 51 F-35 fighter planes after a routine inspection revealed a crack on a turbine blade in the jet engine of an F-35 test aircraft in California. It was the second grounding of the warplane in two months and marked another setback for the $396 billion F-35 Joint Strike Fighter program, the Pentagon's biggest weapons program. The program has already been restructured three times in recent years and may face further cutbacks if Congress does not avert major budget reductions due to take effect on March 1....

Poll: Pick Your Fave Amphibious SLSA (ICON A5, SeaMax M-22 And The SeaRey) from AirPigz by Martt | Seriously, the combo of a flying machine that can fly off terra firma AND terra aqueous is pretty much the best ever. I've also learned that the people who fly of the water are extra special avgeeks, so if you're into this idea, then you're probably extra special too!...

Inspiration Mars: Planets are Aligning for a 2018 Once-in-a-Generation Space Journey from Spaceports | Multimillionaire entrepreneur Dennis Tito — who, in 2001, became the world's first space tourist — intends to launch a privately backed mission to Mars in 2018. Details will be announced next week, (Wednesday, Feb. 27, 2013), at the National Press Club in Washington. The press event will also include two members of the Biosphere 2 project...

US Military's Robot Space Plane Settles Into Mystery Mission - Space.com | The U.S. Air Force's mysterious X-37B space plane is quietly chalking up mileage in space more than two months after its latest launch into orbit. The robotic X-37B space plane soared into orbit atop an Atlas 5 rocket from Florida's Cape Canaveral Air Force Station on Dec. 11. The mini-shuttle's mission is...