Aerobatic display marks the conclusion of Aero India 2013
- Daily News & Analysis | Aerobatic display by metal birds enthralled tens of thousands of aviation enthusiasts at Yelahanka airbase here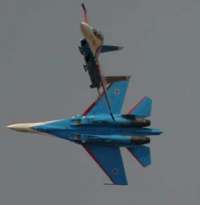 today as the curtains came down on the five-day Aero India 2013, Asia's premier airshow. 'Sarang', the helicopter display team of Indian Air ...
Crowds brave hot sun to catch magic in the sky
- Deccan Herald | ...While the crowd was enthralled by the air display by mean machines, the static display area too attracted many. On the first public day of the air show on Saturday, the Rafale on static display drew in many who posed for pictures with the aircraft while Israeli, Russian and French pavilions drew aviation enthusiasts...
Sarang Display Mesmerizes Spectators
- Press Information Bureau | "For just 12 minutes of aerobatic display, our preparations and practice start almost four hours before because safety of aircraft and men is of utmost important for us", said Wg Cdr Vinod Negi, deputy team leader of Sarang. Sarang begins with entry in ...
Wright-Patt officials to discuss possible cuts today
- Dayton Daily News | Brenda Kerfoot, Dayton Air Show general manager, said the Air Force hasn't given any indication to her the Thunderbirds might not take flight at the air show in June. "If the Thunderbirds are cut, it's a drastic cut and I think that would be a shock ...
Team Tuskegee Ramps Up Training
from Airspeed Online by Steve Tupper | Team Tuskegee has
begun to ramp up its training. Element takeoffs and landings yesterday deep in the Bravo. Echelon. Tail chase. Overhead break back at Detroit City (KDET). It's still less than a year since I first flew a TG-7A. Last march, it was all about giggles and having fun. It's still a lot of [...]
Daughter of Tuskegee Airmen carries on father's legacy
- WREX-TV | "My dad was in a B-17, part the group they had flown and defended, and I might not be here today if it wasn't for some of these gentlemen," says Scott Haugh, who attended the presentation. James bass recently retired after more than 3 decades in the ...
Colorized Photos of Women Building War Planes in the 1940s
by ORPO1 | ...The photos from this archive feature plenty of 1940′s women putting a little elbow grease into their vocational work. Instead of our expected vision of the vintage mother and wife primping, nursing, and cleaning, we're given a taste of some hard laboring technicians that were vital in building aircraft during World War II. By exhibiting a polychromatic set of photos, the images are no longer just recorded pieces of history that we feel a disconnect from. They appear to be a more life-like, relatable series of photos....
Omaha man recalls life as WWII radar pioneer
- Ct Post | They flew to a base in Ohio to outfit their B17 and meet their flight crew. "We had one of the last enlisted crews to come from the courts who had given them the choice of the Air Force or jail," he wrote. "One of this flight crew's adventures was ...
Oregon WWII Memorial Honor Day at the Capitol
- Tillamook Headlight Herald | Scheduled guest speakers at the ceremony include Gov. John Kitzhaber and three World War II veterans: Medal of Honor recipient Bob Maxwell of Bend, Lt. Col. (ret.) Leonard DeWitt from McMinnville, and former state legislator and World War II B-17 pilot...
Bronco #2
from Apron 6 | Let's start a new album today. It's quite an old album from the arrival of the second Bronco of the Bronco Demoteam. In may 2012 the Bronco arrived at...
DVD Review: British Airshows 2012
from Flightline UK - UK Airshow News | For their 'British Airshows' productions, Planes TV proudly boast 'If You buy one Airshow DVD this year, buy this one!' The British Airshows DVDs have always been superb retrospectives on the airshow season covering a number of major events and pretty well all of the different acts you
encounter during a season. Though the...
He has found nirvana ...
from Bonjour BlueSky
Air Force outlines sequester cuts
- Dayton Daily News | Ohio Air National Guard F-16 Falcon from the Springfield Air National Guard Base arrives at the Dayton Air Show. View Larger · AirForceCuts photo. The Air Force has asked Congress to lift the across-the-board cuts and allow it to choose where the ...
Don't miss the cool aviation heritage nuggets that get posted on the Indy Transponder FB page!