Remembering Bob Odegaard
from General Aviation News by Janice Wood | Just posted to
YouTube
is a memorial video for Bob Odegaard, who died Sept. 7 in a crash of his Super Corsair as he was practicing for an airshow. The video, put together by Alan Ripa, features a song written by Bob's good friend, Ed Newberg, titled "I Miss You Bob."...
F-22 Raptor Demonstration Team to Perform at 2013 Amigo Airsho
- KTSM News Channel 9 | Amigo Airsho Board President, Roxie Samaniego announced that at this year's Amigo Airsho, October 12th and 13th, the Air Combat Command's F-22 Raptor Demonstration Team from Langley Air Force Base will perform. "This will be the first time that the ...
Sebring Expo: A real game-changer
from General Aviation News by Dan Johnson | It used to be that January was one of the slowest months of the year. Freezing cold in the northern states combined with short days across the northern hemisphere to produce a sluggish month for all but transport or working aircraft. Recreational flying slowed to the pace of thick syrup pouring from a chilled bottle....
Show leaves students starry-eyed
- Deccan Herald | They went, with spring in their steps, heads held high, mesmerised by the magical, memorable moments following their dazzling date with a bevy of metallic birds and their ensemble fiesta of aerobatic feats. Young, inquisitive, with dreams in their ...
AIRSHOW NEWS: Sensational Family Event Wings & Wheels Returns
from Flightline UK - UK Airshow News | The unmissable, sensational summer event for the whole family, Wings & Wheels, returns on Saturday 24th and Sunday 25th August 2013 at Dunsfold Aerodrome in Surrey (home to BBC's Top Gear). *NEW* attractions will blow your mind and famous favourites in the air and on the ground will keep you entertained and buzzing with delight the WHOLE weekend....
Airshow at Durham Tees Valley Airport could still take flight
- Gazette Live | THE planned return of a Teesside airshow could still be ready for take-off after being given a last-minute reprieve. Friends of Durham Tees Valley Airport want to bring back the event for the first time in more than two decades but have been hit by the ...
AERO prepares to fly high again
from General Aviation News by Janice Wood | FRIEDRICHSHAFEN, Germany — With exhibitors from more than 30 countries as well as some new additions, including a career fair, AERO, which will be held April 24-27, will showcase the entire spectrum of general aviation from powered aircraft, gliders, and ultralights, as well as helicopters and business jets....
Navy transport, B-17 thrill to fly
- News-leader.com | "Taildraggers" is an aviation term that is strange to young pilots today. It came up in a conversation about flying I had with Dr. Don Overend at a recent party.He remarked that flying had come a long way from "taildraggers" to his Beechcraft Bonanza....
Video: Yves Rossy's Jetman School (Without the Jets)
from AVwebFlash Current Issue | A video released Feb. 8, 2013, by Jetman Yves Rossy suggests the skydiving innovator may be on the verge of marketing an unpowered version of his strapped-on wing and opening a school to teach people how to fly it. Rossy has piloted another version of the wing with four micro-turbines attached to its underside delivering power. He has flown that version across the English Channel and a section of the Grand Canyon. Rossy describes the...
Photo essay: Tuskegee Airmen
from Air Force Link Top Stories | The Tuskegee Airmen were an elite group of African-American pilots in the 1940s. They were pioneers in equality and integration of the armed forces. The term "Tuskegee Airmen" refers to all who were involved in the Army Air Corps program to train African-Americans to fly and...
An Illustrious Hero
from Vintage Wings of Canada | If your were to ask devotees of Second World War aviation history what the words Furious, Glorious, Indomitable, Courageous, Indefatigable,
Formidable, Audacious, Illustrious, Implacable, Magnificent and finally Victorious meant to them, they would no doubt tell you that these were the names of the some of the mightiest and most storied aircraft carriers of the Royal Navy during the Second World War, operating aircraft of the Fleet Air Arm. They, of course, would be correct in saying this, but they would be missing the fact that all of these adjectives also describe in broad terms the character of the men who flew fighter and attack aircraft from...
Piloting a B-29 as the war against Japan is won
- Buffalo News | A bigger, more modern successor to the B-17 bomber, the B-29 had a much greater range and could carry a much heavier bomb load, which proved ideal for the air offensive against Japan in World War II. That's not to belittle the B-17, a workhorse that ...
'Senior Wish' Sends Veteran to WWII Museum
from Warplanes Online Community by admin | Almost seven decades has passed but Abe Shamis has lived with a constant reminder of the day his B-17 was shot down over Austria during World War II. Shamis was a navigator on the U.S. Army bomber, and he was forced to jump when one of its engines was hit by enemy fire. He landed in a tree, injuring his right arm, and spent the next six months as a prisoner of war....
POW medal recognises US aviators' suffering
- Swissinfo.ch | Nearly 70 years after being interned in a Swiss disciplinary camp and, for many, punished for trying to escape, a group of 157 American Second World War pilots and crew members have been awarded the Prisoner Of War Medal by the US Congress....
Spitfire!
from MRC Aviation by Mike Condon | The latest news for the Classic Fighters over Omaka airshow to be held over Easter weekend this year has indication that Spitfire Mk XIV.e ZK-XIV may well be restored to flight and add to the growing collection of exotic aircraft to be on hand at this internationally recognised event....
P-64 Runs for First Time in Decades
from EAA - The Experimental Aircraft Association | The EAA AirVenture Museum's rare North American P-64 fighter - often referred to by warbird lovers as an 'export fighter version of the AT-6 Texan' - was started up for the first time in more than 20 years last Friday, and it was only fitting that EAA Founder Paul Poberezny did the honors.
Going, Going ........ Gone - Hurricane ZK-TPK
from MRC Aviation by Mike Condon | Social media and online forums alike have been alluding to the anticipated and sadly not unexpected departure of Wanaka resident Hawker Hurricane Mk IIA ZK-TPK. It was observed being transported by truck a few days ago and has since surfaced at Port Chalmers, Dunedin, where it awaits ship bound transportation destined for "Europe"....
Yellow Trojan — North American T-28
from Travel for Aircraft by joseph_may | Yellow Trojan — North American T-28 This North American Trojan, in bright yellow livery formerly of USN training aircraft, is kept flying and was seen not too long ago at the Valiant Air Command Warbird Museum.
First Annual Reel Stuff Film Festival of Aviation lifts off at Air Force Museum Theatre on April 11-14
from National Museum of the USAF Top Stories | The Air Force Museum Theatre announced its inaugural Reel Stuff Film Festival of Aviation will take place in Dayton on April 11-14, 2013. The cinematic celebration of flight also serves as the public grand re-opening of the Museum's 400-seat giant-screen theatre, currently undergoing an $800,000 renovation....
Anchorage Museum opens "Arctic Flight: A Century of Alaska Aviation" exhibit
from Aero Pacific Flightlines by Michael Carter | One hundred years ago, the sound of an internal combustion engine in the sky was first heard in Alaska when James and Lilly Martin sold rides to Fairbanks thrill-seekers. James had built the biplane himself. Lilly was the first woman pilot in England. Alaskans thought the gizmo was a hoot, but no one seemed to grasp the commercial potential....
Getting more women and girls into the air!
from Life on the Road as a Pilot |If you've been following any of my posts or newsletters lately, you would have noticed that I am strongly encouraging people to get involved in Women of Aviation Worldwide Week from Mar 4-10, 2013. This is a concentrated effort to get more girls and women into small aircraft and up for what may be their only flight of their...
TV series offers gritty inside look at AF rescue missions
from Air Combat Command - Top ACC Stories | During an episode of "Inside Combat Rescue" that premiered at Moody Air Force Base, Ga., Feb. 7, viewers saw the chilling sight of pararescuemen loading an amputee into a helicopter. "Inside Combat Rescue" is a National Geographic series that shows a realistic and gritty look at what goes on during a deployment for Air Force rescue units. The series is scheduled to air on TV for the first time Feb. 18 and continue Mondays at 10 p.m....
"No way an F-35 will ever match a Typhoon fighter jet in aerial combat" Eurofighter test pilot says
from David Cenciotti's weblog | In an interesting piece by Flight's Dave Majumdar, Bill Flynn, Lockheed test pilot responsible for flight envelope expansion activities for the F-35 claimed that all three variants of the Joint Strike Fighter will have better kinematic performance than any fourth-generation fighter plane with combat payload, including the Eurofighter Typhoon (that during last year's Red Flag Alaska achieved several simulated kills against the F-22 Raptor) and the Boeing F/A-18E/F Super Hornet....
Thirty minutes to choose your fighter jet: how the Shah of Iran chose the F-14 Tomcat over the F-15 Eagle
from David Cenciotti's weblog | Despite all the skepticism about the actual airworthiness of Iran's new stealth fighter "Qaher 313″, one thing is certain: Iran is still flying the iconic Grumman F-14....
Day 55 - February 9, 2013
from TeenFlight! | We completed the service bulletin on the TeenFlight 1 airplane this week. The...
Sporty's Foundation releases annual report
from General Aviation News by Janice Wood | The Sporty's Foundation has issued its Annual Report, detailing its activities and bequests during 2012. "Since its inception, The Sporty's Foundation has provided more than $800,000 in support to assist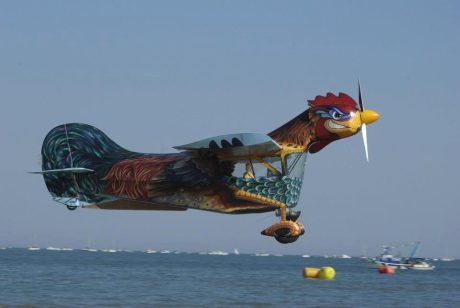 organizations and programs with a positive force on the health of the general aviation industry," says Sporty's...
The Flying Rooster proves even weird planes (except Iran's new stealth fighter jet) can fly
- The Aviationist | ...The aircraft features a Rooster head and neck jutting out of the high wing's leading edge which house the engine, wooden wings, steel tube fuselage covered in fabric, and a proper paint job....