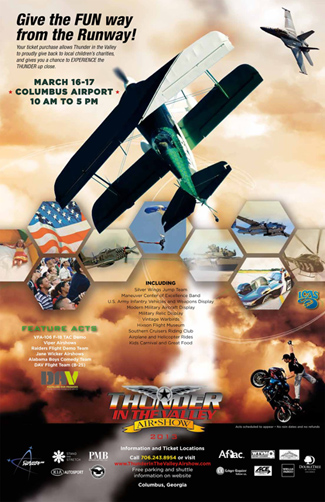 Thunder in the Valley Air Show Tickets Now Available
from Alabama Aviator - Aviation News | Columbus, GA - Advanced tickets to the March 16 and 17 Thunder in the Valley Air Show are now available for sale. Building on last year's popularity of the option, tickets can be purchased online as well as at a variety of local retail locations...
New Team AeroDynamix Video
from VAF Forums by ronschreck | The Team performed a night show at the
Sebring Sport Aviation Expo
in January. This was the first air show associated with the Expo and they have already expressed an interest in having us back again. A great place to escape the Winter chill and meet some very nice folks.
Enjoy the VIDEO
.
Grant Denyer Passes Out Live On TV
- 2DayFM (blog) | Matt Hall being the former RAAF Top Gun and badass Red Bull Air Race pilot. Grant stood no chance but credit to him he actually got in the plane which is a step further than I would have gone. Up in the air after a few minutes of wizzing around doing ...
A Hero Among Us
- Novato Advance | At first glace, Everett remembered being impressed after seeing the new B-17s in theater newsreels as a teenager. In early 1943 Everett finished his B-17 pilot training and boarded a train for Washington where he picked up his B-17 and nine-member crew.
Timeless Voices - Harold Neumann
from eaavideo.org | Harold Neumann (1906-1995) was a barnstormer, air racer, airline pilot, and aerobatics competitor. In 1935, Harold won the Greve Trophy Race flying Benny Howard's "Mike" racer and the Thompson Trophy Race flying Howard's Mister Mulligan.
Traveling wall exhibit pays tribute to Vietnam veterans
- The Desert Sun | PALM SPRINGS — The American Veterans Traveling Tribute group's wall, a replica of the Vietnam Wall in Washington, D.C., arrived by motorcycle escort Wednesday afternoon at the Palm Springs Air Museum. The wall, which is an 80 percent replica with ...
B-17 Aluminum Overcast Reskinned After Hailstorm
from EAA - The Experimental Aircraft Association | Thanks to many helping hands, damage caused by last year's hailstorm won't prevent EAA's B-17 Aluminum Overcast from heading out on tour this spring.
Gadsden Students Project Picked by NASA
from Alabama Aviator - Aviation News | GADSDEN, Alabama ---Four Gadsden State Community College students have been selected to participate in a NASA program to test the long-term effects of zero gravity on water....
[Photo Gallery] Typhoons and F-16s at the Winter Hide 2013 exercise
from David Cenciotti's weblog | The following images were taken at Grosseto airbase, by The Aviationist's photographers Giovanni Maduli and Alex Fucito....
Sporty's awards Alaska Seaplane Adventure Sweepstakes
from General Aviation News by Janice Wood | Jonathan Evans of Bedford, Texas, has been chosen as the winner of Sporty's Alaska Seaplane Adventure Sweepstakes. Evans will travel to Moose Pass, Alaska, to earn his Single Engine Sea Rating with Alaska Float Ratings in a PA-18 Super Cub....
'Charlie Victor Romeo' goes from theater to 3D
from AOPA Pilot Blog: Reporting Points by Jill Tallman | Mention the Sundance Film Festival to most pilots, and you'll get a blink or a shrug. That's because Sundance, which yearly showcases new work from U.S. and international independent film makers in Park City, Utah—and attracts large numbers of Hollywood types—doesn't usually screen films with a lot of aviation content....
Podcast: X-Plane Innovations and Patent Lawsuits
from AVWeb Podcast - Podcast | Our conversation with X-Plane creator Austin Meyer ranged from flight simulation to synthetic vision highway-in-the-sky iPad apps, avionics for experimental aircraft that could theoretically land real planes, and patent-trolling lawsuits that cripple innovative, successful companies for the benefit of unscrupulous plaintiffs.This podcast is brought to you by Bose Corporation.
King Alma Mater Recognizes NASA Administrator's Achievements
from Aero-News Network | Receives Prestigious Award From Morehouse College In Atlanta NASA Administrator Charles Bolden has received the Candle in Military Service and Aeronautical Science Award from Morehouse College in Atlanta, GA. The award recognizes exceptional achievement in a field by an African-American man.