AirVenture 2013 from eaavideo.org | Here's your official sneak peak of the 61st EAA convention, AirVenture 2013, which descends on Wittman Regional Airport in Oshkosh July 29-August 4. Tickets are available for advance purchase on the AirVenture website.

Thunderbirds to headline 2013 Air & Water Show - The Business Journal of Milwaukee | The Thunderbirds last performed at the air show, held along the Milwaukee lakefront in 2011. Marcus Hotels & Resorts, of Milwaukee, will again be a lead sponsor of the event, the release said. Stacy Vogel Davis covers banking, financial services and ...

St. Cloud Air Show Organizers Watching Federal Budget Cut Negotiations - WJON News | ST. CLOUD – Organizers of this summer's St. Cloud Air Show have a big interest in some automatic federal budget cuts set to take effect on March 1st. If the $85 billion in across-the-board cuts known as the sequester can't be averted, the military's ...

Even if sequestration cuts ground Blue Angels, Oregon International Air Show ... - OregonLive.com | The U.S. Navy Blue Angels were described in August by County Commissioner Bob Terry as a great get for the Oregon International Air Show. Signing the Blue Angels led to the shows being scheduled for the same July ...

EAA tour entertains, informs and mends some fences from General Aviation News by Ben Sclair | ...The trio from EAA did a nice job of entertaining and informing the assembled group. The gathering started with some chapter awards followed by a Q&A of "EAA Fun Facts." For example, "What is EAA Founder Paul Poberezny's call sign?", "What is Audrey Poberezny's (wife of Paul) call sign?", "How many porto-lets are on the grounds during AirVenture?" Those who answered correct first earned a $10 gift certificate....

David Cameron talks up Red Arrows in India - The Guardian | A No 10 source said: "The prime minister has always believed that the Red Arrows reflect everything that is great about Britain – not just what it shows about our military capabilities but also the skill, dedication and courage of the pilots. And that ...

Red Arrows jets sold to India in '£125m' deal - The Sun | RED Arrows jets are being flogged to India for its own aerobatic display team to use. In the deal, RAF experts will be loaned to Delhi to help with the technical set-up. The plan emerged in talks between David Cameron and his Indian opposite number ...

Exclusive interview: Saudi Hawks Display Team pilot from David Cenciotti's weblog by Richard Clements | In an exclusive interview with TheAviationist's Richard Clements, Major Waleed Issa, a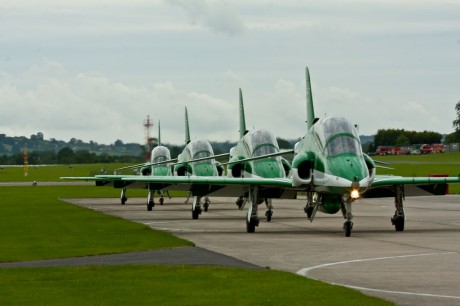 member of the Royal Saudi Air Force Official aerobatic display team talks about The Saudi Hawks. Formed on Jun. 6, 1998, 88 Squadron of the Royal Saudi Air Force (RSAF) which is also known as 'The Saudi Hawks' was created by Gen. Abdulaziz Henaidy, the Royal Saudi Air Force's chief of staff, and backed by Prince Sultan Bin Abdulaziz (Minister of Defense and Aviation)....

Wings of Freedom tour may skip Boeing Field - AOPA Pilot | The Collings Foundation says it will decide by the end of February whether to dispatch its historic B-17 and B-24 bombers to Boeing Field in Seattle during its 2013 Wings of Freedom Tour, after an insurance dispute with local officials shot down plans ...

Aviator sheds light on wartime mystery - South Coast Register | A LONG-TIME local navy aviator and reservist with 40 years' experience, who has researched a number of aircraft crashes in the region, has answered some of the mysteries surrounding a World War II bomber that crashed near Foxground 69 years ago.

Goodyear Blimp Draws Onlookers to Winter Haven's Gilbert Airport (KGIF), Winter Haven, Florida
from The Kathryn Report | Matt Lussier , Pilot of the Goodyear Blimp 'Spirit Of Innovation', based in Pompano Beach , gave a tour to some local residents while docked at Winter Haven Municipal Airport for two days on it's way to fly over Walt Disney World in Winter Haven Fl. Monday February 18, 2013...

Huey helicopters to be featured at Pima Air Museum - KVOA Tucson News | TUCSON - A Huey Helicopter Forum is being held this weekend at the Pima Air & Space Museum. The Huey Forum showcases the varied history of the Bell UH-1 Iroquois "Huey" helicopter whose storied career has included countless civilian search and ...

First Meeting of the Northwest Missouri Chapter from Antique Airfield News
Nebraska Chapter February 2013 Newsletter from Antique Airfield News

Long Island's Parrish Art Museum Features Works by Malcom Morley Heavily Influenced by Aviation from Featured by S. Mark Rhodes | Flight of Icarus (1995) - Collection Timothy EgertLong Island's venerable Parrish Art Museum has recently opened in a striking new location on the Island's East end and it's inaugural exhibit features the work of renowned, British-born artist Malcom Morley. This is particularly fitting since Mr. Morley has lived and worked on Long Island for almost 30 years...

Area teachers nominated by National Museum of the U.S. Air Force accepted to Summer Residency Program from National Museum of the USAF Top Stories | Bridget Federspiel, a history teacher at Stivers School for the Arts, and Kevin Lydy, a social studies teacher at The Dayton Regional STEM School, have been accepted to the 2013 American Air Museum (AAM) in Britain's Summer Residency Program. They were nominated for the program by the National Museum of the U.S. Air Force....

NASA restores communication with International Space Station - CNN | NASA restored communication with the International Space Station on Tuesday after connections went dark following a routine computer software update....