This weekend's shows * Fencecheck

Pep Rally Kicks Off 2014 Wings Over South Texas Air Show - KIII TV3
| ....Thousands of school children from across the Coastal Bend were on hand for the event, which included words from various staff and servicemen from NAS-Kingsville, a remote control airplane demonstration, cockpit footage from the Blue Angels and more....
4th Annual Florida International Air Show returns - Wink News
| PUNTA GORDA, Fla. - This weekend the thrill seekers and young at heart will see the ride of the lifetime as some of the most iconic pre World War II aircrafts comes to our area. One military branch will be performing in tactical fighter jets. The 34th Annual Florida International Air Show runs March 28-30th at the Punta Gorda Airport. This is their first time back in Florida since 2008....
Air show celebrates aviation's past and present
By Shelby Webb | PUNTA GORDA - Retired Lt. Col. Richard Cole looked wistfully over the rows of metal giants silently filling the runway. During World War II, Cole spent more than 500 hours inside a massive B-25 bomber...
Durant hosts Take to the Skies Air Fest - KXII-TV
| DURANT, OK -- The city of Durant is hosting their second air show this weekend and this year they are adding some new attractions. The show will be held at the Durant Regional Airport all day Saturday...
Historic planes on display at Cecil Airport this weekend - First Coast News
Historic World War II aircraft, including the B-29 Superfortress bomber FIFI, will be on display this weekend at Cecil Airport....
Yankee Air Museum offers no cost, hi-gloss family event - Hometownlife.com
| The Yankee Air Museum is inviting everyone to its 19th annual Bomber Buffing Saturday, April 5.The four-engine B-17 heavy bomber "Yankee Lady" and twin engine B-25 medium bomber "Yankee Warrior," located on the west side of Willow Run Airport, in Hangar 1, Bay 8, need their aluminum skin polished to a high gloss. Winter inspections and maintenance are complete, and the planes have been washed. The polishing is the last step in preparing for the 2014 flying and air show season....
YPSILANTI TWP: Yankee Air Museum to make 2nd world record attempt with 1 ... - Heritage Newspapers
| YPSILANTI TOWNSHIP — With just over a month left in the Save the Bomber Plant campaign, the Yankee Air Museum announced Friday that they only have $1.5 million left to reach the $8 million fundraising goal. The deadline for the year-long campaign to save the historic Willow Run Bomber Plant is May 1....
Superstars of Aerobatic Performers!
* aviationpros.com | WEST COVINA, CA -- Meet your favorite aerobatic performer up close and personal! Concorde Battery is pleased to announce that several popular airshow performers will be in our booth at Sun 'n Fun signing posters of their amazing performances captured on camera....
[Video] Take a back seat ride with the Red Arrows and their 50th anniversary tail fin
- The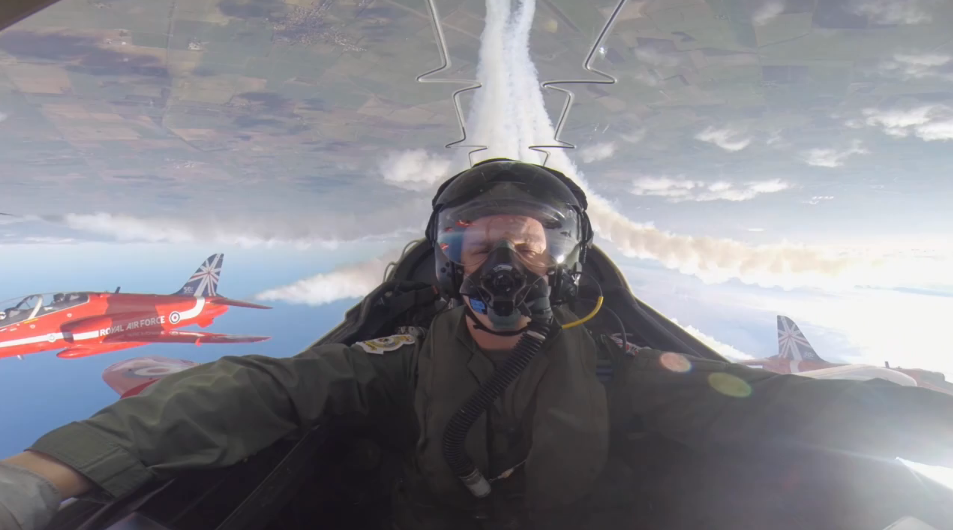 Aviationist | UK's
Red Arrows
celebrate their 50th aerobatic season this year....
All eyes skyward as air show looms - shropshirestar.com
| Every year, tens of thousands of people from all over the UK flock to the show – the region's biggest aviation event and one of only two official RAF air shows anywhere in the country....
Yak-130 jets of new aerobatic group to fly over Red Square at Victory Day parade - ITAR-TASS
| MOSCOW, March 28. /ITAR-TASS/. Four Yak-130 training planes of a new aerobatic group of the Russian Air Force would participate in the air parade over Red Square in Moscow on May 9, Air Force spokesperson Igor Klimov told ITAR-TASS....
Aviator, POW, Resister, Senator, Hero - The Weekly Standard (blog)
| Admiral Jeremiah Denton is dead at 89. Americans of a certain age will remember him, if not by name, then as the returning Vietnam POW who stepped off the plane at Clark Air Force Base in the Philippines and concluded some remarks with the words, "God bless America."...
70 years in the making: WWII soldier to be honored - Clinton Herald
| ...Apparently, he was a handsome and accomplished young man who joined the military service during the war and became a P-38 "Lightning" fighter pilot. He enlisted in the U.S. Army on Feb. 19, 1942, transferring to the U.S. Army Air Corps in June 1942....
Planes' fighting chance
* Otago Daily Times | One of the pilots, Keith Skilling, of Katikati, flying a German Fokker DVII, said he grew up on the Taieri where his father, Hugh, was chief flying instructor for the Otago Aero Club. Mr Skilling, who attended The Taieri High School, left Dunedin in...
[Photo] Two Lightnings fly together: F-35A and P-38 over Luke Air Force Base
· The Aviationist
Dedication of World War II hangar set at BGE
· General Aviation News Staff | The Decatur County Board of Commissioners will conduct a dedication ceremony Saturday, April 5, for Phase I of the World War II Hangar renovation project at Decatur County Airport (BGE) in Georgia....
CAF Houston Wing Fly-In and Open House Set for April 12-13
· WarbirdsNews | The Houston Wing of the Commemorative Air Force (CAF) announced the annual Fly In and Open House will take place April 12 -13, 2014 at the West Houston Airport. The Fly-In and Open House is a great event for all ages, as visitors will have a chance to get up close and view authentic World War II aircraft. . In addition to seeing the amazing aircraft, the hangar museum will be open for tours and there will be fly-overs throughout the day. Enjoy drinks, food, souvenirs, or purchase a ride in one of the Warbirds....
Happy Birthday To The Consolidated PBY Catalina
· WarbirdsNews | The Consolidated PBY
Catalina flew for the first time seventy-nine years ago today. The PBY was named "Catalina" for the resort island off the coast of California by the British, which satisfied the Royal Air Force requirement that aircraft names be representative of the manufacturer. A World War II...
Sky high: Young aviators take flight with Civil Air Patrol
* Marines.mil | The Experimental Aircraft Association offered Marine Corps Logistics Base Marines' and civilian-Marines' children an opportunity to co-pilot a flight to areas in Albany, Ga., through the Young Eagles Program. Capt. Gene Fandel, Civil Air Patrol...
Children who yearn to fly welcome at Young Eagles event
* Dailysunnews | PROSSER – It's time again for children who want to fly to get their parents to sign them up for a Young Eagles free flight. The Prosser chapter of the EAA (Experimental Aircraft Association) will be hosting a Young Eagle event on Saturday, May 17, from...