Bob Hoover To Receive The 5th Annual Outstanding Aviator Award - PR Newswire | NEW YORK, March 11, 2014 /PRNewswire/ -- The Wings Club, recognized as the most premier aviation club in the world, and IAWA (International Aviation Women's Association) will honor Robert A. "Bob" Hoover, former Air Show Pilot and United States Air Force Test Pilot with the fifth annual Outstanding Aviator Award...

More Than 4500 Attend Women In Aviation Conference - Aviation International News | The 25th International Women in Aviation Conference, held last weekend in Lake Buena Vista, Fla., had a little something for everyone. History buffs came to honor the four new WAI Pioneer Hall of Fame inductees: Sally Ride, first female NASA astronaut in space; Nancy Currie, NASA International Space Station commander; Beryl Markham, author and aviatrix; and Sheila Scott, record-setting British pilot...

B-17 Bomber, P-51 Fighter to fly over SA - Wilson County News | The public is invited to Stinson Municipal Airport at 8535 Mission Road in San Antonio to view and tour planes from World War II on Saturday and Sunday, March 15-16, from 10 a.m. to 5 p.m. each day...

Cavanaugh Flight Museum's Skyrider To Join FIFI · Warbirds News | he Cavanaugh Flight
Museum's Skyraider is leaving today to join FIFI on the B29/B24 Squadron Florida tour. The Skyrider will be at Lakeland, FL tomorrow and Thursday, then on to Titusville, FL for the TICO Airshow this weekend. The museum's AD-5 Skyrider , Bureau No. 135152 was delivered to...

2014 Terrell Fly-In may have different feel - Terrell Tribune | Interest and attendance have grown with every passing year of the No. 1 British Flying Training School Museum's Flights of Our Fathers Fly-In. Organizers have said more than 3,300 people attended the 2013 fly-in in September, and some were even able to catch a flight in a C-47 that was actually used in World War II...

Board has an air show to organize and little time to do it - Southeast Missourian | ... Last week, airport manager Bruce Loy announced the show was back on after a representative for the act called and informed him they would be able to perform. At the meeting, board members expressed concern that making the announcement a little more than two months before the show might leave them short on sponsors and volunteers....

2014 Hyderabad Airshow: Latest aircrafts on display - Economic Times | Photos

Red Bull Air Race in Croatia by Philippe Chetail (translated) | Rovinj, a small town on the western coast of Croatia, will serve as the backdrop for the second of eight races of the Grand Prix Red Bull Air Races 2014 12 and April 13. 12 pilots of the Master class will compete on a challenging course because of tight turns at high-load factors, along the northern beach near the old town...

Join us this weekend in Arizona AND register to fly in our Mustang in California! - Redtail.org | Intro page graphic 4This weekend, March 15 and 16, marks the 2014 "Lightening in the Desert" Open House and Air Show at Luke Air Force Base outside of Phoenix, Arizona. Come enjoy the sun, the screaming jet engines of the Air Force Thunderbirds and other exciting aerial performances, AND see our first-hand RISE ABOVE Traveling Exhibit and P-51C Mustang perform in the skies!...

WASP Recognized During EAA Museum Visit - EAA - The Experimental Aircraft Association | March 12, 2014 - World War II veteran and Women Airforce Service Pilot (WASP) Elizabeth (Betty Wall) Strohfus visited the EAA Museum on March 7 with a group of University of Wisconsin-Green Bay students who are performing a theater production about the trials and tribulations serving as a WASP...

Artifacts for Women's History Month - Carolinas Aviation Museum | ...In celebration of Women's History Month we will showcase a few of these items that focus on women and their important role in aviation...

Airplane Racing Legend and Former Composites Engineer Jon Sharp Talks about his Time in the Trenches - digitaljournal.com | After flying professionally in the air racing circuit for more than 30 years, Jon Sharp has authorized former sponsor Coastal Enterprises to publish a series of two articles covering his air racing experiences and his 25-year career working at the secretive Lockheed Martin Skunk Works, where he held the title of Advanced Composites Engineer...

FEMA Award Will Help Relocation of Lone Star Flight Museum · Warbirds News | There's some good news for the Lone Star Flight Museum, as Texas just received a sizeable grant from the Federal Emergency Management Agency to help the museum move from their currently flood-prone facility in Galveston, Texas to a more reliably flood-free location in Houston. Following the...

Access the Avro Vulcan - RAF Museum London Events | The Avro Vulcan is now open for access on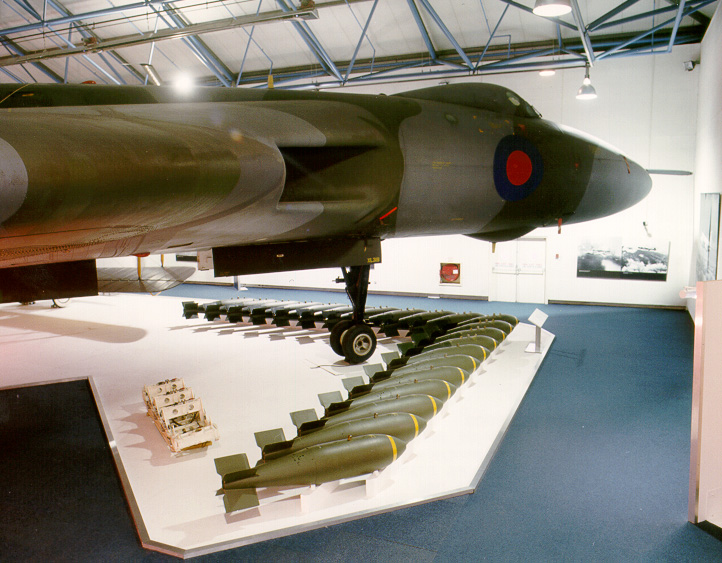 the last Wednesday of April, May and June 2014. Clamber up the two ladders, through the cabin and into the cockpit where one of our experienced aircraft team will talk you through every nook and cranny of the flight deck.

Arc Light Memorial Dimming by travelforaircraft | John Thompson posted this disappointing information regarding the B-52D Stratofortress at the Arc Light Memorial at Andersen AFB on Guam. Essentially the aircraft is to be disposed of and have the tail removed so that it can be part of the revised memorial which will be a representative shadow — with the newly severed tail accompanied by B-52H tail...

North Dakota Governor Declares March 'Aviation Month' · General Aviation News Staff | North Dakota Governor Jack Dalrymple has declared March as "Aviation Month." Aviation contributes over $1.6 billion annually to North Dakota's economy...

I Spent 24 Amazing Hours On Board A US Navy Aircraft Carrier At Sea - Jalopnik | One March morning in 2012, I got an email from a buddy in Houston that read something like "Check this out. I applied, and you should too." What followed would be the most fun I've ever had around planes as I got to spend a day aboard the $6.8 billion USS George H.W. Bush Nimitz-class supercarrier...