Breitling Jet Team to perform in Wisconsin in 2015 - Pioneer Press | OSHKOSH, Wis.—The Breitling Jet Team will be performing in the United States for the first time ever and it will be in Wisconsin. They are performing at the Experimental Aircraft Association's annual AirVenture in Oshkosh in 2015. The aerobatic...

RAF line-up confirmed for Wings & Wheels 10th Show * UK Airshow News - Flightline UK | Plans for the 10th annual Wings & Wheels have got off to a flying start with confirmation from the RAF that the Red Arrows, Tucano and Tutor as well as iconic legends from the Battle of Britain Memorial Flight – Lancaster, Spitfire and Hurricane – will all be part of the weekend's aviation line-up...

Aerobatics and Education at Sun n Fun - Dylan Aviation | My Super D is on display each year in the aerobatic welcome center at Sun n Fun. Note the tiger tail hanging from the right wing. I mark the aileron spades with tiger tails to warn "lookers'. Without those markers, people have a propensity to walk into the spade, cutting their heads and damaging my spades. My Super D is on display each year in the aerobatic welcome center at Sun n Fun. Note the tiger tail hanging from the right wing. I mark the aileron spades with tiger tails to warn "lookers'. Without those markers, people have a propensity to walk into the spade, cutting their heads and damaging my spades...

EAA Invites WWI Aircraft to AirVenture Oshkosh 2014 - EAA | A call is going out to all World War I-era aircraft, aircraft replicas, and reproductions to join in commemorating the centennial of World War I aviation technology at the annual EAA AirVenture Oshkosh 2014, July 28-August 3 at Wittman Regional Airport in Oshkosh, Wisconsin...

The Blue Angels Used to Travel Aboard a Rocket Powered Hercules - Gizmodo [w video!] | There is much more that goes into a Blue Angels show than what you see in the air—every event requires a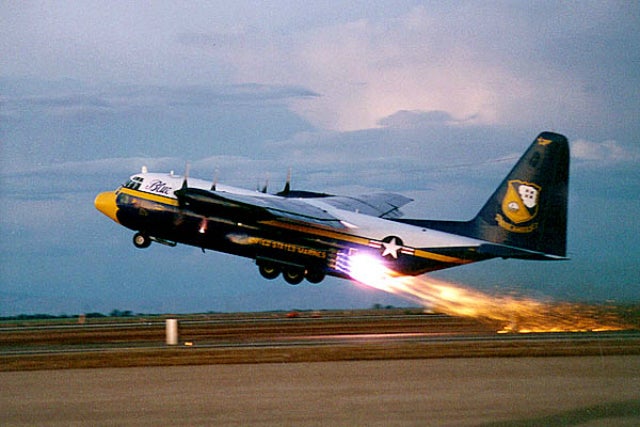 massive behind-the-scenes effort to coordinate. In order to ferry all of the spare parts equipment and support personnel that make this happen from show to show, the Blue Angels employ a United States Marine Corps C-130T Hercules, dubbed Fat Albert. Measuring nearly 100 feet long with a 133 foot wingspan, the C-130T is equipped with four Allison T56 engines, providing a top speed of 320 knots, a range of 2,400 miles, and a 45,000 pound payload capacity. The T variant denotes that it carries extra under-wing fuel tanks and has an upgraded avionics system over older models, though it isn't quite as capable as, say, the C-130H Spooky...

Nine aviation mysteries highlight long history of plane disappearances - CNN | While such situations are rare, the puzzling disappearance of Malaysia Flight 370 is not the first time a plane has vanished without a trace. Here are nine cases of mysterious plane disappearances and disasters. Some remain unsolved, decades later...

The Stealth Bomber Elite By James R. Chiles Air & Space Magazine | Fewer than 100 pilots climb the ladder to the B-2 cockpit

Above & Beyond: Recovery: Bataan By Ralph Wetterhahn Air & Space Magazine | Two fighters went after each other at midafternoon on February 9, 1942, with machine guns blazing. They were scant feet above the dense jungle enveloping the Mariveles volcano on the Philippines' Bataan peninsula. Sergeant Toshisada Kurosawa, Imperial Japanese Army, was flying a Nakajima Ki-27 "Nate"; U.S. Army Air Forces Lieutenant Earl R. Stone was in a Curtiss P-40 Warhawk...

Curtiss Jenny Open Cockpit Event at Yanks Air Museum · Warbirds News | The Yanks Air Museum is holding an open-cockpit event with their rare Curtiss 1C Jenny this Saturday between 10:00am until 3:00 pm. Sitting in the cockpit, the visitor will undoubtedly understand how frail and vulnerable an American military pilot from WWI would have felt as they prepared to join the fight. The Jenny was a vital element of America's arsenal a hundred years ago, and trained 95% of US WWI pilots. 2014 marks the centennial for the beginning of that global conflagration...

World Tour for Pearl Harbor Documentary Lands at Palm Springs Air Museum · Warbirds News | Starting in June of 2011 Liz Watkins, worked with Holly Shelton and retired Lt. Colonel Bill Phillips to organize and raise funds so that six Pensacola, Florida area Pearl Harbor survivors could return to Pearl for the 70th anniversary of the attack. The film documents the...

In the Pink: Dazzling Cessna 425 Conquest Keeps Alive Memory of World War II Women Air Force Service Pilots - The Aero Experience | St. Louis Downtown Airport was pleased to host the arrival of
the pink Cessna Conquest that occasionally visits the St. Louis area. Flown by Ron Buchanan for Three Lakes Enterprises out of New London, Minnesota, the aircraft flies corporate clients throughout the region. The aircraft retains it's pink hue and hot pink stripes in honor its previous owner, World War II Women Air Force Service Pilot (WASP) Suzanne Parish (1922-2010)....

Deja vu: Pilot named Amelia Earhart to fly around world this summer (video) - al.com (blog) | DENVER, Colorado -- Amelia Earhart will have a second chance to complete her flight around the world. Sort of. A Colorado woman named Amelia Earhart in June plans to fly around the globe, covering more than 24,000 nautical miles. Earhart, a news anchor for Denver's NBC affiliate, is taking the challenge in conjunction with the Fly with Amelia Foundation, an organization she founded last year to promote aviation for young girls....

UCAP349 "Echo-Papa-Papa"

Aviation Community Unites Behind 'One Week Wonder' AirVenture - EAA | More than a dozen companies are pitching in to support our unique 'One Week Wonder' airplane building project planned for EAA AirVenture Oshkosh 2014. The goal is to build a complete airplane during the seven-day annual convention and fly-in scheduled for July 28-August 3 at Wittman Regional Airport in Oshkosh...

Video: See how Sparks was a player in the space race from RGJ.com

NASA & the crew of Star Trek's Enterprise - io9 | 1976. The Shuttle Enterprise, about to embark on a continuing mission to test in-atmosphere flight, and never quite get into space. The shuttle's rollout ceremony with most of the main cast from Star Trek was neither the first or last collaboration between NASA and Star Trek....