Aviator Jim Maroney involved in Monroe County plane crash - WATE-TV | VONORE (WATE) - The Monroe County Sheriff's Office says they have located the plane that went down Sunday night in the Indian Boundary area within the Cherokee National Forest. The pilot, Jim "Fang" Maroney, was found dead. He was a retired military pilot an airline pilot and popular air show pilot...

Blue Angels return home today - WEAR | The team has spent the two months at their winter base in California getting their precision flying skills back up to speed. They have already flown two shows in California this year. They typcially do about three dozen shows annually. But last year...

Saugus pilot breaks world record for inverted flat spins - on purpose * Santa Clarita Valley Signal |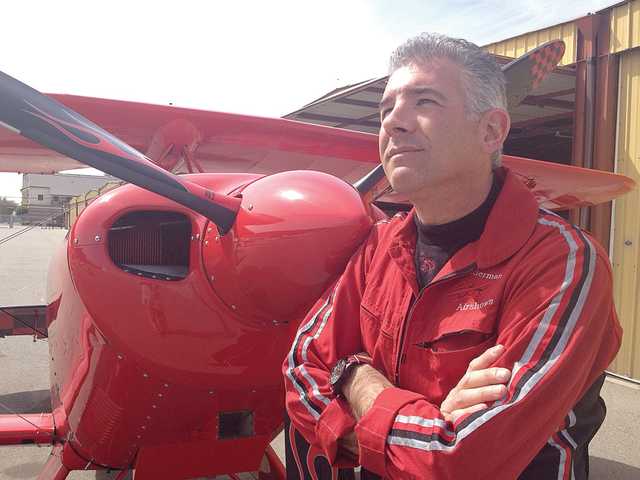 Air show pilot Spencer Suderman of Saugus has broken the world record for the most number of inverted flat spins done in an aircraft — which means he is now the only person to drop from the sky, upside down, spinning 81 times in an airplane....

Annual Sun-n-Fun Fly-in and Airshows just Over a Week Away By D Robert Curry | In just a matter of days, Lakeland Florida will once again become the temporary Mecca of aviation as the flying community, and thousands of spectator, descend on the area creating the 2nd largest airshow and fly-in in the world known as Sun-n-Fun....

Jumps Schedule For the Dakotas Over Normandy Is Set · Warbirds News | The Jumps schedule for the much anticipated "Daks over Normandy" event is slowly materializing. For the first time since 1944 the skies over Normandy will be filled with Dakotas to drop paratroopers. Throughout Europe about 15 of these aircraft are still flying and...

Wings Over Flagler gets lift from tourism board - Daytona Beach News-Journal | Wings Over Flagler, the popular air show held at the Flagler County Airport, is set to return to the Flagler County Airport April 25 and 26. The two-day event featuring aerobatic displays will also include a variety of other events, including music...

Camarillo service honors 2 Commemorative Air Force members - Ventura County Star | Two members of the Southern California Wing of the Commemorative Air Force killed in a January airplane crash were memorialized Saturday during a service at the group's Camarillo Airport facility. David Casey, of Avila Beach, and Alan Gaynor, of Los Angeles, were killed in an afternoon crash Jan. 14 in the ocean near Oceano in San Luis Obispo County. The crash is still being investigated...

National Air and Space Museum Trophy Award winners named · General Aviation News | The Smithsonian's National Air and Space Museum Trophy for 2014 will be awarded in the Lifetime Achievement category to Norman R. Augustine, while the Current Achievement category to the Dawn Flight Team. They will be presented their awards March 26 at a black-tie dinner in Washington, D.C....

PHOTOS: B-17 Takes the Skies Over Phoenix - KFYI | (KFYI News) Nearly 70 years ago, Boeing B-17 aircraft flew from bases far from home in an attempt to bring freedom around the world. The mission of the B-17 today is to educate Americans about courageous World War II veterans and remember those brave aircrew who never made it home...

Climate and Deterioration claims the ARC LIGHT Memorial's B-52D Stratofortress · Warbirds News | WarbirdsNews has learned that the B-52D Stratofortress 56-0586, long on display at the Arc Light Memorial Park on Guam is due to be scrapped. The airframe has simply deteriorated too far to save, despite the dedicated efforts of local airmen over the past thirty years. This is the second B-52D to succumb to the...

Ohio museum volunteers constructing vintage B-17 - Fayetteville Observer | URBANA, Ohio - They got one part for the World War II-era bomber from under an elderly woman's porch in the next town. Another was bought from someone who had it hanging in a bar in Colorado. One chunk was a prop in a 1960s TV show, and the tail section was salvaged from a wreck deep in the Alaska wilderness...

1940s planes to make dead-of-night trip on Wichita's streets - Kansas.com | In the black of night, two vintage planes will be moved early Wednesday from Yingling Aviation at Wichita Mid-Continent Airport to the Kansas Aviation Museum. It will take about three hours to make the 14-mile trip, museum officials said. The planes, a 1949 Rawdon T-1 single-engine trainer and a 1948 Allied A-2 experimental aircraft, will be moved into a new restoration storage facility at the museum...

WWII fighter plane recovered from New Guinea has York County ties - York Daily Record | Led by a shoeless and scantily clad group of reformed cannibals, Russ Strine and his dad hiked for over eight hours up a jungle mountain to find a treasure buried under tangled vegetation and infested with snakes...

Commemorative envelope to mark the centenary of the BA 102 Dijon - Translated | 102 Dijon Air Base is one of the oldest in France since it was created in 1914. It was renamed "Captain Guynemer", named after one of its pilots, heroes of the Great War, died in combat mission September 1917 111. Military renowned served the BA 102, like the Caroline Aigle , who worked in this place from 2000. To commemorate the centenary of the base, a souvenir was published...

Ore. AG asks IRS to investigate Evergreen aviation museum - KATU | PORTLAND, Ore. (AP) - Oregon Attorney General Ellen Rosenblum says the state won't take enforcement action against the McMinnville-based Evergreen Aviation and Space Museum. But Rosenblum said Thursday an investigation revealed significant concerns regarding the governance of the museum, and she will ask the Internal Revenue Service to investigate whether its operations comply with its tax-exempt status...

"DISCOVER YOUR FUTURE IN AVIATION" 5th Year at Pacific Aviation Museum Pearl Harbor * Warbirds News | Young people interested in aviation as a career or hobby, schools, Scouts, and families will want to attend Discover Your Future in Aviation at Pacific Aviation Museum Pearl Harbor Saturday, March 29 from 10:00am to 4:00pm.This is the fifth year for the special aviation day, which will feature hands-on workshops, a career fair, flight lab, and interactive science exhibits. Guests can venture into the open cockpits of some of history's greatest aircraft and learn to fly on the Museum's flight lab simulators...

AOPA awards scholarships at Women in Aviation show · General Aviation News | The Aircraft Owners and Pilots Association (AOPA) awarded a scholarship worth $3,000 to a student pilot during the annual Women in Aviation, International (WAI) Conference in Orlando, Florida earlier this month...

Space Expo At NEAM - The Courant | Piloting a space craft simultor is part of the New England Air Museum's annual Space Expo, Sunday, March 30, from 10 a.m. to 4 p.m. Exhibits include demonstrations and hands-on activities, such as rocket building, designing a mission patch, donning a real space suit, meeting R2D2 and more...

Remembering William Reid "Bill" Pogue by The National Air and Space Museum | Bill Pogue may be best known as an astronaut who served on America's Skylab space station and author of the book he titled with the perennial question astronauts are asked to answer, How Do You Go to the Bathroom in Space?...