The Patriots Jet Team Announces Flight of MiG Fighter Jet in 2014 Airshows - PRWeb | The Patriots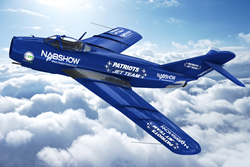 Jet Team, the only six-aircraft civilian-owned jet team in the United States, announced today the addition of a MiG fighter jet to its show-stopping lineup. The addition of the MiG to the team's performance roster provides a unique in-air marketing opportunity for businesses. For each show, the flying MiG will be...

Video: US Army Golden Knights - Fayetteville Observer | The U.S. Army Golden Knights taking part in The 4th Annual World Invitational Indoor Skydiving Championships held at Paraclete XP Skyventure Indoor Skydiving Facility in Raeford on March 2, 2014.

Paratroopers help with Rex ceremony - Bayoubuzz | The Leap Frogs, a group of U.S. Navy SEAL paratroopers, will sail down from the skies and land at the Rex Organization's den on Mardi Gras morning to assist with a flag-raising ceremony. Former Rex and World War II veteran Beau Bassich will lead the ceremony...

'Women of Aviation' program set for Saturday - Steubenville Herald Star | WHEELING - Local pilot Natalie Campana-Lucas is working in conjunction with Pier Aviation to organize the area's second-annual "Women of Aviation" program, set to take place from 11 a.m. to 3 p.m. Saturday at the Wheeling Ohio County Airport. The event coincides with Women of Aviation Worldwide Week, and March 8 marks 106 years since Therese Peltier of France became the first female pilot in the world, according to the Women in Aviation International website...

The Breitling Jet Team in Lens on May 18 - Apache Rolle [video] | C ontrainte to cancel the demonstration airshow 2012, the Breitling Jet Team hope to catch up on May 18 in Lens Bénifontaine! The patrol will be based Lesquin and it will arrive early Sunday Lens to meet the drivers and attend their air show to be held in the early afternoon...

100 Years of Australian Military Aviation Celebration plus the book Bristol Boxkites at Point Cook by travelforaircraft | March 14th of this year marks the first century of Australia's military aviation with Centennial Celebration commencing on that date. Two esteemed servicemen and Ron Gretton (see bio below) and Geoff Matthews (see bio below) built a flying replica of the first aircraft purchased by the Royal Australian Air Force (RAAF) — the Bristol Boxkite biplane with pusher engine — to be flown as a signatory event during the celebration. After the flight the aircraft will be donated to the RAAF Museum in Point Cook where it will reside in the good company of RAAF aviation history exhibits...

Q. In Reno, Nevada, what's Wacky & Orange all Over? A. Section 3 of Course! · Kim West, WarBirdBabe | If you've been to Reno Air Races, you know the biggest Fans are seated in Section 3 – Undoubtedly you've seen and heard the fashion forward fans wearing Orange!...

Fair St. Louis 2013 Airshow Reprise: Jive and Rifle RV-8 Precision Aerobatics - The Aero Experience | As we prepare for the 2014 Midwest Aviation airshow season, The Aero Experience salutes the RV-8 team of Jerry "Jive" Kerby and Joe "Rifle" Shetterly by sharing some of our photos from Fair St. Louis 2013. Our team descended on St. Louis Downtown Airport, located just a few miles flying distance from the St. Louis riverfront and...

Watch video: Tuskegee Airmen visit Sparks from RGJ.com

Photos: Rebuilding a B-17 - Arizona Daily Star | They got one part for the World War II-era bomber from under an elderly woman's porch in the next town, and another was bought from someone who had it hanging in a bar in Colorado. When dozens of volunteers are finished piecing them all together at a small Ohio museum, they're going to roll out a better-than-new, airworthy version of one of history's most famous military airplanes, the B-17.

New Bronco - Apron 6 | Today was a great day in many ways. First of all it was great to see Tony back at the controls of a Bronco. That Bronco is the new Bronco for the Bronco Demo Team, some more good news. Besides that I could photograph this happening from the open ramp of the Skyvan. All of...

Broken Arrow - Warbirds News | Broken Arrow: two simple words which seem innocent enough, but when one knows they represent the code-word for a lost nuclear weapon, they are perhaps the scariest words you could ever contemplate. Given all the safeguards our military enacts to prevent such a thing from happening, it might surprise many to learn that there have been a few Broken Arrow cases over the years. Perhaps the...

World War I in Pictures By Air & Space Magazine | Photographs from the birth of air combat | In
anticipation of next year's World War I centennial, the United Kingdom's Imperial War Museums and Alfred A. Knopf have produced a stirring retrospective: The Great War: A Photographic Narrative. The 20th century's first titanic upheaval created a line between old world and new; when the war ended, almost nothing was the same as it had been...

Berry's Leap - Air & Space Magazine | March 1, 1912 U.S. Army Captain Albert Berry made the first parachute jump from a powered airplane.

Navy pilot dies in fighter jet crash in western Nevada - RGJ.com | FALLON, Nev. (AP) — A day after a fighter jet went down during a training exercise in western Nevada, the Navy said late Sunday that the military pilot had been killed in the crash. It took rescue crews several hours to reach the site of Saturday's crash on a Navy range training complex east of Naval Air Station Fallon because of a snow storm and mountainous, remote terrain. But there was no immediate word released about the pilot....

Area 51 Black Jets by travelforaircraft | Whether you know it as Dreamland, Paradise Ranch, Groom Lake or Area 51 it is a facility shrouded mystery. Shedding light of many of the dark projects there, as well as many others less in the dark, author Bill Yeene also takes the reader through their history and importance. This book only just published ? Area 51 Black Jets ? begins in 1940 with the designation of an inhospitable 3,000,000 acres of land in southern Nevada as an Army bombing and gunnery range before...

Third Prototype of China's Stealth Jet Makes Maiden Flight and Shows Improvements - The Aviationist | The third prototype of China's 5th generation fighter jet made its maiden flight on Mar. 1. As already explained, Beijing's radar-evading plane shows several differences from the first (and second) prototype aircraft, a sign China is improving and developing more in the field of low observability applied to fighter jets....

Female pilot encourages girls to consider career in cockpit as part of International Women's Week - Herald Sun | BITTEN by the aviation bug, pilot Peta Denham Harvey is determined to help young women get it too. And she is urging school career advisers to steer girls to the cockpit and not just into cabin. As part of International Women's Week, she has helped organise for girls to get a flight in a light aircraft....

Young Eagles plan flight rally March 8 - News-Sun | SEBRING — Area young people ages 8-17 will have a chance to take to the skies on Saturday, March 8, as Experimental Aircraft Association (EAA) Chapter 1240 hosts a Young Eagles Flight Rally and pancake breakfast at Sebring Regional Airport. A $6 donation is requested for the breakfast, $8 for all you can eat. The rally is part of the EAA Young Eagles Program, created to interest young people in aviation. Since the program was launched in 1992, volunteer EAA pilots have flown more than 1.4 million young people who reside in more than 90 countries....