Photos: Blue Impulse flying aces collide in midair off coast of Japan - NEWS.com.au | THREE
pilots have escaped unharmed after their jet planes collided in midair off the Japanese coast, a military spokesman said. Two T-4 trainers belonging to the Blue Impulse aerobatic display team of the Japanese air force made contact as they...

Women of Aviation Week pushes limits - Toriaflies | ...Every year, Women of Aviation Week is kicked off during the week of 8 March – the anniversary date for when French actress, balloonist and artist Raymonde de Laroche became the world's first licensed woman pilot (in 1910). The goal of this awareness week is to foster diversity in aviation by celebrating history, raising awareness, and sparking vocations as thousands of girls and women are introduced to aviation through industry-wide collaboration....

The Annual Mariposa Air Fair and Family Adventure Day to be Held on April 26 - Sierra Sun Times | The Mariposa Chapter of the Experimental Aircraft Association will host its annual Mariposa Air Fair and Family Adventure Day 2014 at the Mariposa Airport on Saturday, April 26, 2014 from 8 a.m. to 3 p.m. The event is an annual, exciting fly-in and community event that features a variety of attractions, including antique aircraft, warbirds, experimental aircraft, radio controlled model airplanes as well as an antique and custom car display....

Rare Aircraft Will Visit For Wings Of Freedom Tour - Island Sun and River Weekly | Fort Myers. The Boeing B-17GAviation enthusiasts and history buffs will have the opportunity to tour or take flight in rare, historic World War II aircraft when the Collings Foundation brings rare aircraft to Fort Myers...

FRIDAY FLYING VIDEO: Matt Hall in Training - Australian Flying | In this video, Matt Hall gives us an insight into his preparation for the 2014 Red Bull Air Race season, showing us a training camp with his team held at Maitland. It is interesting to see how the team functions behind closed hangar doors. The first race at Abu Dhabi is only a few weeks away now, and Matt's MXS-R has already been shipped....

Skiles' Miracle on the Hudson Lecture Now Available Online - EAA | January 30, 2014 - Jeff Skiles' January 16 multimedia presentation about the Miracle on the Hudson commemorating the five-year anniversary of the event in now available online at Wisconsin Public Television's University Place. Skiles, EAA vice president of communities and member programs, was first officer in the US Airways Flight 1549 Airbus A320 captained by Chesley "Sully" Sullenberger on January 15, 2009. He recounted step-by-step the events leading to the forced emergency ditching on the Hudson after a flock of geese crossed paths with the airplane, knocking out both engines...

Red Arrows pilot killed by 'useless' seat mechanism - GlobalPost | A British coroner on Wednesday described the safety mechanism of an ejection seat that threw a pilot from the Red Arrows aerobatics display team to his death as "entirely useless". Flight Lieutenant Sean Cunningham, 35, was killed after he was accidentally propelled 67 metres (220 feet) into the air from his Hawk T1 aircraft while on the ground at Scampton airbase outside Lincoln, eastern England, in November 2011....

Timeless Voices - David Toomey - EAA Video | After starting out as a B-17 copilot, David Toomey tranferred into the 12th Squadron of the 3rd Photo Reconnaissance Group flying P-38s during WWII. He flew 63 reconnaissance missions and was shot down twice. This interview was recorded in 2002.

[Photo] The effect of Florida's freezing rain on U.S. Air Force AC-130U gunship - The Aviationist |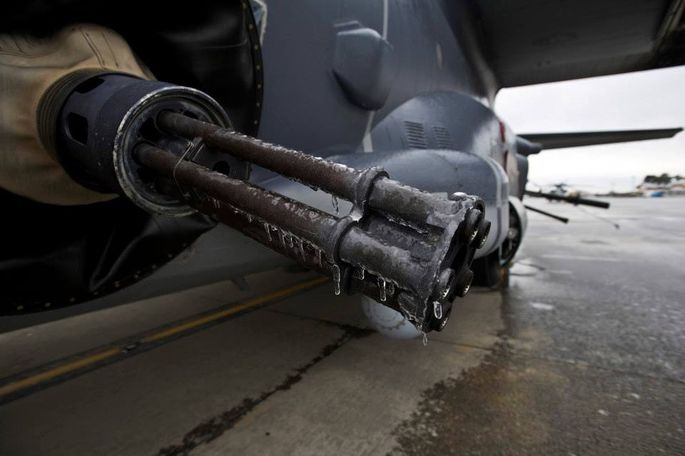 These images, taken on Jan. 29, 2014, say it all. Since quite unusual freezing rain and cold temperature have layered Hurlburt Field, Florida, in a thin sheet of ice, icicles formed on a U.S. Air Force AC-130U Spooky gunship's 25 mm Gatling gun...

Brighton Aviation Museum & Sandbar Mitchell in Grant Contest - WHMI | A local aviation museum currently restoring a WWII era plane known as Sandbar Mitchell recovered from Alaska last summer is asking for community support in an online grant contest. Brighton's Aviation Museum, Warbirds of Glory, is hoping to win one of ten small business grants including the $25,000 grand prize as part of a FedEx Facebook contest. The new...

Italian Air Force Museum Begins Fiat G.59 Restoration - Warbirds News | Based on an Italian Language submission by Marco Gueli | In a recent announcement, the Italian Air Force Museum has decided to begin restoring their FIAT G.59 MM 53276, exhibited for many years at Vigna di Valle. While the paint is a little worse for wear, the structure appears in good condition thankfully...

Savoring the Swift- General Aviation News | Pilots often have two dreams: One is to find a derelict airplane in a barn and restore it to an airworthy showpiece; the other is to find someone who shares their passion for aviation. Paul and Sandy Mercandetti from Knoxville, Tenn., are lucky enough to have had both dreams come true. The couple flies around the country in a 1946 GC1-B Globe Swift model 1-A that Paul found in a shed years ago....

Presentation to detail CAP's efforts after Sandy - General Aviation News | The Aviation Museum of New Hamphire's ongoing Second Saturday series will present Col. William Moran, commander of the New Hampshire Civil Air Patrol, who will present a report on the photo-mapping missions
carried out in the wake of Super Storm Sandy, on Feb. 8...

Where's your head at? - Apron 6 | More photos at link

Miniature WWII Warbirds take to the skies over Chobham Common - Get Surrey | Flying through the skies, the aircraft of the Chobham Common Model Fliers Association make for an awesome sight...

'The Aviators' soars to new heights in Season 5 - General Aviation News | The Aviators television series has just started production on Season 5. The series, which made its debut in the fall of 2010, has aired in the United States nearly 40,000 times to an average audience of 10 million PBS viewers each week. Today, the show airs in more than 100 countries, reaching 50 million viewers worldwide....

EAA AirVenture 2013 – SocialFlight by David Allen | In this episode, we talk with Jeff Simon of SocialFlight, a free mobile app that provides pilots with an interactive map of aviation events. SocialFlight empowers pilots and aviation enthusiasts alike to find local events, chat, upload event photos and network with other SocialFlight users.

Women with disabilities invited to learn To fly - General Aviation News | Women with physical disabilities are encouraged to apply for full-ride flight training scholarships from Able Flight. Stephany Glassing"With training beginning in May, there is still time for people who act quickly to apply," said Charles Stites, executive director of the aviation non-profit. "We are hopeful that this will include applications from women candidates...