Photos: Cable Air Show 2014 - Upland - 01/11/14
- Fence Check
Bahrain International Airshow 2014 updates announced
- Bahrain News Agency | ...Some of the confirmed attractions include UAE's Al Fursan Aerobatic Team, the Hawks from Saudi Arabia, the Breitling Wingwalkers, the SWIP Twister display team with their amazing night-time display, and the Red Devils parachute display team...
Spitfire to star at air show
- Gulf Daily News | MANAMA: Nearly 80 tonnes of equipment and 10 aircraft, including a Spitfire, have been unloaded at Sakhir Airbase in preparation for this weekend's Bahrain International Airshow. The majority of aircraft arrived by sea for assembly in Bahrain, but four small acrobatic planes were transported by air freight, according to official event logistics partner DHL...
Aviators fly in to thrill crowd
- Northern Star | THE growl of radial engines and the whistle of wind
over wings heralded the start of the annual Great Eastern Fly-In at Evans Head over the weekend. According to organiser Gai Taylor, who has led the volunteer effort for the past nine years, last weekend's event was one of the biggest, with grand weather to match...
The Honor Flight Network
- Town Hall | ...Nearly 1.7 million WWII veterans are living today, and the Honor Flight Network exists to make sure they are not forgotten. Since 2005, this nonprofit organization has flown nearly 100,000 service members to visit the World War II memorial in Washington, D.C...
Hahnweide B&W
- Apron 6
'Miracle on the Hudson' pilot at Jan. 16 EAA museum free speaker series
- The Oshkosh Northwestern | 16, at the EAA AirVenture Museum in Oshkosh. All presentations begin at 7 p.m. in the museum Founders' Wing, with no cost for admission. A "beyond the ropes" museum tour will immediately follow the free public presentation. Skiles was First Officer ...
Unique reunion makes everyone happy at HEARTS Veterans Museum
- Huntsville Item | ...Wagamon and Fred Woltkamp, members of the B-25 Mitchell Bombers that carried out missions over Italy and Germany, never saw each other after the early 1940s. But the two kept in touch for more than 50 years, even up to just two days before Woltkamp's death...
B-17E "Desert Rat" Restoration Update
· Warbirds News | A new benchmark has been reached for the Desert Rat, B-17e Flying Fortress restoration. The "turtle deck" is now fully sheathed in aluminum. Due to extremely cold temperatures, work in the hanger has slowed, but we are able to stay productive fabricating needed Plexiglas units in the heated shop....
The Final US Air-to-Air Victory of The Vietnam War
· WarbirdsNews By Aviation Enthusiasts LLC | Forty-one years ago today, an Navy F-4B Phantom II from the "Chargers" of Fighter Squadron ONE SIX ONE (VF-161) scored the 197th and final US air-to-air victory of the Vietnam War. While operating from the USS Midway (CVA-41), "Rock River 102″ crewed by Lieutenant Victor Kovaleski and Lieutenant (junior grade) James Wise downed an MiG-17 with an AIM-9 Sidewinder. The...
A Look Back • Mystery hero fighter pilot over Germany in 1944 was St. Louisan
- Suburban Journals | ST. LOUIS • A hometown fighter pilot was to lead a new long-range squadron escorting America's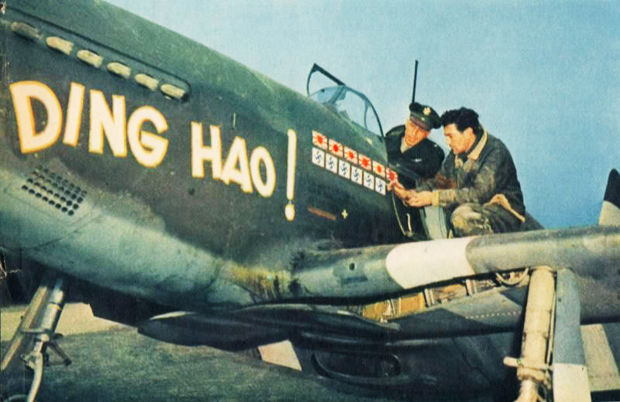 vulnerable heavy bombers over Europe. News accounts speculated on the "hot new fighter" they would fly. Army Maj. James H. Howard, 30, of St. Louis, had graduated from John Burroughs School after his family returned from medical work in China. He earned his wings in the Navy and, six months before Pearl Harbor, joined the Americans of the "Flying Tigers" over China, fighting the Japanese in a P-40 Warhawk...
Aviator Charles Lindbergh tours the world, visits Idaho
- Coeur d'Alene Press | Charles A. Lindbergh was one of the world's greatest pioneer aviators. He lived a life of adventure, danger, fame and great triumphs, but it was also a life dogged by controversy and tragedy. He was an American icon who left his mark everywhere he went - including in Idaho....
Butch O'Hare Exhibit with a perfect Grumman F4F Wildcat
by travelforaircraft | Chicago's O'Hare International Airport installed an exhibit a handful of few years ago which is a restored Grumman F4F Wildcat honoring namesake Edward Henry "Butch "O'Hare which compliments the Douglas SBD Dauntless. Both aircraft are on opposite ends of the walkway connecting Terminals 1 and 2 with the F4F near to Terminal 2...
Here's the video of the B-52 bomber flying without its fin
- The Aviationist | As explained on a previous post, on Jan. 10, 1964, a B-52H lost its vertical tail during a test mission over North Mexico. The aircraft was able to land six hours later and here's a video showing the first and only "tailless" Stratofortress.
Sky Whale
from Yanko Design | The latest from aviation enthusiast Oscar Viñals, the AWWA "Sky Whale" concept aircraft explores the use of hybrid engine technology and active airflow wings. The unique wing system is longer from tip-to-tip and includes an integrated turbine near the fuselage which redirects laminar airflow while producing supplemental energy for the hybrid engines. Looks like an ultra-modern Spruce Goose!
Camp gives cancer kids summer fun
- Sault Star | Jordan, who loves machines, was able to fly a plane when the Young Eagles program visited Camp Quality. Activities include arts and crafts, tree climbing, fishing, science activities and daily morning stints making chocolate or cupcakes – after breakfast...