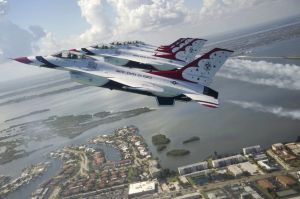 USAF Thunderbirds to headline March 15 to 16 Luke AFB open house
- Peoria Times | Luke AFB will host "Luke Days 2014," an open house and air show March 15 and 16. The U.S. Air Force's premier aerial demonstration team, the Thunderbirds, will headline the weekend's activities with performances both days...
Update for record setters.
- Mojave Experimental Fly-in | There are now 9 aircraft interested in setting records at the event! This is awesome! In response to some of the questions from the weekend I talked to the NAA this morning, see below...
VIDEO: Virtual "ride of a lifetime" in Typhoon Jet Fighter
- Lincolnshire Echo | In 2010 Metropolis created the world's first 3D jet aerobatic experience with the RAF Red Arrows. It has just signed a contract WITH Brooklands Museum in Surrey to create a unique 3D point of view film with its vintage world record breaking Napier ...
Interview With Gen. Chuck Yeager – From The Archives
- Photorecon.net | Listen along as our own DrSky interviews Chuck Yeager about many different topics.
WWII Female Air Force Pilots Still Flying High
- You Fly, Girl | ...During World War II, a group of women took a bold step in aviation. While male pilots were sent overseas, the Women Air Force Service Pilots took up the war effort on the home front. From 1943 to 1944, they logged over 60 million miles across the U.S., flying 77 types of military aircraft to haul supplies and conduct training exercises....
Original Rosie Recalls Douglas, Boeing Work
- Gazette Newspapers | Hanson, who came to Douglas at 19 years old with only some work as a soda jerk on her resume, said she wound up working on everything from B-17 Flying Fortresses used by the Allies during World War II, to MD-11 commercial jetliners, to C-47 Skytrains.
The wedding dress that saved airman's life at the close of WW II
- War Tales | When Bill Bingham bailed out of "Lemon Squirts," his doomed B-24 "Liberator" bomber over northern Italy on Mar. 4, 1945, he never considered the possibility the silk parachute that saved his life would become a family heirloom. About a year later, the parachute he used to escape the disabled bomber provided the material for his […]
Timeless Voices - Bruce Ware
· eaavideo.org | Bruce Ware served in the U.S. Air Force from 1960 to 1989, with 12 of those years flying rescue helicopters in Spain, Germany, and Vietnam. In 1972, he flew a Sikorsky HH-3E on a rescue mission to recover Charles Lindbergh from Southern Mindanao.
MAAM's P-61 Black Widow Restoration UPDATE
– Warbird Radio LIVE! – Ep 531 - WarbirdRadio.com | WARBIRD RADIO – Russ Strine joins Matt Jolley with an update on the Mid-Atlantic Air Museum's P-61 "Black Widow" restoration. MAAM's P-61 will soon become the only flying example of the famous WWII era night fighter. Russ also unveils some big news about their upcoming WWII Weekend! Over a thousand re-enactors, 80 period airplanes and […]
Warbird Restoration
- The Lexicans | ...A striking example of this artistry is one Curtiss P-40C Tomahawk that survived a crash landing in 1942 to emerge as an award-winning restoration indistinguishable from the day it rolled off the Curtiss assembly line in 1941. The restoration shunned the iconic, but now ubiquitous, "Flying Tiger" shark's mouth paint scheme to create instead a rugged-looking US Army Air Corps fighter of the type that rose to meet Japanese warplanes over Pearl Harbor on Dec. 7, 1941....
Andy's Parts Collection Part II
- WarbirdRadio.com | WARBIRD RADIO – Andy Heins is at it again… He's been digging up some real treasures this winter and proud to offer the items below. Take a look! 1. The "Real Deal" – Curtis JN-4 "Jenny" Wheels: Just think of the barnstorming stories these things could tell! If you're a Waldo Pepper fan these are […]
On this day in 1968 a B-52 crashed in Greenland with 4 hydrogen bombs
- The Aviationist | On Jan. 21, 1968, a B-52G Stratofortress belonging to the 380th Strategic Bomb Wing from Plattsburgh Air Force Base, New York, crashed in in Greenland in what is remembered as the second "Broken
Arrow" incident (yes, that codeword is not only used in movies)...
Transformers: Age of Extraction
· Craig Hoyle, The DEW Line | We've had a couple of interesting – and in some ways overlapping – stories on our defence channel since the end of last week about the future of personnel rescue....
An Astronaut's Guide to Life on Earth
- General Aviation News | Astronaut Chris Hadfield has logged nearly 4,000 hours in space. A recent 144 days stint as commander of the International Space Station (ISS) saw him post hundreds of spectacular images to Twitter (@Cmdr_Hadfield) which earned him more than 1 million followers...