Classic planes put on show at Tauranga City Air Show By Natalie Dixon | A naval aircraft designed to hunt out enemy submarines, a 1965 Hercules and a legendary World War I British fighter plane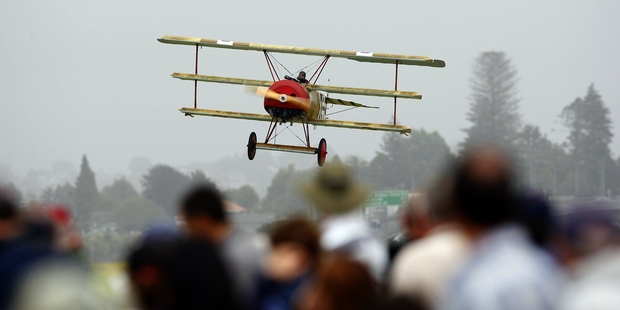 drew thousands to the Classics of the Sky Tauranga City Air Show yesterday. Day two of the biennial event started with the Royal New Zealand Airforce Kiwi Blue parachute display team dropping in on the huge crowd, which showed up despite the wet weather....

2014 WAI Pioneer Hall of Fame Inductees Announced - Women in Aviation International Connect | We're proud to announce that four more inspiring women will be inducted into WAI's Pioneer Hall of Fame this year. Col. Nancy Currie (ret.), Beryl Markham, Dr. Sally Ride, and Sheila Scott will be honored in a ceremony during the closing banquet of the 25th Annual International Women in Aviation Conference on March 8 at Disney's Coronado Springs Resort....

Our View: Blue Angels are welcome winter attraction - Imperial Valley Press | Aside from the mild temperatures, our sun-kissed skies also have the added attraction of being the training ground for the U.S. Navy's Blue Angels, a sight that has had local necks craning for 50 years running. The Blue Angels' return to Naval Air ...

Buy Airshow Program Online! - Planes Of Fame News | For Air Show 2014, you can buy your Airshow Program online when you buy your ticket.

Sting in the Tail - Waddington International Airshow by Charles Skiera | Visitors to RAF Waddington's 20th International Airshow are guaranteed to go home stinging after this years show, even if the sunny weather doesn't show in 2014. The first aircraft to confirm for the show, being held over the 5th & 6th July, comes in the guise of the Swiss Air Forces F18 Hornet and like its smaller black and yellow name sake, it packs a mighty sting. Designed in the USA during the 1970's and 1980's the F-18 Hornet family have been used by Air Arms across the globe and continue to be one of the best and most manoeuvrable fast jets in the world...

Swiss Air Force fighter F/A-18 for airshow - Times of Malta | The F/A-18 Hornet Solo Display from the Swiss Air Force will be taking part in this year's Malta International Airshow in September, the organisers said. They said on their webpage that it was the first time that the airshow would have F/A-18 in flying ...

Reno business, civic leader T.J. Day remembered for philanthropy, family - RGJ.com | ...At the time of his death, he was serving on the boards of the Reno Air Racing Association, Nevada State Athletic Commission, Boy Scouts of America Nevada Area Council, Linfield College, the W.M. Keck Foundation, the W.K. Day Foundation, Western Exploration & Development, Ltd., and the Stevenson School. He was also a member of...

Aviation museum to offer WWII veterans free flights - Shore News Today | LOWER TOWNSHIP – The Yankee Air Museum (YAM)'s B-17 Yankee Lady based in Detroit, Mich. will once again visit Naval Air Station Wildwood (NASW) Aviation Museum on June 9-11. The museum partnership will honor World War II Veterans by offering ...

Military forensic lab hopes to positively identify WW2 soldier - News Item | The remains in the casket are believed to be those of Sgt. John M. Nolan, 22, of Mount Carmel, Pa., who died May 18, 1944, when his B-17 bomber was shot down near Mostar, Yugoslavia. Nolan was an Army Air Forces photographer aboard the "Daisy Mae"...

Black Wings: American Dreams of Flight - The-review | The "of course" was in response to learning about some of the early African-American pilots who existed and are honored, such as pioneer aviatrix Bessie Coleman, World War II's Tuskegee Airmen, and astronauts Mae Jemison and Joan Higginbotham; and ...

New England Air Museum To Hold a Presentation on the Search for Amelia Earhart · Warbirds News | The New England Air Museum in Windsor Locks, Conn., will hold Open Cockpit Day on Sunday, February 16th. On that day visitors will be permitted to climb into the cockpits of up to twelve vintage airplanes including two supersonic jet fighters, the Vietnam era Huey helicopter, the WWII P-47 Thunderbolt, the Vintage DC-3 airliner, and more. Also, as part of the...

AirPigz MeetUp At The Naval Aviation Museum - Blue Angels A-4 Formation (CoolPix) - AirPigz |
The AirPigz avgeek museum MeetUp for 2014 is under way in warm and sunny Pensacola Florida even tho there isn't all that much warmth or sun down here right now. Of course compared to the bitter cold and snow back home in Indiana, it's pretty awesome here. We started the...

Mystery of the Mon's missing Mitchell by Bill Eggert For The Tribune-Democrat — Imagine you are driving home from work around 4 p.m. on a cold January afternoon. As you enter the bridge crossing the river you see a vintage World War II bomber, a B-25 Mitchell, come out of nowhere and fly over this bridge, clearing the bridge by about 30 feet. The plane splash lands in the frigid river, and boats scamper to the plane, rescuing four of the six men. During the next few weeks divers search in vain for the sunken bomber. Conspiracy theories abound, the plane now dubbed the "ghost bomber." What sounds like a mystery novel was, in fact, a real life incident, occurring 58 years ago this week, on Jan. 31, 1956, in the city of Pittsburgh...

de Havilland Dove — England's first post WW II airliner design by travelforaircraft | De Havilland's Dove was produced shortly after WW II's end in order to fulfill a need for a feeder airliner and it was quite successful with almost 550 produced — split 4 civilian for 1 military (Devons and Sea Devons) — and flown in many countries around the world. Aerodynamically clean with twin engines, and able to carry 8–11 passengers for 880 miles (~1400km) economically, Doves served their owners well....

Air & Space Magazine:
The F-16's First Flight
The Outrageous Adolescence of the F-16

"Podcast Fixation" UCAP #348 | Good landings at wrong airports... NTSB's 2014 10 Most Wanted List... It's COLD in Florida... Remembering Henry Ogrodzinski... 3 planes we saw at Sebring... Video of Aspen bizjet crash... Shoutouts: To Jack, Champguy's AVG, Progress at Venice FL, UCAP Forums restored, Amy's blog. All this and more on the Uncontrolled Airspace General Aviation Podcast

A Time-Honored Naval Avaitor's Tradition - The Lexicans | ...The author introduced me to a practice, apparently steeped in naval tradition, known as "zapping". Zapping is the act of placing one's squadron sticker in the most unlikely of places....

Extremely rare: U.S. Navy plane lands on snow-covered aircraft carrier's flight deck - The Aviationist | Arrested landings on the moving flight deck on an aircraft carrier can be extremely tricky in several conditions. At night, when the horizon is not clearly visible and pilots have almost no visual reference until they are on short final. In bad weather, especially when there are low clouds, thunderstorms, fog, etc. Or during a snow storm, when the flightdeck is covered and made slippery by snow....

Winning Images Of The Royal Air Force Photographic Competition On Display At The RAF Museum · Warbirds News | The winning from the 2012 Royal Air Force Photographic Competition are on display at the Royal Air Force Museum London's Colindale .The Royal Air Force Museum is celebrating the superb achievements of Royal Air Force Photographers following the judging of the Royal Air Force's annual Photographic Competition which is now in its 24th year. The Museum is...

Photographing air shows: It helps to have a big lens - Seacoastonline.com | Photographers love airplanes, especially air shows. Here in the Seacoast, we were fortunate enough to have five consecutive shows at Pease with a few including the Blue Angels and Thunderbirds. I photographed each airshow and spent as much time as...

Midwest Aviation Conference and Trade Show Hosts Learn to Fly Day - The Aero Experience | The Midwest Aviation Conference and Trade Show (MACTS) continued today with day two of the Flight Instructors Revalidation Clinic and the annual Learn to Fly Day activities, all sponsored by the Greater St. Louis Flight Instructors Association (GSLFIA). The second day of the MACTS traditionally features exhibits that encourage youth to...

Day 11 - January 18, 2014 - TeenFlight! | Things were once again alive and active here at the hangar.

Explore the edge of space with 'Red Bull Stratos' exhibit at National Museum of the U.S. Air Force - National Museum of the USAF | DAYTON, Ohio -- Just over a year ago, Felix Baumgartner
ascended to 127,852 feet in a stratospheric balloon and made a freefall jump, rushing toward earth at supersonic speeds before parachuting to the ground. This amazing mission broke world records and holds the potential to provide valuable medical and scientific research data for future pioneers. From Jan. 24-March 16, visitors to the National Museum of the U.S. Air Force can...

Dream Chaser Space Plane Will Fly in 2016 - Popular Mechanics | Dream Chaser Space Plane Will Fly in 2016. January 23, 2014 at 4:58:00 PM by Joshua A. Krisch | Comments. Email. Comments. Share · Dream Chaser, the private space plane built to shuttle astronauts and cargo to the International Space Station, is ready...

Astronauts Waiting for a Ride - Air & Space Magazine | Last August, at a ceremony at the Johnson Space Center in Houston, NASA introduced its eight newest astronaut candidates. NASA Administrator Charles Bolden and center director Ellen Ochoa—both former astronauts—welcomed the new arrivals with rosy predictions for long, varied careers that would include flights to the International Space Station on a new American-made commercial spacecraft beginning in 2017, as well as missions beyond Earth orbit in the Orion Multi-Purpose Crew Vehicle....