2000 free air show tickets for students - Gulf Daily News | MORE than 2,000 students will be given free tickets to the upcoming Bahrain International Air Show (BIAS)...

AOPA Announces Dates and Locations for Regional Fly-Ins Across the U.S. - AviationPros.com | Frederick, MD – The Aircraft Owners and Pilots Association (AOPA) today announced the dates and locations of its first-ever regional fly-ins to be held nationwide throughout 2014. The Association will host six fly-ins as well as an "AOPA Homecoming" in Frederick, Md., giving AOPA members throughout the United States a chance to interact and share ideas with AOPA President Mark Baker, mingle with one another over breakfast and lunch, and take part in safety briefings, aviation clinics and flying activities...

Velasco Unveils Real Paint Scheme For McGuire P-38 – Warbird Radio LIVE! – Ep529 | Gary Velasco from Fighting Colors.com unveils a new collector panel featuring Major Thomas McGuire's P-38 "Pudgy". Major McGuire was one of the most decorated pilots to in WWII and according to Velasco, history hasn't always portrait his airplane correctly. Gary sets the record straight and shares the evidence he's uncovered...

Volunteers restoring WWII bomber Superfortress - Topeka Capital Journal | T.J. Norman, the volunteer project manager, hopes the public will see Doc in the sky above July's AirVenture in Oshkosh, Wis. "I think it's doable," Norman said. "I can't promise we'll make it, but we're sure going to try." Still, the project needs ...

In World War Two our readers helped buy 17 Spitfires, now the famous fighter needs your help again - Belfast Telegraph | Seventy years ago, Belfast Telegraph readers reached deep into their pockets and made an unprecedented contribution to the war effort funding raising enough money to buy 17 Spitfires. Today we are asking you to help fund a small society's efforts to bring the spirit of these iconic planes home again...

Gone West: WWII Fighter Pilot William Overstreet Jr - Aero-News Network | Famously Flew Through The Eiffel Tower In Pursuit Of A German Plane | A WWII P-51 pilot who became famous for flying his airplane through the arches of the Eiffel Tower in pursuit of a German Messerschmitt Bf-109G during the war passed away last week in Roanoke, VA. William Overstreet Jr. was 92 years old...

The Weather Channel's Tribute to Bill Overstreet · Warbirds News | Warbirds News was contacted to assist the Weather Channel in the making of this short tribute clip to Bill Overstreet who recently died...

Memorial honors Garry Davis - 'Citizen of the World' - vt.Buzz | Garry Davis of South Burlington was remembered at a memorial on Sunday as a man who was born without borders and died without borders. Davis, a former bomber pilot in World War II, was featured in Life Magazine in 1948 after becoming an instant celebrity for renouncing his American citizenship and declaring he was a "Citizen of the World." People were astonished that somebody could do this,? said Robin Lloyd, an organizer of the memorial. About 30 friends and fans attended the service at the Firehouse Gallery on Church Street in Burlington...

Video: Fly On The B-24 "Diamond Lil" - Warbird Radio

Aviatrix in awe of Holmes - The New Zealand Herald | Sir Paul Holmes' former flying instructor has tackled one of the greatest aviation feats - from South Africa to England in an open cockpit biplane. British aviatrix Tracey Curtis-Taylor, whose mother and sister live in Auckland, left Cape Town on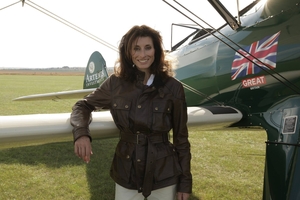 November 2 on the epic two-month adventure in a restored 1942 Boeing Spearman biplane. She landed in Goodwood, on England's southern coast, on New Year's Eve....

The Second Volume Of John Brennan's Vietnam War Helicopter About To Hit The Market · Warbirds News | Less than five weeks remain before the publication of "Vietnam War Helicopter Art: U.S. Army Rotor Aircraft- Vol 2″ by John Brennan.After the success of the first volume the new photo-book will be published by Stackpole this coming February 1st. The first volume had...

SMITHSONIAN AIR AND SPACE MUSEUM - The Daily Star | Spacecrafts and fighter jets have fascinated enthusiasts for decades. For all such devotees of air and space travel, the Smithsonian Air and Space Museum is the one, the epicentre to discover and see all the history behind human conflict. A large facility of the museum known as the Steven F Udvar Hazy Center is located just beside the busy Dulles airport in northern Virginia...

Saratoga foundation, Quonset Air Museum get RI legislative grants - The Providence Journal | The Quonset Air Museum and the USS Saratoga Museum Foundation have received legislative grants, state Sen. James C. Sheehan announced on Monday. The Saratoga foundation will use a $1,300 grant to help offset consultant costs for its project to convert a retired Navy aircraft carrier into a nonprofit floating museum...

Let's do the airplane shuffle! - Bayou Renaissance Man | It looks like the long, convoluted saga of the US armed forces' C-27J Spartan airlifters has finally been resolved. It began in 2005 when the US Army, dissatisfied with the tactical airlift service it was getting from the US Air Force in Iraq and Afghanistan, decided to replace its worn-out C-23 Sherpa transports with more modern, more capable aircraft. If it couldn't get the USAF to fly its people and cargoes when and where it needed them, it would do so itself...

EAA AirVenture Oshkosh 2013: Cold Weather Themes - TrickAir Snow Skis and Polar Flight 90 - The Aero Experience | The Aero Experience coverage of EAA AirVenture Oshkosh 2013 continues into the new year! In the first few days of 2014, many of us in the Midwest have experienced some very harsh winter weather, and we thought this might be a good time to review the exhibits related to cold climate flying. For those who are adept at landing in snow, the...

Sightings: Columbus Blue Jackets DC-9-32 in St. Louis - The Aero Experience | The Columbus Blue Jackets hockey team was in town again yesterday to play the red-hot St. Louis Blues (the Blues won 6-2). The team's aircraft, a 1979 McDonnell Douglas DC-9-32, was hosted by Jet Aviation at St. Louis Downtown Airport just across the Mississippi River from the Scottrade Center venue in downtown St. Louis. The venerable DC-9...