Sequester isn't stopping Thunderbirds from serving community - KTNV Las Vegas | But the United States Thunderbirds are grounded because of the Sequester. But, the elite 6-pilots and 130 people who keep them in the air are still making us proud. They are majestic to watch and they bring us to
our feet. But the U.S.A.F. Thunderbirds...

Volunteers key to success of Salute to Veterans air show - Columbia Missourian | The air show, which begins at 9:30 a.m. on Saturday and Sunday at Columbia Regional Airport, is a two-day free event funded by private and corporate donations. The celebration, in its 25th year, will feature displays of rare aircraft, parachute and ...

Bethpage Air Show Kickoff Celebrates Reopening of Jones Beach Boardwalk - Patch.com | "It was an amazing effort by a lot of different people," said New York State Parks Deputy Regional Director George Gorman during a press conference on the Jones Beach Boardwalk as performers for this weekend's air show conducted practice runs in the...

Solar-Powered Plane Completes Flight, Breaks Distance Record
- iTech Post | The cross-continental journey will allow the team to gather crucial data on how solar-powered electric aircraft handle. Data which will likely be folded into the team's ultimate goal: circumnavigating the globe in 2015. And Borschberg's journey...
Breitling Wingwalkers Oostwold Airshow 2013
via TAKEOFF TUBE | They are undeniably charming, the 'wing walk' ladies on the upper wings of the Stearmans. But they do... [more from Oostwold on right column!]
BOTSWANA AIR SHOW THRILLS
- The Voice Online | Organizers of the annual Botswana Air Show are already planning a bigger and better show for next year after an overwhelming response in Saturday's event. Thousands of people turned up for the
second installment of the show at Matsieng airfield in...
Frecce Tricolori FB
: This is the "Patrouille des Patrouilles" (Patrol Patrols) in flight over Payerne September 4, 2004, formed by five aerobatic teams from different European countries: Red Arrows, Patrulla Aguila, Patrouille Suisse, Team 60, and of course our Frecce Tricolori!
Air Zoo gives family-friendly rides on historic airliner for Memorial Day weekend
- Kalamazoo Gazette - MLive.com | The Boeing B-17 Flying Fortress is offering 30-minute rides for $425 per person and the B-25 Mitchell is giving 30-minute rides for $400 per person. The Air Zoo's Tri-Motor was No. 58 on the assembly line of the 199 airliners that were built. The Ford...
B-17 bomber rides and tours
- KOB.com | The WWII B-17 bomber, "Sentimental Journey" is scheduled to be on display and available for rides and tours at Albuquerque International Sunport from May 24 through 27. "Sentimental Journey" has performed various missions, from military reconnaissance...
Historic B-17 returns Saturday, May 25 through Monday to offer rides
- Highline Times | The "Aluminum Overcast," the Experimental Aircraft Association's (EEA) restored B-17 bomber, returned to Boeing Field to offer rides May 25 - Memorial Day. Pictured left is WWII B-17 pilot, Ken Wheeler, 90, of Gig Harbor, with current B-17 pilot, Rick ...
New Jersey governor declares May 'General Aviation Appreciation Month'
from General Aviation News | New Jersey Governor Chris Christie has declared May "General Aviation Appreciation Month." The proclamation highlights general aviation's substantial economic benefits and contributions to public safety. The general aviation industry in New Jersey contributes $1.7 billion to the economy annually.
Lockheed SR-71A
from Air & Space Magazine | Cockpit 360... (Also P-40)
Area 51: Origins
- AirSpaceMag.com | America's once-secret air base had humble beginnings. | The U.S. Air Force base in southern Nevada, known unofficially as Area 51, is where some of the world's most advanced aircraft have been flown and tested. Over the years, the base has engendered dozens of conspiracy theories, in part because of rumors of preserved alien corpses stored on the premises, but also due to
reports of exotic aircraft that seem to defy the laws of physics. No wonder the base is also known as "Dreamland."...
Bush Pilot Hall of Fame
- Air & Space magazine | Meet the pilots who created the Alaska bush pilot legend. | Russel Merrill | Of the several pilots who pioneered flying in Alaska, perhaps the one who led the most romantic life is the one whose death at an early age remains mysterious. Iowa native Russ Merrill earned his wings on March 12, 1918, from the U.S. Navy, then worked as an engineer in San Diego and found a business partner, Roy Davis, who owned a Curtiss Model F Seagull flying boat. The two young men went to...
PBY-5A ARRIVES AT AMERICAN AIRPOWER MUSEUM
- YouTube | As part of its commemoration of Memorial Day, a PBY-5A arrives at the American Airpower Museum in Farmingdale, New York.
Roaring Glory Warbirds: A6M5 Zero
from Travel for Aircraft by joseph_may | Roaring Glory Warbirds: A6M5 Zero Roaring Glory Warbirds: A6M5 Zero, 1998, 103 minutes This is a delightful DVD made by people who have a love for the Planes of Fame Museum's Mitsubishi A6M5 Type 0 – known to the western world as the Zero. Pilot Steve Hinton describes the Zero in terms only a person…
Air Force Week in Photos
from Air Force Link Top Stories | This week's photos feature Airmen around the globe involved in activities supporting expeditionary operations and defending America. This weekly feature showcases the men and women of the Air Force.
Special colored CH-47 Chinook helicopter to celebrate the 40th anniversary of "Cino"
from David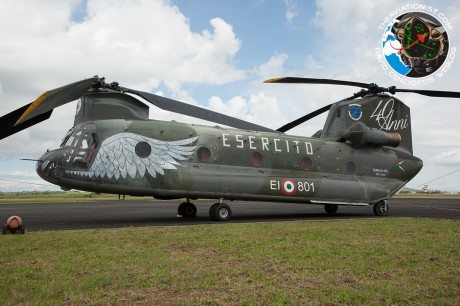 Cenciotti's weblog | On May 17, the Italian Army celebrated the 40th anniversary of the CH-47 Chinook ("Cino" as it is nicknamed in Italy) helicopter with a ceremony held at Viterbo airport....
History of Military Aviation Honored, Kept Alive in Carthage
- Southern Pines Pilot | The president of the Commemorative Air Force (CAF) flew in for a visit last weekend. On Saturday, CAF President Stephan C. Brown visited Roland Gilliam's Gilliam-McConnell Airfield in Carthage to speak to members of the Experimental Aircraft ...
Aviation history program at Warren Library on June 1
- Independent Press - NJ.com | Out of nearly 4,000 B-29s built, only one is still flying -- the Commemorative Air Force's FIFI. This illustrated presentation covers the history of the B-29 with historic photos, from its development to its operations during WWII and Korea, as well as...
Area woman's book collection of aviator grandfather's technical writings
- The Independent | GRAYSON — All her life, Barbara Sellers gave much thought to flight. "Ever since I was a child, I have been fascinated with aviation," she recalled. "I would just stare up at the airplanes flying over and wonder how they flew." It runs in the family....