An Annapolis tradition, grounded - Baltimore Sun | The Blue Angels have performed during commissioning week and then saluted the graduates just about every year since 1954, but they haven't done a full-scale performance in Annapolis since 2010...

Canadians, Warbirds to the Rescue at Jones Beach Airshow - Patch.com | The Bethpage Federal Credit Union announced its roster for the 10th annual airshow that includes the Royal Canadian Air Force Demonstration Team, numerous aerial acrobatic displays and a flying armada of World War II era planes from Farmingdale's ...

AUO Air Show Success from Alabama Aviator - Aviation News | AUBURN UNIVERSITY AL-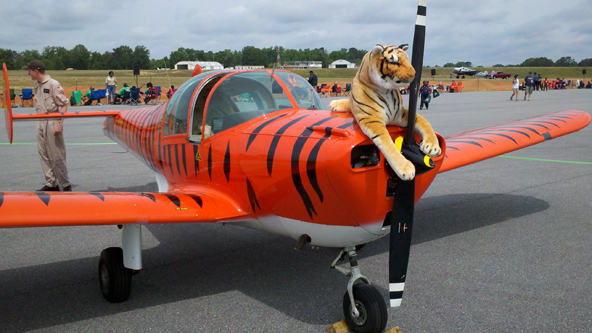 Threatening clouds couldn't keep thousands of aviation-minded spectators from the 2013 Auburn Opelika Air Show Saturday. Lee County Commissioner Judge Bill English and Auburn Mayor Bill Ham welcomed the crowd and thanked the sponsors and volunteers for helping put on the event...

Red Devils to drop in for Air Festival - Bournemouth Echo | THE Red Devils parachute team will light up the night sky at this year's Bournemouth Air Festival for the first time – thanks to support from the town itself. The team, which was due to jump in 2010 but couldn't because of the weather, will perform a ...

CAF Announces Search for New National Airbase Location - PR Web | The Commemorative Air Force (CAF) today announced plans to establish the CAF National Airbase at a major metropolitan area and its intent to launch a nationwide search immediately. The new facility, described by CAF officials as an "Airbase," will contain a year-round aviation attraction, house CAF Staff and support volunteer CAF members who will organize and execute an annual warbird air show/fly-in. This new Airbase will also serve as a base of operations for some of the CAF's most significant flying vintage military aircraft...

Gary Honors Tuskegee Airman - Inside INdiana Business | A B-25 bombardier with the legendary black World War II Tuskegee Airman Army Air Corps, 1st Lieutenant Smith and 100 black officers were arrested at Freeman Field in Seymour, Indiana for defying orders not to enter the officer's club. After his...

Anniversary: Attack on Ruhr Dams by Aircraft of 617 Squadron on the Night of 16-17 May 1943 -
RAF | A new squadron was formed at Scampton on 21st March 1943, initially known as "X" Squadron and latterly as 617 Squadron, and the 24 year old Wing Commander Guy Gibson was personally selected to lead it by none other than Air Chief Marshal Sir Arthur "Bomber" Harris, the Commander-in-Chief of Bomber Command. Gibson had flown 71 bomber sorties and...

Museum Participates in Weekend Events Promoting Aviation and Transportation from News | The Greater St. Louis Air & Space Museum participated in two programs promoting aviation and transportation in the St. Louis area. On Friday, the museum presented the F-4 Phantom II cockpit at the "Careers on the Move" program at J.L Mudd Elementary School in O'Fallon, MO. About 400 elementary school children were...

A Gee Bee Built For Two! Replica Q.E.D. By Jim Moss from AirPigz by Martt | Jim Moss from the Seattle area is no stranger to building replicas of fabulous aircraft from the Golden Age. His Laird Super Solution from back in 2000 showed he's got the skills for this kind of work - check out this link about his Laird from another Super Solution builder Pete Groves (info on Jim's starts at pic 3 on that page). And now, his replica of the big Gee Bee, the 1934 Q.E.D. appears to be either complete or very nearly so. Wow, that's one big and beautiful airplane!...

Dreams on Wings 2013 Video from Alabama Aviator - Aviation News | ANG-BIRMINGHAM AL- "Giving children faced with serious illness the experience and joy of flight which pilots feel privileged to share" is the motto for Dreams on Wings. Area pilots donate their planes and time to fly each child and their family for a 45 -minute ride around town. That is the highlight of the days events but there is so much more.

Meet astronaut Kevin Ford at the Museum in Washington or on NASA TV: www.nasa.go... from National Air and Space Museum, Steven F. Udvar-Hazy Center, Smithsonian's Facebook Wall Meet astronaut Kevin Ford at the Museum in Washington or on NASA TV: www.nasa.gov/ntv on Tuesday, May 14 at 1 pm. Commander Ford was the pilot on one shuttle mission (STS-128), one Soyuz mission (Soyuz TMA-06M), and two ISS expeditions (33-34). Get a...