Solar Impulse Lifts Off on First Leg of Cross America 2013 Tour by Dean Sigler | With Bertrand Piccard at the controls, Solar Impulse completed its motor runups a few minutes before its scheduled 6:00 a. m. PDT takeoff. The project commentator in Switzerland noted that Piccard looked "a little pensive" in the minutes leading up to the historic departure from Moffett Field in Mountain View, California....

The 'Solar Impulse' Electric Flight Across America Is Underway! from AirPigz by Martt | Back in July 2010, the Swiss designed and built Solar Impulse all-electric aircraft made an amazing 26 hour overnight flight (video recap of that flight here) - and early this morning, May 3, 2013, the airplane departed Moffet Field in Mountain View California on a journey across the United States of America. It's a multi-leg trip with the first stop at Sky Harbor Airport in Phoenix Arizona... expected arrival is after midnight local time. The aircraft had just entered Arizona when this post went live....

'Jetman' to perform at 50th Reno Air Races (watch video) - Reno Gazette-Journal | He unveiled the technology during a private demonstration over the Grand Canyon in 2011 and has since soared above Rio de Janeiro, crossed the English Channel and flown in formation with various Breitling jets, warbirds and passenger aircraft....

Navy: Blue Angels fundraisers not tied with service, museum - NavyTimes.com | Officials with the Blue Angels and the National Naval Aviation Museum are disavowing any connection with a Pensacola, Fla., group called Save Our Blues that is soliciting money on their behalf. Further, state records indicate that Save Our Blues isn't ...

Rotary Club unveils memorial marker for famed aviator Jimmy Leeward - Ocala | Known locally for developing Leeward Air Ranch, a residential airfield in southeast Ocala, Jimmy Leeward died in a plane crash at the Reno Air Race in September 2011. "After Jimmy passed away, we were in the process of working at the park," DeBolt said....

Coming Soon To A City Near You ... Despicablimp! from Aero-News Network | Giant Flying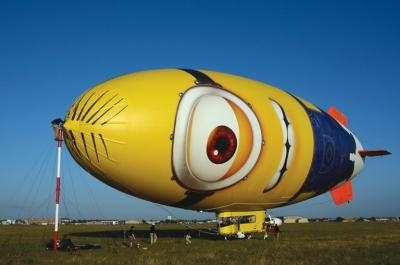 'Minion' On Nationwide Tour To Promote Upcoming Premiere of Despicable Me 2 It's a good thing the horses at the Kentucky Derby will be wearing blinders, less they be distracted by a strange sight overhead --- the Despicablimp! Despicablimp is a 165 foot long helium filled blimp currently in Louisville, KY on a cross country tour promoting the coming premier of the movie Despicable Me 2.

Jacksonville man asks council to honor Bessie Coleman, the first black woman ... - Florida Times-Union | The stories recounted how aviatrix Bessie Coleman — the first black woman to get a pilot's license — fell 2,000 feet to her death from an out-of-control plane piloted by William Wills, who was killed as the plane exploded on impact. Thousands of ...

Courtesy of Betty Miller In 1963, Betty Miller became the first woman to fly ... - Salt Lake Tribune | President John F. Kennedy presented her with the Federal Aviation Administration's Gold Medal for Exceptional Service in honor of the fight and was recognized by President Lyndon Johnson as Aviatrix of the Year with the presentation of the Harmon ...

WWII veteran honored with special flight - YNN, Your News Now | "For every hour we fly we put 15, 20 hours of checking, inspection and maintenance back into the airplane," Gregg Peterson with the Commemorative Air Force said. "It's wonderful for us to give them that opportunity to come back and connect with what ...

A new look at an historic battle from Bayou Renaissance Man by Peter | A few years ago, James Holland produced a superb documentary for the BBC about the Battle of Britain. He used new material and interviewed German survivors of the Battle to produce several fresh perspectives that differed from 'traditional history'....

Historic warbird sunk in Tanana River nearly half-century ago finds a savior - Alaska Dispatch | Ultimately, it will be completely rebuilt and serve as the centerpiece in the new Warbirds of Glory Air Museum. Related: When Alaska bush pilot legends brought the movies to Barrow · Lear jet pilot's puff piece on Alaska flying bypasses reality. The ...

Le Bleriot-Spad F-IAMS Syrie in the CIDNA from Passion pour l'aviation by Xavier Cotton | We are
in the early '30s, a stopover in Aleppo, Syria on the Paris-Beirut line CIDNA. The Bleriot-Spad 56 F-AIME is one of six copies built for the International Society of Air Navigation (CIDNA), it has a Jupiter 9AC engine 420 hp. The F-AIME evolve the version 56-3 56-5 (first flight in 1928) is a mixed version cargo / passenger cabin features a four-seater and a compartment that can accommodate two extra passengers or cargo...

Last of its Kind - Air and Space Smithsonian | A look inside the Smithsonian's Stratoliner.

SUN 'n FUN 2013 – Day 4 from Other People's Airplanes by David

Podcast: Pelton Talks EAA After Hightower from AVWeb Podcast - Podcast | Russ Niles interviewed EAA interim president Jack Pelton about the direction of the association following the resignation of Rod Hightower. According to Pelton, EAA is "the only true association out there that truly represents all aspects of general aviation and recreational flying." This is how he thinks that association should behave.

EAA AirVenture Oshkosh 2012: Heritage Flight With A-10 and P-38 from The Aero Experience - Celebrating Midwest Aviation by Carmelo Turdo | The Heritage Flight, a favorite of airshow crowds since the 50th anniversary of the USAF in 1997, featured a popular pair of fork-tailed aircraft - the A-10 and P-38 Lightning. The A-10C from...

A spectacular success
from Bayou Renaissance Man by Peter | I spent over eight hours on the road
today, taking a friend's very specialized computer to a service technician for attention after it got fried by a lightning strike. He's out of town, so
Miss D.
and myself took it in on his behalf, in the hope that it'll be fixed by the time he gets back. My back is calling me all sorts of names after the drive, so I've had a quiet evening to give it a chance to recover. More blog fodder will be available tomorrow morning....
Blogging in Formation: Aviation Social Media Seems to be Reaching 'Critical Mass'
from Airplanista Aviation Blog by Dan Pimentel | As our aviation family faces more and more threats from all directions, it feels to me like an increasing number of Airplanistas are turning to social media as the vehicle to elevate the discussion about these issues. Whether it's blogging, Facebook, or my personal favorite social platform, Twitter, I'm seeing more pilots using their writing skills to "talk" to fellow aviators and push aviation forward....